Telecom, including Verizon (NYSE:VZ) has not done well recently, amid concerns for the fall-off in wire-line customers and margin pressure caused by competition in wireless. After running up as high as 34.14 back in December, Verizon has given back its gains and is huddled under the 30 mark following 4th quarter earnings, a loss based on charges for layoffs.
Students of the human thought process have noted that when confronted with complex situations, there is a tendency to sift through reams information and then rely on one or two key points to support the decision. I am long VZ, with a decent profit; I have been back and forth over a lot of information during the past few months; and I plan to hold my position. Here are the two main considerations that drive the decision:
Increasing Free Cash Flow – Years ago I read that increasing free cash flow is a very good indicator of price appreciation to come. Specifically, the suggestion was increasing free cash flow together with a price turn (up). I created a test portfolio on that basis, and it handily outperformed my hand-picked gems for several years. The exercise got my attention. Back in March I suggested Office Depot (NYSE:ODP), then trading in the 1.00 area, because of increasing free cash flow and a trivial price turn. ODP went on to trade at prices over 6.00, enough pop to get anyone's attention.
Here is a slide from the 4th quarter conference call presentation: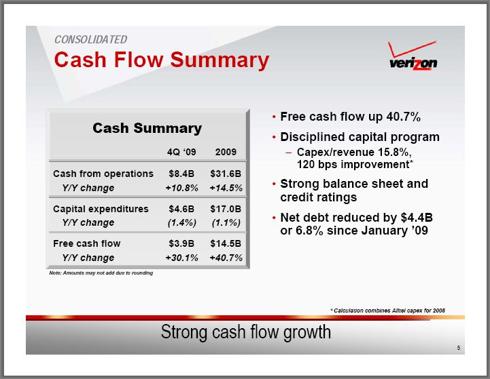 Click to enlarge
Free cash flow is up 40% year over year. The missing ingredient now would be the price turn. Verizon has been trading down on the earnings and a subsequent downgrade from FBR. Presently it will bounce, supported by the 6.3% dividend yield, if nothing else, and that will be the price turn.
Cash Deployment – After playing the stock-picking game for a while I notice that what management does with cash flow is key to long term performance. Sometimes they can't think of anything better to do than to load up with debt and then go on to spend the proceeds buying back shares at inflated prices. Of course when trouble hits it becomes necessary to raise capital by selling shares at fire sale prices. Readers who have avoided these types of problem during the downturn have done better than I and deserve to be congratulated.
Mr. Market does not like capex. It's a real turnoff, peeing away money that could support a nice special dividend or be used to pump up share prices. Actually risking it in an effort to make money from expanded or more efficient operations is less attractive than the alternatives, in terms of immediate price action.
Verizon has invested heavily in FiOS, bringing Fiber Optic all the way to the home. I liked this project from the start, because it makes premium bandwidth available to carry the ever increasing flow and proliferation of digital content demanded by the public. The payoff has been slower than I looked for, and has differed from what management planned on. But at this point the heavy lifting has been done and when the economy recovers there will be an increasing market for premium services. Plus it enables cost savings, which should improve margins over time.
Verizon has also invested heavily in wireless, and is acknowledged in the industry as having the best network. It plans to be early to market with LTE (4G, the 4th generation of wireless). Because of the huge demand for wireless bandwidth to carry video for devices such as the iPhone, this investment will pay off, as smart phones proliferate and economic recovery enables the public to pay for premium service.
Cash deployment has been focused on building the infrastructure needed to compete in what is going to be a growing industry. Build it, they will come.
Valuation – Verizon generates about 17 billion of cash to be deployed as capex on an annual basis.
On a per share basis, that amounts to 5.98 per share. That's what the investor gets by owning Verizon - an ongoing investment of 5.98 per share per year in wireless and FiOS. Valuing that as a 15% return on my investment, I think a share of Verizon is worth 40.
Strategy and Tactics – I have been playing VZ by means of LEAPs, long both the Jan11 25 calls and the Jan12 25 calls. Against that I have been selling shorter term calls, at 31, 33 and 35 so far. The thinking is, the extremely low volatility together with the dividend makes the time cost of the LEAPs very affordable, while the sale of calls along the path to 40 generates income if the stock gets ahead of itself.
For dividend or buy and hold investors the 6.3% yield is attractive and relatively secure, while there is potential for price appreciation in due course.
Disclosure: Author holds a long position in VZ, no position ODP