Back in September, I wrote a column on why SPDR Select Technology (NYSEARCA:XLK) was not particularly risky. At the time, the standardized measure for XLK at RiskGrades.com was 1/2 the level of SPDR Select Financials (NYSEARCA:XLF).
Yet things can, and do, change quickly.
Today, XLF chimes in with a risk score of 126, whereas XLK is at 91. Tech has similar volatility as it did back in September, yet financials shed nearly 33% of the "risk pounds." It follows that investing in SPDR Select Financials (XLF) is about 1.3x as risky as investing in SPDR Select Technology (XLK) today, whereas it was 2x as risky 4 months ago.
RiskGrades.com also offers Risk/Price Charts. The idea is to make sure that one is adequately compensated for the risk he/she is taking.
For instance, we may be aware that XLF is a moodier creature than most U.S. economic segments. The question is, will the rewards be worthy of that extra risk?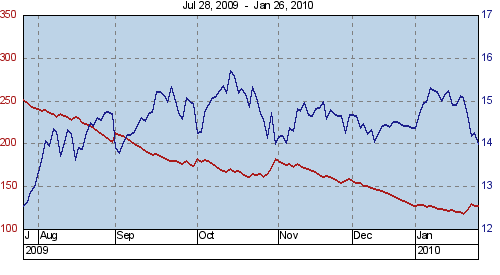 The 2nd most active ETF, SPDR Select Financials (XLF), trades north of $14. In the chart above, the "red risk" line has fallen dramatically below the "blue price" line, suggesting that one may be "reasonably" compensated for taking on the current level of risk.
How about tech? In the chart below, the "red risk" line has spiked as the "blue price" line has sagged. This might suggest that circumstances could change for XLK.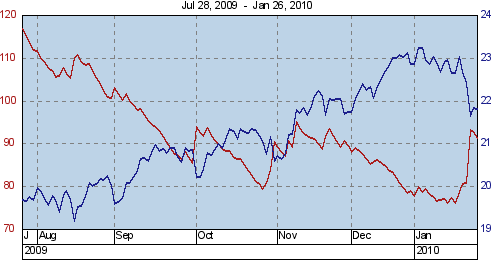 To be clear, RiskGrades.com is a web tool that arouses my curiosity. The proprietors explain that the scores allow for comparing investment risk across asset classes, regions and currencies; they explain that grades vary over time and offer something different from other risk measures like daily range and beta.
However, I look at a wider array of info when it comes to assessing risk… not singular risk grades or beta coefficients alone. In fact, I put forward my own ETF Risk Alert service for financial professionals.
Investors must recognize that ETFs may involve industry-specific dangers, credit risk, regional challenges, liquidity concerns, limited diversification, technical price breakouts/breakdowns, overvaluation risk, currency fluctuations, inflation risk, interest rate risk and more. While it is difficult to track every warning sign, it's critical to pay attention to what might affect your exchange-traded vehicle of choice.
Disclosure Statement: Gary Gordon, MS, CFP is the president of Pacific Park Financial, Inc., a Registered Investment Adviser with the SEC. The company and/or its clients may hold positions in the ETFs, mutual funds and/or index funds mentioned above. The company does not receive compensation from any of the fund providers covered in this feature. Moreover, the commentary does not constitute individualized investment advice. The opinions offered herein are not personalized recommendations to buy, sell or hold securities.