Newcastle Investment Corp (NCT) has been one of the more interesting stocks in my portfolio. During the year, the company has been experimenting with different types of unconventional asset classes, always looking to achieve the highest possible IRR for its investors. Back in May, Newcastle completed the spinoff of its wholly owned subsidiary New Residential (NYSE:NRZ), a mortgage servicer. In September, Newcastle made several media related acquisitions, with projected levered yields north of 25%. Newcastle currently offers a $0.10 per share quarterly dividend and yields about 7.40%.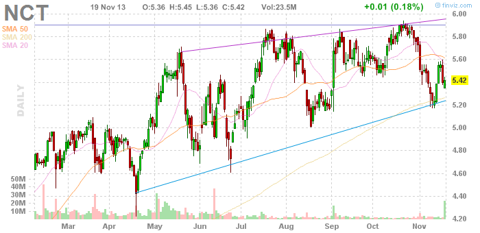 Newcastle to Acquire $1B in Senior Housing, greatly expanding its exposure to the segment
On November 18, Newcastle announced that it was to acquire a property portfolio of senior housing properties from subsidiaries of Holiday Acquisition Holdings LLC for approximately $1.0B. The portfolio includes 52 independent living properties with 5,885 units located across 24 states.
Holiday is the largest private owner and operator of senior housing properties in North America, operating 333 properties with 40,000 apartments in 43 US states and 7 Canadian provinces. The Company expects to invest approximately $300M of equity to acquire the Holiday Portfolio and to fund the remainder of the purchase price with non-recourse mortgage debt. Holiday is majority owned by private equity funds managed by an affiliate of Newcastle's manager Fortress Investment Group LLC (NYSE:FIG).
In its press release, the company noted that these assets had and average occupancy rate of 91% as of Q3 2013. In addition, it was noted that 100% of the properties were "private pay" senior care operations, which typically have much higher rates per room compared to Medicare or Medicaid.
This transaction by Newcastle greatly increases its presence in the growing senior housing segment. Senior housing is a broad term, which includes independent living, assisted living, and skilled nursing facilities. Big players are largely absent in the senior housing industry, allowing for significant consolidation opportunities.
The entire segment is estimated to be $300B in size, with 70% controlled by small "mom and pop" operations. REITs such as HCP Inc (NYSE:HCP) and other similar companies control less than 10% of the overall market.
Newcastle has been targeting undermanaged assisted living and independent living facilities as these offer the best opportunities for juicing returns. According to a June 2013 corporate presentation, Newcastle has been able to boost overall levered returns in this segment with previous acquisitions by increasing occupancy rates, thus boosting average revenues per bed.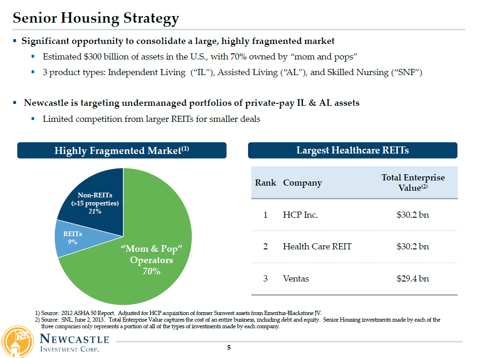 Newcastle Announces a Massive Share Issuance, Yet Stock is Little Moved
Alongside the senior housing transaction, Newcastle also announced a massive 50M share public offering of stock with an addition 7.5M share greenshoe. This offering would basically increase Newcastle's shares outstanding by 20%. The offering generated gross proceeds of $264.9M for 50,450,952 shares of its common stock implying pricing of $5.25 per share.
However, even with this massive equity issuance, shares of Newcastle are essentially flat for the day. This likely implies that market views the transaction favorable and hence demand for Newcastle's stock is high.
Another factor likely to have influence the stock price is that this transaction may be accretive to Newcastle. As noted above, Newcastle has been able to boost returns on previously acquired senior housing assets. According to the Q3 2013 conference call, levered yields on senior housing assets have averaged 19% YTD and are anticipated to increase to over 20% by year end. Previously acquired assets typically only had levered yields in the low double digits when entering Newcastle's portfolio.
Newcastle's existing senior housing assets were roughly $300M in size. With the addition of $1.0B more, the company is likely to achieve some efficiencies. If the company is able to boost returns on the new assets to anywhere near 20% then the current transaction is likely to be massively accretive for Newcastle.
Final Thoughts and Conclusion
When the equity offering was announced late yesterday, Newcastle's stock was down over 5%. With the stock now barely moving on the equity issuance, I believe the market is giving Newcastle's transaction its blessing.
While some of the recent transaction have left me scratching my head, such as the media related ones, Newcastle just seems to be focusing on maximizing its internal IRR no matter the sector. For those seeking a high-risk, high-return investment, Newcastle is an intriguing choice. With a well above average yield of 7.4%, Newcastle is also a stock paying you to wait.
Disclaimer: The opinions in this article are for informational purposes only and should not be construed as a recommendation to buy or sell the stocks mentioned. Please do your own due diligence before making any investment decision.
Disclosure: I am long NCT, NRZ. I wrote this article myself, and it expresses my own opinions. I am not receiving compensation for it (other than from Seeking Alpha). I have no business relationship with any company whose stock is mentioned in this article.