Disappointing results and downbeat guidance have led to sharp downward estimates revisions, sending this wire and cable products company to a Zacks Rank # 5 (Strong Sell) on November 8, 2013.
About the Company
Headquartered in Highland Heights, Kentucky, General Cable (NYSE:BGC) develops, designs, manufactures, markets and distributes copper, aluminum and fiber optic wire and cable products for the energy, industrial, specialty and communications markets around the world.
Disappointing Results and Guidance
On November 4, 2013, the company reported its third quarter estimated results and also provides comments on their fourth quarter outlook
Adjusted earnings for Q3 2013 were $63 million or $0.45 per share, substantially short of the Zacks Consensus Estimate of $0.55 per share. Results were hurt by lower than expected seasonal demand in North America and continued pricing pressure. While the demand for copper-based electrical infrastructure products and specialty cables remained stable, it was more than offset by lower-than-expected aluminum-based Electric Utility product shipments.
For the fourth quarter, the management expects typical seasonal volume declines to be partially offset by project-related activity globally. Operating cash flow is now expected be in the range of $0 to $20 million during 4Q, lower than earlier expected. According to the company, the revised guidance reflects the impact of lower cash earnings as well as lower reduction in inventory primarily in North America and Latin America.
For 2014, the company expects end markets to remain relatively flat in North America and European recovery to remain uneven.
Downwards Revisions
Due to disappointing results, quarterly and annual estimates have been revised sharply downwards in the past few days by analysts.
Zacks consensus estimate for the current quarter now stands at $0.31 per share versus $0.54 per share, 30 days ago, while the full-year consensus estimate is $1.68 per share now, down from $2.00 per share. Further, the estimate for 2014 has gone down from $2.83 to $2.25 per share. The company has missed estimates in three out of last four quarters, with an average negative surprise of 79.4%.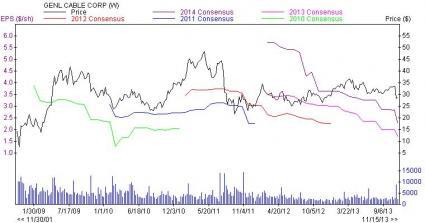 The Bottom Line
BGC is currently Zacks Rank # 5 (Strong Sell) stock and it also has a longer-term recommendation of "Underperform." The near-term outlook for the company remains cloudy due to low metal prices and uneven macroeconomic conditions in some of its markers. Further, the company is currently in the process of restating its financial statements for past two years and interim periods in 2013. Restatement further adds to the uncertainly related to this stock.
Better Play
Investors looking for exposure to the industry (Wire and Cable Products) can consider Encore Wire Corp. (NASDAQ:WIRE) — a Zacks rank #1(Strong Buy) stock. The company delivered very strong results for the third quarter, beating Zacks consensus estimates for earnings as well as for revenues.