The Past
Ultimately investments derive their value from the amount of cash flow they are capable of generating for their stakeholders. For publicly traded companies it is most commonly measured and stated as earnings per share. Our research validates a strong long-term correlation to the rate of change of a company's earnings and the rate of return shareholders can expect and earn. The only exception to these correlated growth rates and returns occurs when valuations become temporally out of synch.
The 20-year earnings and price correlated graph on Hewlett-Packard Company (NYSE:HPQ) vividly illustrates the veracity of these relationships including the exceptions. In Figure 1 you can see how closely price (black line) tracks earnings growth (green line with white triangles) over time. Note that there are two periods where price deviated from earnings (red circles) before inevitably reverting to the mean. These periods represent the dangerous emotions of greed (1998-2000) then fear (2008).
Figure 1. 20yr EPS Growth correlated to Price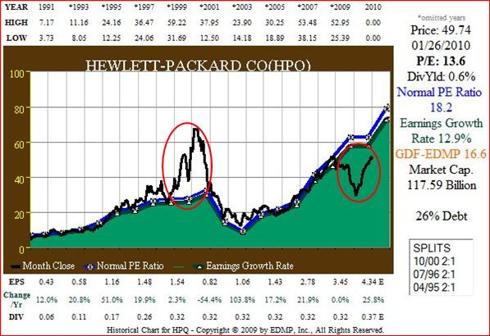 Click to enlarge
The most important perspective that Figure 1 provides is how closely price follows earnings over time. Periods of rising earnings generate rising price and vice-versa. In Figure 2 we show how the rate of change of earnings growth closely relates to the return shareholders received. The slight variation is easily reconciled by valuation. Close examination reveals that Hewlett-Packard was more undervalued at the beginning of the period than at the end.
Figure 2. 20yr Dividend and Price Performance

Click to enlarge
With Figure 3 we shorten the time from 20 years to 10 as we zoom in on the earnings price relationship. (Note that our historical graphs include one year of forecasting.) The relationship between price and earnings is clearly profound and relevant. Note how price first follows earnings down in 2001 and 2002, then rises with earnings through 2007. The recession flattens earnings in 2008 as panic sets in, causing price to fall more than earnings justify. Fortunately, the recovery has been quick as valuation reverts to the mean.
Figure 3. 10yr EPS Growth Correlated to Price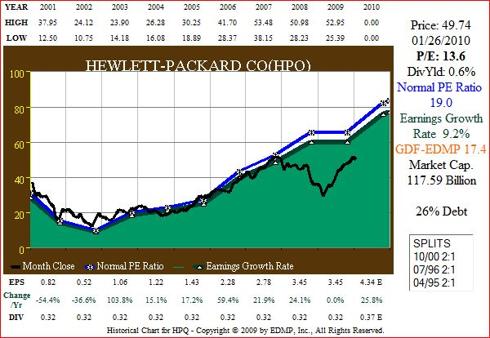 Click to enlarge
The Present
In Figure 4 we offer a view of Hewlett-Packard with a focus on current valuation in comparison to norms. Currently, Hewlett-Packard trades at 13.6 times blended earnings, which is a discount to their normal PE ratio range of 16-20 (See Figures 1 and 3).
Figure 4. 6yr EPS Growth Correlated to Price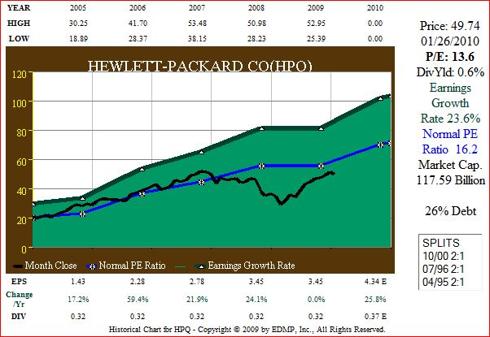 Click to enlarge
Thesis for Growth
HP is currently offering most of the technology tools and services to keep any school, business, or household's IT demands satisfied throughout the world. Primary Revenues: Personal Systems (30%), Services (30%), Imaging and Printing (20%), and Enterprise Storage(under 15%), Software and Financial Services (total 6%). Over the next couple of years, these weights could dramatically change.
Enterprise Integration Services
Thanks to the acquisition of EDS, HP's services business was greatly enhanced. By creating more agility, HP Services offers a rich portfolio with Enterprise Integration Services. This will allow businesses to compete in a more comprehensive way than they ever have, thus providing a more satisfied and dedicated customer base. These solutions will allow increased business growth through business process improvements, improved security through comprehensive security solutions, and lower costs with the availability of complete outsourcing solutions.
Innovation
The tablet computers are not new to innovation as HP has been supplying them to the educational market since 2004. If there is a boom in tablet pc sales, HP is there and ready. HP has a full line of touch screen multimedia systems with reasonable graphics for home use. The HP iPAQ is a fully functional business communications device, complete with PC apps, Wi-Fi rollover, and Bluetooth capabilities. The memristor technology has yet to revolutionize the technology offerings, but holds promises for near-term offerings.
Quality
HP continues to offer top-of-the-line quality in all its PCs, printer, mobile computing and communications, notebooks, netbooks, servers, and cloud support (security and edge technologies). HP continues to keep customer confidence high through quality of services and hardware.
Replacement Cycle
The PC replacement cycle is long overdue and with businesses starting to recover financially, there will likely be a boom in PC sales and support. The current computers in many locations running either XP or Vista are looking at replacement. Many older printers are not working well with the new Windows 7 and will need replaced as Windows 7 comes on board. Even though Windows 7 offers compatibility settings, it looks like many businesses will be making a complete overhaul of their PC inventory as soon as they are comfortable with the new OS stability. It appears that Vista systems are being directly replaced with Windows 7, but the "more stable" XP is still waiting. Microsoft's XP support will be ending in a couple of years and businesses are likely to take action before the support period ends. The comparisons currently are around 60+% XP, 30% Vista, and 10% Windows 7 with Windows 7 rapidly increasing its hold.
Competition on Many Fronts
HP is competing with many firms on many fronts, but the most recent 3COM acquisition is already challenging Cisco (NASDAQ:CSCO). HP has joined forces with Microsoft (NASDAQ:MSFT) in its HP Pro ONE program, which has left Cisco out. The direct competition will also include HP's Blade System Switch for more comprehensive cloud and edge support. Cisco is a well-liked competitor, but this may be a goliath and goliath competition, with HP having many offerings on the table. An exciting additional benefit of the 3Com acquisition is the opportunity for enhanced growth in China, a potentially enormous market.
The Future
In Figure 5 we calculate Hewlett-Packard's future earnings based on the consensus of more than 25 analysts reporting to Zacks. Assuming these forecasts are correct, Hewlett-Packard appears reasonably valued at these levels.
Figure 5. EPS Growth Forecast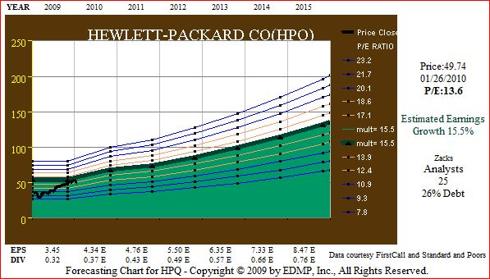 Click to enlarge
The Pie in the Sky
We believe that with Hewlett-Packard there really is a pie in the sky. Our confidence is based on the world -recognized research and breakthroughs that have and are coming out of HP Labs. In 1966, Bill Hewlett and Dave Packard decided to create a central research lab for HP scientists. Today this resource is open for collaboration among HP researchers and academic partners at colleges, universities and research institutes around the world. HP Labs offers awards ranging from $50,000 to $75,000 designed to create opportunities for breakthrough research in corroboration with HP scientists.
One of the most exciting breakthroughs coming out of HP Labs occurred in 2008 as HP researchers discovered the fourth basic element in integrated circuits: The memristor. Solving this decades-old mystery could lead to computers that turn off and on like an electric light. The potential from this discovery could be enormous and game changing, i.e. more energy efficient computer systems with memories that retain information even after the power is off. This could even lead to computers that possess some of the pattern-matching abilities of the human brain, in other words - computers that could think. Scary yes, however, the possibilities to advance mankind are limitless.
Conclusion
We believe that Hewlett-Packard Company (HPQ) represents a very attractively-priced investment for the prudent investor seeking long-term growth of capital. In addition to potential for growth, HP has a very healthy balance sheet and generates strong cash flows. They pay a modest dividend which has not been raised since 1999. Instead they have applied their cash towards acquisitions and R&D. Therefore, they remain a growth story, more than an income generator.

Disclosure: Author holds a long position in HPQ at the time of writing