In 1791 a free school, soon to be known as Williams College, opened in Williamstown, Massachusetts. The Massachusetts State Development Finance Agency recently issued $126M in municipal bonds for Williams College. Currently there are 5 sets of the new Williams College Series P municipal bonds on the secondary market.
The 30-year bonds, issued this year, are continuously callable beginning in 2023 and have a sinking fund that begins redemption in 2039. Check out how the new municipal bonds for 2043 compare to the other Williams College bonds, with yields until maturity over 4%:
| | | | | | |
| --- | --- | --- | --- | --- | --- |
| | credit rating | state | amount issued / year issued | price | yield |
| Massachusetts St Dev Fin Agy R Rev Bds 2013 P, Williams College, 5% 2043 Cont Call 07/01/23@Par, Sink 07/01/39@Par, Cond Call, Extr Call (cusip: 57583UWR5) | Aa1/AA+ | MA | $39.59M / 2013 | 106.11 | 4.22%C / 4.61% |
| Massachusetts St Dev Fin Agy R Rev Bds 2013 P, Williams College, 5% 2038 Cont Call 07/01/23@Par, Sink 07/01/35@Par, Cond Call, Extr Call (cusip: 57583UWQ7) | Aa1/AA+ | MA | $14.4M / 2013 | 107.49 | 4.05%C / 4.49% |
| Massachusetts St Dev Fin Agy R Rev Bds 2013 P, Williams College, 5% 2030 Cont Call 07/01/23@Par, Cond Call, Extr Call (cusip: 57583UWL8) | Aa1/AA+ | MA | $3.89M / 2013 | 111.46 | 3.58%C / 4.04% |
Notice all of these bonds have 5% coupons. They were issued at a premium to par and used, in part, to refund older outstanding municipal bonds. The Series P bonds also include a few bonds with 4% coupons and nearer term bonds with 2% and 3% coupons. There are 25 different sets in all, and they yielded between 0.2% and 3.2%, when they were issued.
Now the yield on the 2043 bonds has gone from 3.2%, when issued, to 4.2% until their first call date and 4.6% yield to maturity. 4.6% for 30 years is not particularly impressive, given rates have been going up recently. However, bonds issued for Williams College stand out to me, for their quality. They are well rated by Moody's and S&P, and they have a decent 5% coupon; however, investors need to carefully consider the possibility that they will be called in 2023, or whether they might not be called, if rates go up.
Now let's look at Williams' College's most recent financial statement, to determine net assets and total liabilities:
| | | |
| --- | --- | --- |
| | 2013 | 2012 |
| total operating expenses | $184.7M | $183.3M |
| total net assets | $2.15B | $1.95B |
| cash at end of the year | $9.1M | $13M |
| construction in progress | $57.1M | $25.7M |
| postretirement benefit obligation | $21.4M | $21.7M |
| total net bonds payable | $357.1M | $294.7M |
| total liabilities | $467.5M | $403M |
Keep in mind Williams College has considerably more net assets than total liabilities. So, the school can afford to do as it pleases, unlike businesses more anchored by debt.
Ephraim Williams Jr. Willed A School
Ephraim Williams Jr. was born March 7, 1714, though in 1752 colonial America adopted a slightly different calendar. Previously the new year began on March 25th, so, according to the newer calendar Williams was born in 1715.
In September 1755, Ephraim Williams Jr., a colonel, led a group of soldiers on a mission. They walked right into a trap, and were surrounded; the colonel was shot and killed.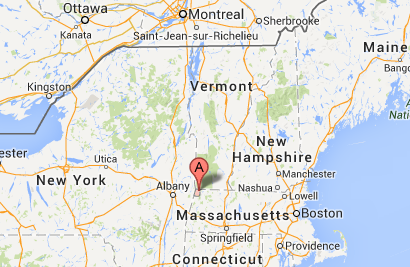 Just two months prior Ephraim Williams Jr. filed his will; in it he asked that the town near the fort he commanded (Fort Massachusetts) be renamed Williamstown. Which it was, shortly after the French and Indian war concluded, in 1763. He made a provision for a free school to be built there, so long as the town remain in Massachusetts, not in New York. Soldiers, especially higher ranking soldiers received money and land for their service; additionally Ephraim Williams' father was also a high ranking officer, who died on August 11, 1754.
So, the younger Williams' estate could afford to build a school. However, according to the history, none was built for decades, the town's council actually dismissed the idea at first. Though, after the American Revolution, Williamstown returned to Ephraim Williams Jr.'s wish.
Ephraim Williams Jr., perhaps, wanted to build a school, because he saw the difference quality education made. In those days people attended colleges at much younger ages, than today. In order to effectively communicate in those days, the military relied on written letters. Those without a basic education, could not communicate as well, or at all; there was no Twitter (NYSE:TWTR), there was no Facebook (NASDAQ:FB), there was only a pen and paper.
The fallen colonel seemed to want to provide an education for more inhabitants of the country he fought for. Though he requested the school be free; once Williams College opened in 1793, it began to charge tuition shortly thereafter. To this day Williams College has built a massive endowment and makes an effort to provide education, to qualified students, regardless of ability to pay.
We meet 100 percent of every student's demonstrated financial need. More than half of our students receive financial aid, and the average aid package is $44,753 a year.
Total room and board is a staggering $58,900. Take a look at the numbers from the most recent financial statement:
| | | |
| --- | --- | --- |
| | 2013 | 2012 |
| tuition & fees | $93.5M | $89.6M |
| room & board | $21.1M | $20.5M |
| less: financial aid | ($46.1M) | ($44M) |
| net student revenues | $69.1M | $66.1M |
The college's financial statements are very impressive, and the school has a rich history. You see, there was $1.9M more financial aid; however, net student revenues went up $3M, or 4.5% from the previous year. The school simultaneously gave more aid, and received more revenue. However, obviously, the average student and family does not have $235,600 for a 4-year education.
Use of Proceeds
The bonds' prospectus (a free MuniOS account is required) shows the most recent issue is to be used "to refund on a current basis" Series H bonds, and "to refund on an advance basis" Series K and Series L bonds. Additionally, the $126M in new debt is expected to pay for:
... the costs associated with the Stetson Sawyer Project...

... the costs associated with the Weston Field Project...

... the relocation and renovation of the existing structure known as Kellogg House...

... a 1,000 kilowatt natural gas-fired engine generator within the existing boiler plant to generate electricity and steam heat for the main campus...

... a 500-ton chiller at the Institution's existing operating facility...

... various maintenance and upgrades and capital improvements throughout the campus...
The Stetson Sawyer Project is described by the college as follows:
Williams' Board of Trustees voted unanimously in January 2006 to proceed with a $128 million project... constructing two new buildings for faculty offices and classrooms, removing two additions to Stetson Hall and building a new Sawyer Library in their place, and then removing the current Sawyer Library building to create a new quadrangle in the heart of campus.
It sounds like this project will achieve a modernization of the school's campus. As you see, the Stetson Sawyer Project is only one of several projects in the works.
Outstanding Bonds, Fitch Downgrade From AAA
Here is the list of the college's outstanding bonds: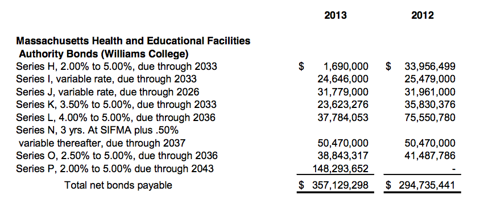 Source: Williams College, FY 2013 Financial Statement
The list shows the Series H bonds, refunded by the new bonds on a current basis, and the Series K and L bonds refunded on an advance basis.
The Series H bonds' optional redemption date was July 1, 2013. While the optional redemption date on the Series L bonds, was listed as July 1, 2016. The school's financial statement says the Series L bonds were "advanced refunded."
Series L bonds are fixed rate revenue bonds. With the Series P issuance the College advanced refunded $34.2M in various coupons leaving a balance of $35,635,000 as of June 30th. Annual principal payments are currently $1,380,000 and increase to $4,235,000 over the repayment period of the bonds.
The prospectus for the new Series P bonds states:
A portion of the proceeds from the sale of the Bonds will be applied to the refunding on an advance basis of the Refunded Series L Bonds by depositing the amount necessary to pay the outstanding principal of the Refunded Series L Bonds with the trustee for the Series L Bonds... which amount shall be applied to the redemption of the Refunded Series L Bonds. Interest on the Refunded Series L Bonds accrued to the Series L Redemption Date... will be deposited by the Institution with the Series L Trustee from the Institution's own funds. The Refunded Series L Bonds will be redeemed at their redemption price of par on July 1, 2016
Fitch actually withdrew their AAA rating on the Series L bonds in 2011, citing "insufficient information."
Here is a list of the Series L bonds' issued in 2006: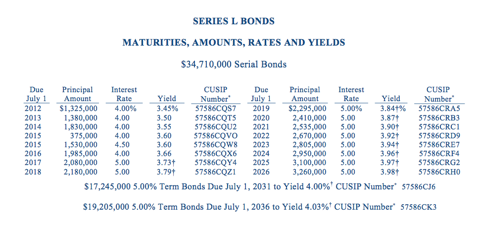 Source: Series L prospectus
Here are the Series H bonds issued in 2003: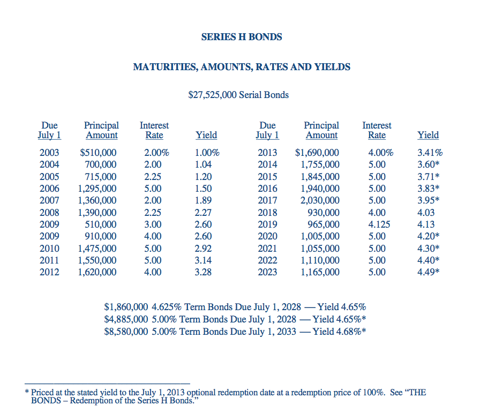 Source: Series H prospectus
The school is certainly taking advantage of the optional redemption dates on their outstanding bonds; which makes sense, given the precipitous drop in interest rates. Though, the premium on the new Series P bonds may dissuade new investors, it appears to be beneficial to the school's refunding of older bonds.
The Series P bonds are a fixed rate revenue bond issued on May 30, 2013 with an original principal value of $126,140,000 and a premium of $22,215,419.

Williams College Financial Statements June 30, 2013 and 2012
It is important to note, Williams College had one line of credit for $25M with an expiration date of September 27, 2013 and two lines of credit remaining (as of the last financial statement) one for $47.4M with an expiration date of December 11, 2013 and one for $30M expiring on May 1, 2014. The three lines of credit totaled $102.4M. To put the new issue's premium into perspective, it equaled 88.8% of the $25M that expired September 25th.
The Income
It will take 3 semi-annual payments before the Series P bonds, for 2043, recoup the current premium. If these bonds remain outstanding until their sinking fund begins, in 2039, they should yield $6,000 per 5 bonds (minus the current 6% premium leaves about $5,700); though given previous advanced refunding and calls prior to maturity, it seems the bonds could be more temporary.
The earliest call date on the new Series P bonds is July 1, 2023. The 2043 Series P bonds, on the market, supposedly have 9 years of full coupon payments (barring an extraordinary call) before the first call date. So this would amount to about $1,950 in income, from 5 bonds, taking the premium into account.
Keep in mind inflation will likely take its toll. $5,000 in 2023 will likely be worth less than it is today, and likely much less in 2043 (presuming annual, positive percentage increases in the consumer price index, which is used to measure inflation.)
Not only this, while many muni bonds generate income, exempt from federal taxes, some states are now taxing out-of-state municipal bond income. So, it is important to determine the rules for each state you live in, or manage portfolios in.
Williams College: Intriguing For Stability, Duration Uncertain
Based on the school's finances, there should be no problem paying for the current amount of debt. Williams College's acceptance rate is 17%, and the school has about 2,050 undergraduate students enrolled.
For a smaller school, $2.15B net assets is impressive. Given the multiple major projects underway, the 16% increase in total liabilities seems reasonable, and the 10.2% increase in total net assets places the liabilities at 21.6% of total net assets.
I favor institutions that appear to be able to easily pay off debt, if necessary. While 4.6% yield for 2043 is not very impressive, I find the quality of the income to be reliable. Additionally, Williams College appears to be very capable, in terms of educating students, managing operations and financial responsibility. Though, I'm considering the duration, on the 30-year bonds, to be more of a question mark.
Ultimately investors need to determine what $5,310 represents to their overall portfolio -- and most importantly, whether this amount, or a greater allocation, can be tied up for 10-30 years. It is possible, since interest rates may go up as QE draws to a close, that bond prices will further decrease. Therefore, many investors may be waiting for better entry points on bonds, though some investors are just allocating less than they would otherwise.
Investors who like income from schools, may find these bonds attractive. Williams College was rated Aaa by Moody's until 2003, when the Series H bonds were issued with an Aa1 rating. The outlook is currently stable; though, investors should always contemplate possible downgrades or upgrades.
Williams College Yellow Ribbon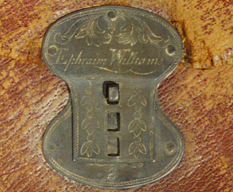 Source: Ephraim Williams Jr.'s inscribed wallet, Williams College Archive
Ephraim Williams Jr. asked that there be a "free school":
The memorable day in the forty years and six months of Ephraim Williams' life was that black Tuesday at Albany July 22, 1755 when he "made and published" his last will and testament, declaring it
to be his "Pleasure & Desire" that his residuary estate should be "Appropriated toward the Support and maintenance of a free School (in a township . . . Commonly Called the west township) for Ever"

Mark Hopkins, President Williams College (1836-1872), and Ephraim Williams Jr.'s great-great nephew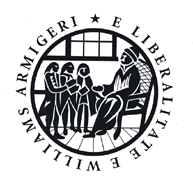 Williams College Original Seal
The author Grace Greylock Niles (1864-1943) further details Ephraim Willliams Jr.'s intent:
(Ephraim Williams Jr.'s) will contained a clause to provide for the founding of a free school in East Hoosac, now North Adams, and West Hoosac, now Williamstown, for the children of Fort Massachusetts garrison soldiers.
Williams College continues to make an effort to educate veterans and their families:
Williams College is pleased to be a participant in the Yellow Ribbon GI Enhancement Program. Qualified veterans or their dependents are eligible for unlimited Yellow Ribbon institutional matching funds from the college without limitation on the number of recipients. Like all students at Williams receiving financial aid, the full demonstrated financial need of veterans will be met for each year of enrollment. Further, most if not all veterans are expected to graduate from Williams debt free.
Williams College is an exclusive, wealthy school; it got to be where it is, by focusing on profit. Whereas Harvard, Yale and Princeton are the Big Three, Williams, Wesleyan and Amherst are the Little Three.
There is something to be said for focusing on mega-wealthy institutions, instead of smaller institutions like Williams College. 4.2% yield until call, for 10 years would be fairly good at this point. Though, investors need to consider if they want the bonds for their entire duration, if they are not called. We can not predict, precisely, what the rates will be in 5-10 years. Though, it is fair to say Williams College has a strong history and has the momentum to provide for a strong future.
If you have any thoughts on the Massachusetts Development Finance Agency bonds issued for Williams College, leave a comment below.
Disclosure: I have no positions in any stocks mentioned, and no plans to initiate any positions within the next 72 hours. I wrote this article myself, and it expresses my own opinions. I am not receiving compensation for it (other than from Seeking Alpha). I have no business relationship with any company whose stock is mentioned in this article.
Additional disclosure: I am currently watching the new Series P, bonds issued by Massachusetts Development Finance Agency, for Williams College. I have no plans to purchase them at this time, however, may invest in Williams College bonds in the future. This article is not a recommendation to buy, or sell, Please consult a financial adviser, to determine proper allocation, if any to municipal bonds.