Last week, the nominee for next chairperson of the US Federal Reserve, Janet Yellen, delivered a very dovish speech to the Senate Banking Committee. The main gist of her message centered around the message of "no set time for tapering" and "long-term unemployment being the biggest problem for the US recovery."
Although the bond-buying program may seem to artificially hold down interest rates and induce risky behavior, Yellen added that the Fed doesn't see a broad build up in leverage that might pose a risk to financial stability at this point.
Part of the reason for her "non-tapering" stance is that US inflation is still low. Although the Federal Open Market Committee is committed to a two percent inflation goal, the real figures are well below that. On 30th October 2013, the Bureau of Labor Statistics reported that inflation for September came in at 1.2 percent. This is still markedly below the two percent inflation goal (and well below the 100-year average of 3.3 percent). In fact, inflation expectations as measured by the break-even rate for five-year Treasury Inflation Protected Securities fell 14 percent this year.
The Bloomberg US Dollar Index, which tracks the US currency against 10 major peers, dropped 0.5 percent at the end of last week after Yellen's address. "In the short term, the US dollar could weaken as the realization that tapering is not imminent occurs," said Hans Kunnen, a senior economist at St. George Bank Ltd.
Yellen's comments are definitely dollar bearish, but the real question is this: if the dollar is heading south, shouldn't gold be heading upwards? Generally, the movements of the US dollar and gold are inversely correlated. However, although gold spiked up temporarily after Yellen's comments, it has resumed a downward trend.
According to data from the U.S. Commodity Futures Trading Commission, net-long position in gold slumped 37 percent to 55,456 futures and options in the week ended 12th November, the biggest drop since February. Short bets climbed to 54,143, the highest since mid-August, from 26,490 a week earlier. Net-bullish wagers across 18 U.S.-traded commodities dropped 12 percent to 576,224 contracts as investors became more bearish on wheat and cut their silver holdings by the most in five months.
Here are the three main reasons why gold is also heading down:
1. Inflation - Gold is generally seen as a good hedge against inflation. Specifically, when inflation is high, gold goes higher too. With the dismal inflation figures coming out of the US, the advancement of gold is also limited.
2. Risk on - The first impact of a dollar bearish stance is seen in the equity markets, not in gold. Both the S&P and the Dow Jones are at record highs. Last week, both the S&P and the Dow reached all-time highs of 1795 and 15,927 respectively.
3. Pricing in - Markets know that incoming Fed chief Janet Yellen is a noted dove. Hence, her comments last week were in line with market expectations. Essentially, her comments were "priced in" by the markets. This explains why the slight spike in gold wasn't sustained - Yellen delivered exactly what the market expected.
According to the median estimate of 32 economists in a Bloomberg survey on 8th November, the Federal Open Market Committee will probably wait to taper its bond buying to USD70 billion at its March 18-19 meeting from the current pace of USD85 billion a month. This is a view I agree with too - tapering at the end of the year is all but over.
Top News This Week
Europe: German ZEW Economic Sentiment. Tuesday, 19th Nov 6pm.
I expect figures to come in above 54 (previous figure was 52.8).
Europe: German Flash Manufacturing PMI. Thursday, 21st Nov 4.30pm.
I expect figures to come in above 52 (previous figure was 51.7).
Trade Call
Long EUR/USD at 1.3506
On the H1 chart, an ascending triangle is forming on EUR/USD. Janet Yellen's speech last week is essentially dollar bearish. Additionally, data coming this week should support a small rally for the Euro. This combined effect should allow the EUR/USD to push through the resistance level of the triangle and head upwards.
We will go long once prices break through the upper border and touch a price of 1.3506. A stop loss of 35 pips is placed below the previous low. We will have two targets on this trade, exiting the first position at 1.3541 and the second one at 1.3576.
Entry Price = 1.3506
Stop Loss = 1.3471
1st Profit = 1.3541
2nd Profit = 1.3576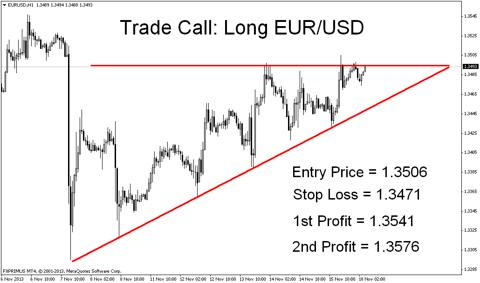 Disclosure: I have no positions in any stocks mentioned, and no plans to initiate any positions within the next 72 hours. I wrote this article myself, and it expresses my own opinions. I am not receiving compensation for it. I have no business relationship with any company whose stock is mentioned in this article.