The National Association of Homebuilders (NAHB) just released its November 2013 report on builder confidence: the National Association of Home Builders/Wells Fargo Housing Market Index (HMI). It showed no change from the previous month's 54 reading. This marks six months in a row where the majority of builders see good conditions in the housing market. While this confidence may come as a surprise given looming headwinds in the market, it probably does not surprise those of you following the earnings reports from the builders. Even as they recognize growing headwinds, they remain relatively confident that the housing recovery is still in its early stages (for example, see "A Thematic Review Of Focusing On Growth Within A Slow Housing Recovery: KB Home And Lennar"). Even Whirlpool (NYSE:WHR) recently reaffirmed its confidence in the housing recovery and homebuilding.
So what caught my eye in this report was the difference across regions, something I have failed to pay much notice until now. From the report:
"The HMI three-month moving average was mixed in the four regions. No movement was recorded in the South or West, which held unchanged at 56 and 60, respectively. The Northeast recorded a one-point gain to 39 and the Midwest fell three points to 60."
Confidence is relatively high in the Midwest and the West. The Northeast sticks out and is clearly the drag on the overall HMI. I suspect this low rating has something to do with expected fallout from the government shutdown and debt ceiling wrangling. I am also intrigued by the possibility that dour outlooks in the Northeast are coloring the views of Wall Street analysts who are likely concentrated in the Northeast.
What also caught my eye this time is the breakdown of the HMI across its three different components. From the report:
"The HMI index gauging current sales conditions in November held steady at 58. The component measuring expectations for future sales fell one point to 60 and the component gauging traffic of prospective buyers dropped one point to 42."
I was VERY surprised to see that expectations for future sales could be so high while impressions on traffic of prospective buyers is so poor. I decided to examine the historical data for some clues and reached as far back as 2004. It turns out that the component for prospective buyers has been under 50 since 2006. More importantly, these three components do not provide much differentiation for the overall index. The impressions of home builders for the future are tightly correlated with their impressions of current sales conditions. In other words, the HMI really acts like a gauge on current sales conditions even as impressions for future sales conditions are almost always more optimistic than current sales. This, HMI only indicates future housing conditions to the extent that current conditions can be extrapolated to do the same thing.
Click for a larger view…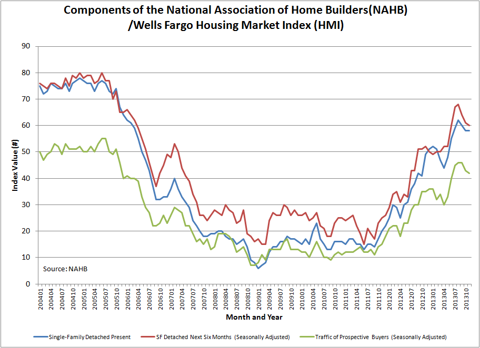 Click to enlarge
Components of the National Association of Home Builders(NAHB)
/Wells Fargo Housing Market Index (HMI)
Source: The National Association of Home Builders
The HMI has also exhibited strong trending features, both down and up. The current uptrend then continues to be very encouraging and for now supports the notion that the consolidation in iShares US Home Construction (NYSEARCA:ITB) will evolve into a fresh leg up for home builder stocks in 2014.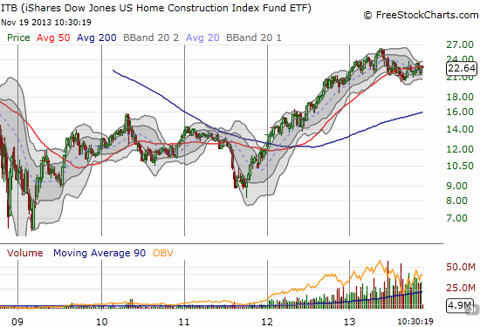 Click to enlarge
ITB continues to consolidate after a strong bounce from 2011 lows
Source: FreeStockCharts.com (snapshot in the middle of the trading day)
In other news, two housing-related names I have been buying at what I think are bargain levels, Tri Pointe Homes (NYSE:TPH) and Ply Gem Holdings (NYSE:PGEM), seem to have finally turned the corner. TPH garnered a strong response to its last earnings report. PGEM reported earlier this month, so I suspect there is some bottom-fishing finally coming as investors scramble to find something in this market that is truly cheap. I will be writing more about both companies in the near future (I have covered TPH several times in earlier posts).
Be careful out there!
Disclosure: I am long TPH, PGEM. I wrote this article myself, and it expresses my own opinions. I am not receiving compensation for it (other than from Seeking Alpha). I have no business relationship with any company whose stock is mentioned in this article.