Solar stocks have been as hot as the sun itself in 2013 with the average company gaining 558% from the 52-week lows. The rally in solar stocks was attributed to the technology becoming more economically feasible than in the past as compared to the use of fossil fuels. Solar has become more cost-effective due to falling prices for solar panels. Now that panel prices are not falling at such a rapid pace and since demand is more on par with supply, solar companies have become attractive investments again. Despite the rally in solar stocks and the improved solar market conditions, only four companies are expected to be profitable this year: First Solar (NASDAQ:FSLR), Canadian Solar (NASDAQ:CSIQ), JinkoSolar (JKS) and SunPower (NASDAQ:SPWR). Another solid prospect is expected to be profitable next year: SunEdison (SUNE).
Risks to the Industry
Although conditions for the solar market have improved, this doesn't eliminate the risks that could hurt the industry. Another PV module oversupply condition could develop, which could cause prices to decline rapidly again. This could be the result of slowing demand for solar in the face of lower fossil fuel prices. If PV inventory levels swell again, solar stocks could experience another steep sell-off because of the threat to profitability. The good news for lower prices is that using solar becomes more attractive for electricity generation. This increases the likelihood that solar will be increasingly adopted. However, solar companies need a balance between increased demand and the profitability of the products.
Another risk is that the solar industry has been propped up by subsidies. The solar industry cannot currently thrive on its own without these subsidies. Therefore, the industry will need the world's governments to continue to offer subsidies to support growth.
Outlook for Industry Growth
Steady and orderly declines in the price of PV panels should continue to make the technology increasingly economically feasible for utility companies, commercial businesses and for residential use. Governments are likely to embrace solar technology for its attractive clean, renewable energy characteristics. Therefore, the world's governments are likely to renew subsidy programs to support the industry.
The use of solar will remain a low percentage of overall energy use. Europe has installed 70,000 megawatts of solar power by the end of 2012. However, solar now accounts for only 2.6% of total electricity generation in Europe. No other region or country has yet installed that amount of solar energy. China has installed 8,000 MW. The United States has installed 7,800 MW and Japan has installed 6,900 MW. Solar will not take over the energy industry but it will be increasingly used and grow its percentage of total energy use in certain countries.
Solar energy can be competitive where electricity prices are high, where government incentives are available, and where infrastructure issues cause large costs. Hawaii is an example of an area where electricity prices are high enough to make solar competitive. In 2012, the average cost per kilowatt hour (KWh) was about $0.35 in Hawaii. This was about three to four times higher than electricity costs on the continental U.S. Therefore, solar energy makes sense to help reduce electricity costs on the Hawaiian Islands. Hawaii was the first state to reach grid parity for PVs. Typical solar systems in Hawaii pay for themselves in only four years.
Countries that offer subsidies for solar installations include: the United States, China and Japan. European countries such as Germany and Spain also offer subsidies, but have reduced them significantly. Future growth for the solar industry is expected in the U.S., China and Japan with the support of government subsidies. Although European countries have reduced solar subsidies, the region is expected to account for nearly a third of global demand in 2014.
The demand for the solar PV market is shifting from Europe to Asia. Dexter Gauntlett of the Navigant's Report expects solar capacity to more than double from 2013-2029 from nearly 36 GW to over 73 GW. Demand has stabilized, which is positive for solar PV manufactures.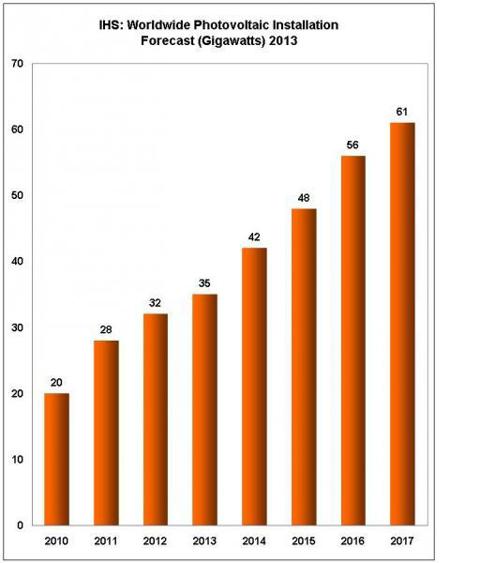 Intense price competition continues among solar companies. As a result, many solar companies have little or no operating income. To reduce risk, investors should choose companies that are or will be profitable in the near future. Here are the solar companies that are expected to be profitable by the end of 2013:
First Solar operates two segments: Components, which manufactures solar modules; and Systems, which provides PV solar power systems to investor owned utilities, independent power developers/producers, and to commercial and industrial companies. First Solar is the world's largest thin-film PV solar module manufacturer.
The company is expanding its business in economically sustainable markets. These markets have high electricity costs, abundant solar resources, and significant electricity demand. First Solar is committed to lowering the cost of solar electricity in the long-term. It achieved Q3 total average manufacturing costs of $0.59 per watt which is comparable or lower than the costs for traditional crystalline silicon solar module manufacturers. First Solar plans on continuing to improve conversion efficiency, increase production line throughput, and lowering raw material costs. The company also maintains and operates its systems for its customers. First Solar's primary competitive strength is its vertically integrated business model that allows it to provide utility-sized PV generation solutions to sustainable markets for immediate large-scale needs.
The 20 analysts covering First Solar have a price target of $46 for the stock which is currently trading at $64. The reason that the price target is lower than the current stock price is because FSLR is expected to achieve EPS of $3.40 for 2014 which is lower than the EPS of $4.36 expected in 2013.
Canadian Solar is a manufacturer of wafers, cells, and solar module products. Its products are used for various residential, commercial, and industrial applications. The company also produces specialty solar modules, which consist of customized solar modules such as BIPV modules, portable solar home systems, and solar-powered car battery chargers. Despite the name, most of the company's manufacturing operations are located in China. Canadian Solar is expected to achieve an EPS of $0.66 for 2013 and $2.32 for 2014. The three analysts covering the company have an average price target of $40 for the stock which is currently trading at $32.
SunPower manufactures solar electric systems for residential, commercial, and utility-scale power plant customers on a global basis. The company's products include: rooftop solar tiles, solar cells, panels, ground mounted solar power products, modular solar power blocks, fixed tilt parking structures, etc. SunPower believes that its solar cells have the highest conversion efficiency, a measurement of the amount of sunlight converted by the solar cell into electricity.
SunPower has the technological advantage of being the sole provider of black-contact, black-junction cells. SunPower's modules produce more electricity, last longer, and degrade at a slower rate than conventional cells. These cells have the ability to generate up to 50% more power per unit than conventional cells. This is important because the company offers a lower area-related cost structure for customers as its solar panels require less total space than conventional technology and many commercial solar thin film technologies.
SunPower is expected to achieve an EPS of $1.39 for 2013 and $1.19 for 2014. The 13 analysts covering the company have an average price target of $31.40 on the stock which is trading at $32.80.
JinkoSolar produces PV products such as solar modules, solar cells, silicon ingots, silicon wafers, and recovered silicon materials in China and internationally. The company also offers solar project development and solar system integration systems. JinkoSolar has built a vertically integrated system with solar modules as its primary product.
JinkoSolar is expected to achieve an EPS of $1.14 for 2013 and $0.49 for 2014. Due to this expected decline in year-over-year earnings, the two analysts that cover the company have a price target of $25 on the stock which is currently trading at $33.
SunEdison, formerly known as MEMC Electronic Materials, is expected to be profitable next year. The company produces silicon wafers and PV energy solutions. Its Semiconductor Materials segment produces silicon wafers for use in various semiconductor devices such as microprocessor, memory, logic and power devices. The Solar Energy segment provides services that integrate the design, financing, installation, monitoring, operation, and maintenance of the downstream solar market. The Solar segment also produces polysilicon, silicon wafers, and solar modules.
SunEdison is expected to post a loss of $0.05 per share for 2013. However, next year's EPS is expected to be in the black at $0.54. The 16 analysts who cover the company have an average price target of $14 for the stock which is currently trading at $12.67.
| | | | | | |
| --- | --- | --- | --- | --- | --- |
| | First Solar | Canadian Solar | SunPower | JinkoSolar | SunEdison |
| Forward PE | 18.5 | 13.4 | 27.6 | 67.9 | 23 |
| PEG | - 1.49 | 4.84 | 0.82 | 2.57 | - 17.5 |
| Price to Book | 1.44 | 4.19 | 3.77 | 3.17 | 7.2 |
| EV/EBITDA | 6.35 | 18.52 | 21.8 | 72.72 | 37 |
| Operating Cash Flow (TTM) | $991.5M | - $148M | $270.8M | $3.72M | - $287.7 |
| Current Ratio | 2.20 | 0.97 | 1.56 | 0.72 | 1.24 |
| Total Cash | $1.53B | $273.7M | $744M | $235.2M | $640M |
| Total Debt | $229M | $992M | $1.02B | $930M | $3.12B |
| 5-Yr. Annual EPS Growth | - 9.9% | 10% | 30% | 10% | 15% |
Conclusion
Although the conditions for the solar market have improved, the industry still depends on government subsidies to remain afloat. Despite the dependency, these subsidies are likely to continue as various countries look to reward the adoption of renewable energy. This should be positive for the solar industry. Another positive for solar stocks is the projected growth for the solar industry. As the industry grows, so should the revenues of the solar companies. Decreasing costs for solar products brings the industry closer to grid parity. Therefore, solar will be increasingly competitive with fossil fuels. However, solar will continue to comprise a small percentage of total electricity generation for a long time.
The outlook for the solar industry looks positive. However, solar stocks have already enjoyed a good run. First Solar, SunPower and JinkoSolar have already exceeded their price targets after this run-up. I wouldn't want to jump in to this market right now. Canadian Solar looks interesting, especially for its expected jump in earnings from 2013 to 2014. I also like SunPower for its stand-out technology, low PEG, and above average expected earnings growth. However, I would feel more comfortable waiting for a pullback in these stocks before jumping in.
Disclosure: I have no positions in any stocks mentioned, and no plans to initiate any positions within the next 72 hours. I wrote this article myself, and it expresses my own opinions. I am not receiving compensation for it (other than from Seeking Alpha). I have no business relationship with any company whose stock is mentioned in this article.