Target (NYSE:TGT) has suffered greatly at the hands of the tightened purse strings. Recent shopper sentiment has been wavering despite a slowly recovering economy. Because of the continuing caution on part of consumers, mainly lower and middle-income shoppers, retailers and wholesalers have been putting up weak third-quarter earnings. With Target's close competitor Wal-Mart (NYSE:WMT), with whom it shares many of its customers, also putting up weak numbers for its third quarter (though beating Wall Street analysts but losing out on both shares and revenue) and weak guidance for the near future, most analysts are expecting the same for Target.
Target is expected to report FQ3 2013 earnings on Nov. 21. The information below is derived from data submitted to the Estimize platform by a set of buy-side and Independent analyst contributors.
The current Wall Street consensus expectation is for TGT to report $0.62 EPS and $17.401B revenue, while the current Estimize consensus from seven buy-side and Independent contributing analysts is $0.65 EPS and $17.588B revenue. The magnitude of the difference between the Wall Street and Estimize consensus numbers often identifies opportunities to take advantage of expectations that may not have been priced into the market. In this case, we're seeing a bigger differential between the Estimize and Wall Street numbers compared to previous quarters.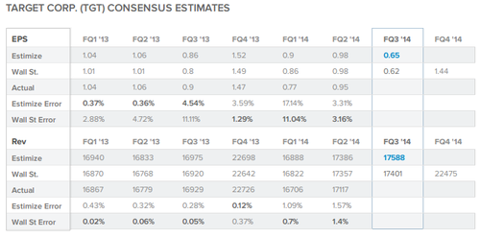 Over the past four months the Wall Street consensus trend for EPS has decreased from $0.98 to $0.62, while Wall Street revenue expectations have increased from $17.386B to $17.588B. The Estimize EPS has fallen this quarter, with EPS going from $0.98 to $0.65 and revenue increasing from $17.357B to $17.401B.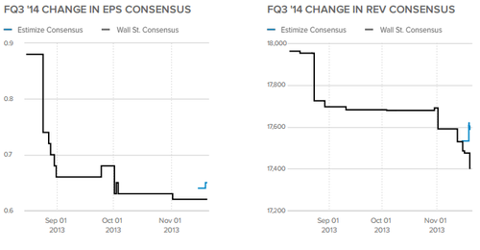 Over the previous six quarters, TGT has beaten the Wall Street consensus for EPS every time and revenue one time. In the same time period, TGT has beaten the Estimize EPS consensus one time and has never beaten the Estimize Revenue consensus.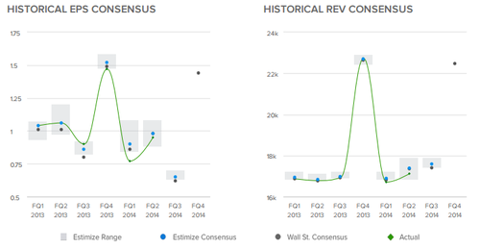 The distribution of estimates published by analysts on Estimize range from $0.63 to $0.70 EPS and $17.390B to $17.895B in revenues. We're seeing a larger distribution of estimates this quarter for TGT than normal. The size of the distribution of estimates relative to previous quarters often signals whether or not the market is confident that it has priced in the expected earnings already. A narrower distribution signaling the potential for greater volatility post earnings, a wider vice versa.
The analyst with the highest estimate confidence rating this quarter is Davis, who projects a $0.70 EPS and $17.895B in revenue. Estimate confidence ratings are calculated through algorithms developed by our deep quantitative research, which looks at correlations between analyst track records and tendencies as they relate to future accuracy.
All expectations point to Target putting up weaker numbers compared to the last quarter. However, if holiday sales mean anything, investors can expect Target to have both a higher EPS and revenue for the next quarter. However, if this consumer sentiment continues, expect sales for the next quarter to also be less than last year's fourth-quarter sales. One can see Target as a gauge for consumer spending. As Target makes EPS and revenue gains, consumer sentiment is one of buy, buy, buy. But in situations like these, watching the weak numbers of Target and Wal-Mart show that consumers are currently cautious about their spending.