Generally speaking, we like the utility industry. Utilities provide an essential service, generally operate in a near-monopoly position and benefit from significant barriers to entry due to the capital intensity of new projects and regulatory/environmental requirements. Regulatory frameworks differ across the grid, but most utilities benefit from an assured rate of return on capital investments through predetermined rate structures where cost adjustments are made by authorities periodically. Most constituents also benefit from stable operations and generally lower debt financing, though we note credit ratings should be monitored closely.
The strong industry backdrop was apparent in PPL Corp's (NYSE:PPL) third quarter earnings release. Though adjusted earnings from ongoing operations per share declined on a year-over-year basis during the period as a result of competition in the firm's electricity generation and energy marketing operations of PPL Energy Supply, PPL Corp. continues to increase its 2013 forecast of earnings from continuing operations thanks to strength in its regulated business segments. In its second quarter release, management raised the range to $2.25-$2.40 per share, with a midpoint of $2.32 per share, up from the previous forecast range of $2.15-$2.40 per share, with a midpoint of $2.28 per share. Its third-quarter report revealed an increase in its 2013 forecast of earnings from ongoing operations to the range of $2.30-$2.40 per share, with a midpoint of $2.35 per share. We like the continued trajectory of improving earnings expectations through the course of this year.
Our Take
PPL's predominantly rate-regulated business mix offers support for the firm's current dividend and provides it with a platform for future growth. We expect PPL's regulated compound annual rate-base growth to be an impressive 8% in coming years. We continue to hold PPL in the portfolio of our Dividend Growth Newsletter.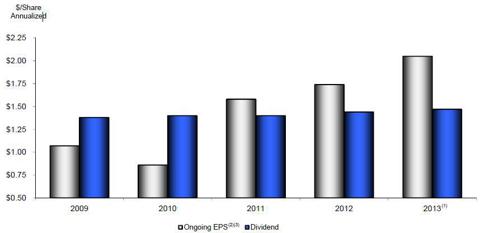 Click to enlarge
Image Source: PPL
Though the regulated rate of return on investment provides stability to the earnings of utilities, hefty dividend payouts coupled with large debt loads to finance regulated projects often leaves little room for operating error as it relates to covering the dividend. This is why we view exposure to the utility industry in our Dividend Growth portfolio as a diversification maneuver rather than any methodology-driven tactic. Most utilities have poor Valuentum Dividend Cushion scores by definition. Exelon's (NYSE:EXC) recent dividend cut not only supports our methodological dividend framework for utilities, but also is a real-life example that showcases why utility dividends aren't always safe.
Disclosure: I have no positions in any stocks mentioned, and no plans to initiate any positions within the next 72 hours. I wrote this article myself, and it expresses my own opinions. I am not receiving compensation for it (other than from Seeking Alpha). I have no business relationship with any company whose stock is mentioned in this article.
Additional disclosure: PPL is included in the portfolio of our Dividend Growth Newsletter.