A significant portion of Nokia's (NYSE:NOK) business is in emerging markets like India, China and Brazil where increasing smartphone penetration could favor new Nokia competitors that have adopted Google's (NASDAQ:GOOG) Android operating system (OS) for mobile phones.
We already expect Nokia's market share to decline in both emerging and developed markets; however, new entrants in the emerging market space could further accelerate those share declines as well as push prices and margins down for all competitors.
Below we discuss the threat to Nokia in emerging markets, why emerging markets are significant for Nokia and what impact it could have on the stock.
Android Spurs New Entrants to Mobile Phone Market
Google's Android OS has spurred a wave of new entrants to the mobile phones space. PC makers Acer, Dell (NASDAQ:DELL) and Lenovo (OTCPK:LNVGY) have all announced plans to launch mobile phones based on the Android OS and are planning to aggressively sell these phones in emerging markets. This is a threat to Nokia which is the dominant mobile phone company in emerging markets.
Acer - launched "Liquid" Android-based smartphone in 2009
Dell - launched "Mini 3" Android-based smartphone in China (Nov 2009) and Brazil (Dec 2009)
Lenovo - China's biggest PC maker announced plans for an Android-based touch-screen smartphone "LePhone" to be launched in China in 2010
Acer, Dell and Lenovo are all hardware rather software companies that have benefited from Google's development of the Android OS. By avoiding the costs and time associated with developing their own mobile phone operating systems these PC makers have been able to quickly launch competitive smarpthones.
Emerging Markets Significance for Nokia
We estimate that the mobile phone business accounts for about 87% of Nokia's stock price and emerging markets drives the bulk of that value. We estimate that emerging markets revenue will account of 63% of Nokia's total mobile phone revenue in 2010 and that this will grow to 82% by the end of the Trefis forecast period.
Declining Nokia Market Share
We believe Nokia will sell about 366 million mobile phones in emerging markets in 2010 which translates to about 43% market share amongst the nearly 850 million emerging market mobile phones sold. We expect Nokia's market share in emerging markets to decline to about 37% over the Trefis forecast period due to increasing competition within the crowded smartphone space.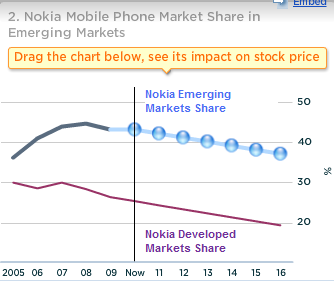 We also expect Nokia's mobile phone market share in developed markets like North America and Western Europe to experience share declines. This is why emerging markets will constitute a larger percentage of Nokia's revenue over time and why Nokia's positioning against new smartphone competitors in emerging markets is important.
High Smartphone Prices Critical
In addition to impacting market share, increased smartphone competition could negatively impact Nokia's ability to charger higher prices for its smartphones.
We estimate that the average selling price of a Nokia mobile phone in emerging markets has declined from 94 Euros in 2005 to about 53 Euros in 2009. However, going forward, and counter to the historical trend of pricing declines, we expect that the average Nokia mobile phone price will climb up to reach about 64 Euros by the end of the Trefis forecast period.
We expect a reversal in historical price declines since many current mobile phone owners in emerging markets will be upgrading their phones for the first or second time within the next few years and that a portion of these replacement phones will be smartphones that are priced higher than basic mobile phones.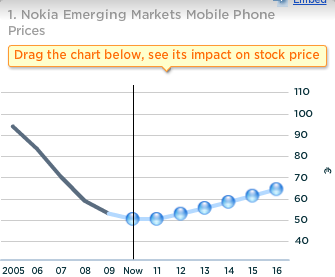 Impact on Nokia of Share Loss and Pricing Decline
Whether Nokia will be able to defy the new entrants and successfully sell smartphones to its existing customers in emerging markets is yet to be seen. However, you can modify our forecasts for Nokia's Emerging Market Share and Emerging Markets Mobile Phone Pricing to see how Nokia's stock could be impacted if share declines in emerging markets a greater than we expect and Nokia is unable to reverse the decline in its mobile phone prices.
Disclosure: No positions