Altera Corporation (NASDAQ:ALTR) reported fourth quarter sales of $365.0 million, up 27% sequentially and up 16% year over year. New product sales increased 30% sequentially. Incoming orders continue to be strong and the book-to-bill ratio was well above 1 driving the strong sequential growth. On a sequential basis, Altera saw net increases in both large and small customer categories, indicating broad-based demand strength.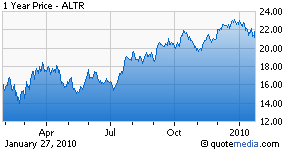 All the markets performed better than management's expectations due to a combination of new program ramps, improved end-market demand, and an increase in customer take rate due to inventory depletion.

Telecom and wireless increased 31% on the strength of 2G and 3G wireless. Industrial, military automotive grew 23%. Computer, storage, and networking increased 14% driven by strong growth in networking. Sales from all other markets such as consumer, broadcast, test, and medical, grew 35%.

On the earnings conference call, management indicated that most major customers informed Altera that the sharp increase in demand goes to support strong demand in their end-business and not for building inventory.

Gross margin came in at 68.4% compared to 67.3% in the previous quarter mainly due to efficiencies obtained in reducing operating costs. On a year-over-year basis, gross margin was down from 69.3% in the year-ago quarter.

Operating margin came in at 32.7% compared to 23.2% in the previous quarter and 27.4% in the year-ago quarter.

Management expects that the restructuring steps (primarily headcount reduction) undertaken in 2009 will continue to yield favorable results in 2010 as well.

Net income came in at $103 million or 34 cents per share compared to a net income of $56.7 million or 19 cents in the previous quarter and $83.0 million or 28 cents in the year-ago quarter. The reported net income per share easily beat the Zacks Consensus Estimate of 29 cents.

During the fourth quarter, Altera generated $176 million of cash from operations. Altera ended the quarter with $1.5 billion in cash and short-term investments, an increase from $1.2 billion at 2008 year-end.

For 2009, Altera reported sales of $1.20 billion, down 13% from a year ago. Net income came in at $251.1 million or 84 cents per share compared to a net income of $359.7 million or $1.18 in 2008.

Going forward, management expects sales to increase by 5% – 10%. Gross margin is projected around 67.5% – 68.5%.

Management continues to work on further improving the cost structure, including a keen focus on improving business processes, maximizing free cash flow with a renewed focus on the cash conversion cycle and improving profitability.

Altera is a leading supplier of programmable chips and related products to the communications and other industries. The company primarily competes with Xilinx Inc. (NASDAQ:XLNX) in this space.

Last week, rival Xilinx Inc reported a solid quarter driven by growth in all end-markets and geographies.

We think Altera is well positioned to capitalize on the strong recovery in the semiconductor industry with its strong design wins. Business sentiment has improved significantly in the semiconductor space after a weak first half of 2009.