If you have been following the story involving NQ Mobile (NYSE:NQ) you will see a pattern that has been taken on more and more among stocks being targeted by short sellers. Shorts take a position in hopes to profit when stocks fall, then they cover on the declines, whereas a lot of investors tend to do the reverse which is, buy low and sell high. Shorts do the opposite. They sell high and buy low to make profits.
Anyways, the point to my article today is to show that shorts can be honest about what they do to sell what may amount to overbought or overpriced stocks or be deceptive. I believe that in the case of NQ Mobile, the shorts in the case led by Muddy Waters (MW) portrays the case of the later. I believe that the technique is known on Wall Street as a "short and distort" campaign. Short a stock, then scream as loud as you can in a variety of mediums (TV, written articles, or radio) that a stock is a "fraud" and "it's going to zero!" Or, maybe even lobby real hard in Washington to have the company investigated to help them achieve their goal in collapsing a company's stock for profits. Let me ask, how this is any different than yelling fire in a crowded auditorium? It is anybody's guess why this is allowed in this day and age. I'd like to call it "financial terrorism." Of course we could debate this topic for hours and well that won't happen here but I strongly believe that new legislation is needed. Getting away with these "cowboy" tactics is beyond me because it does nothing short of taking advantage of unsuspecting retail and/or longer term and loyal investors who get blindsided like a torpedo in the cross current. Take a look at the chart below to see the destruction. This is nothing to be proud of I assure you. It's a disgrace and its happening more and more.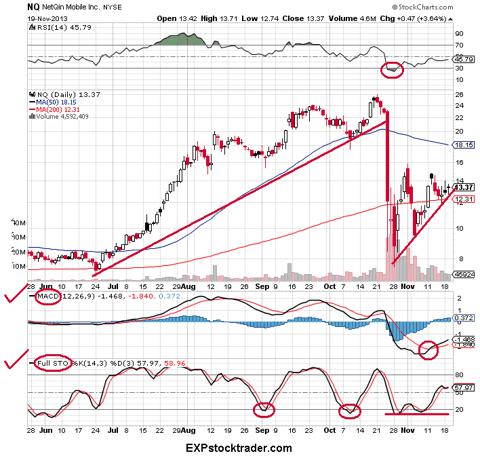 If you have been following me over the last few years I have seen this before and I even wrote about a similar raid that occurred a year ago with another very good company that was attacked, but soon recovered. You can read about my article on Questcor Pharmaceuticals (QCOR) here. This stock was raided from $55 down to the $20 level then after all the worries subsided, the stock rebounded back to over $60 - $70 and rewarded those who could tolerate the risks. Yes, QCOR stock rebounded over 300% from the drop in the $20's.
Frankly, the only positive thing that comes from this is that it does present a real opportunity to take advantage of the drop that occurs when the panic strikes. So much so, that there are investment funds and individuals who look for these mispriced opportunities to step in and "buy the fear." As a matter of fact, besides myself I know that several contacts that did just that and "bought the fear" and so far have been successful enough to benefit from the drop.
There have been a few articles and postings from bloggers and other investors that I would like to discuss at this time.
According to allegations documented by another SA colleague at Toro Investment partners:
MW made several exceedingly bold public allegations about one of the leading growth companies in mobile communications. Some of the allegations included:
NQ has no cash
Payment Service Provider ("SP") Yidatong ("YDT") does not exist, not even physically, because it is NQ
YDT manufactures most of NQ's revenue by roundtripping cash because YDT's SAIC financials don't add up (per MW GAAP)
NQ has no real partners in China
NQ has practically no users in China
NQ's software basically sucks and nobody wants to use it
Additionally Paul Gillis PhD, CPA who is an authority on Chinese accounting and retired partner for Pricewaterhouse Coopers stated that:
High days sales outstanding (DSO) usually indicate a red flag, but a fraud perpetrated in this way would be quite small compared to what Muddy Water's alleges. Muddy Water's says that over 90% of the business is fake, and you can't cover that up by edging up DSO.

The second issue is whether the cash is there. I consider that the true test of whether the company is a fraud. If the cash is there, I see no way that any fraud could be of the scale alleged by Muddy Waters. The company is taking some extraordinary steps to clear this issue up. The Level 1/Level 2 controversy is meaningless.
Distortion or Reality?
I see this as part of the distortion or "noise" and the company has addressed these concerns. The company didn't hide, but has offered complete transparency. These allegations have all been defended and refuted masterfully by the company and NQ Mobile has even gone so far as to present its case in a very detailed webcast that can be seen following its Investor Day presentation that occurred on Tuesday, November 19, 2013 at 1:00pm EST.
Who Are The Bulls:
1) Toro Investment Partners - CEO, Taek-Geun Kwon; New 13G
2) Altimeter Captial - CEO, Brad Gerstner; Firm Overview; New 13G filing
3) ChinaRock Capital Management - Firm Info; New 13G filing
Still Not Convinced?
How about recent large investor Oberweis who claims to have doubled its NQ Mobile stake to 1.8M shares, betting that claims by Muddy Waters LLC about the company's finances are unfounded as reported by Bloomberg. Additionally, SFGate.com reported this too.
Who is Oberweis? See the firm info.
Going Back To MW's Allegations:
An 81-page report by MW on NQ Mobile on October 24 said: "NQ is a massive fraud." The report additionally went on to say that at least 72 percent of NQ's purported 2012 China security revenues were fictitious.
NQ Mobile has vehemently denied the allegations, then held a two-hour conference call on October 25 with analysts and investors in which it detailed its financial statement and answered questions about Block's accusations. The bottom line; MW's allegations are false per NQ officials.
In the report discussed allegations that Tianjin Yidatong Technology Development Co., NQ's largest trade debtor, is controlled by NQ and not an independent company. Yidatong's owner Xu Rong disclosed in an interview that the MW's report isn't accurate. Furthermore, she stated that her company has no relationship with NQ Mobile besides a contract to process online payments from mobile subscribers.
What About The Cash?
Matt Mathison, the vice president of capital markets at NQ Mobile, stated on the October 25, 2013 conference call;
"We welcome any third party the opportunity to check the company cash. The truth and the facts are on our side."
Even Jim Oberweis and his staff stated that they personally verified the bank accounts by going to Standard Chartered Bank with employees of NQ Mobile. Bank employees printed out a letter confirming the deposits and showed it to them. According to Oberweis, the cash was there. His direct quote was:
"The money is there and this illusion that there is no cash is completely false." Investors should breathe a sigh of relief and thank him for taking such swift action on behalf of all investors.
Summary of the Investor Day Presentation:
I believe that the webcast of the investor presentation was a big success (see transcript here) and should have helped calm the nerves of investors around the world. There was a great deal of information given and actually too much to digest all at one sitting. Due to the extreme detail and forthright willingness of NQ to explain its business in more details tells me that it is more than willing to show investors its growth strategy and dispel any false rumors. Please go online and review the webcast for more info about its detailed presentation. You might be impressed.
Summary:
Again, I would ask you who are you to believe, someone who orchestrated what looks like an elaborate "smash and grab" or detailed due diligence from someone like Jim Oberweis whose China Opportunities Fund (MUTF:OBCHX) has beaten all competitors in 2013 and over the past five years, where NQ Mobile is now the largest position in five of six Oberweis funds according to data compiled by Bloomberg. Also, remember that PricewaterhouseCoopers LLP is the auditor for NQ Mobile's financial statements and its earnings report came out as scheduled without delay. A delay would have triggered more concern and it didn't.
My final comments would be that it is my firm belief that what has occurred on NQ Mobil is nothing more than a hit and run strategy orchestrated by a bear raid, plain and simple. The stock was hit, and the MW shorts have probably already covered on day one. Now, the smart money investors are coming in every few days and buying up all the stock and the shares should recover before too long. Topeka Capital maintained a Buy rating on NQ Mobile and raised its price target to $36.75 (from $34.25). Analyst Frederick Ziegel also raised revenue and earnings estimates following meeting yesterday with NQ management.
Disclosure: I am long NQ. I wrote this article myself, and it expresses my own opinions. I am not receiving compensation for it (other than from Seeking Alpha). I have no business relationship with any company whose stock is mentioned in this article.