Genpact Limited (NYSE:G) Stock has been weak for the past few months mainly due to concerns around revenue weakness related to the...
Large deals taking longer to mature
Mortgage origination processing business weakness
But it would be myopic on the investor's part to get worried about these quarter specific issues and overlook major opportunities like Patient Protection and Affordable Care Act - "Obamacare", which would require a major overhaul of the technology infrastructure of the healthcare sector, shaping up for the company. Besides the macro tail winds for the healthcare practice, there are numerous other catalysts worthy of the investor's interest like...
Sole sourced "large deal" to take effect in 2014
Mortgage origination market normalizing
A new technology platform for mortgage origination processing in 2014
Emerging market currency weakness
Valuation at historical lows
The stock is down almost 15% over the last 3 months and valuation is close to the lowest levels of recent times. Revenue, which grew 10-12% this year, should find back its growth trajectory soon with these multi-year opportunities.
Weakness is temporary not structural
The business fundamentals are still intact and recent revenue weakness is more temporary than structural.Genpact Limited (G) provides business process outsourcing and IT services. The company offers 4500 processes from delivery centers in 18 countries in 70 languages to 600+ customers. The company primarily competes with the likes of Accenture (NYSE:ACN), Infosys (NASDAQ:INFY), Wipro (NYSE:WIT), Tata Consultancy Services and Cognizant (NASDAQ:CTSH).
The company has been successfully focused on...
Moving to higher-end services spectrum with larger deal sizes and better margin profile.
Steady growth with limited volatility
Since its IPO in 2007, it has not just been one of the fastest growing IT services company among peers but has also provided this growth with limited volatility, which tells a lot about the strength of the company contracts.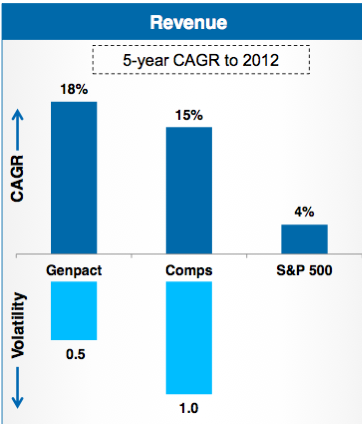 Analyst day presentation
Positioned well for Obamacare
The Patient Protection and Affordable Care Act - Obamacare is among the biggest opportunities for the company's healthcare practice. Sector analysts are expecting total outsourcing opportunities from the Act to reach as high as $20 billion. Gartner expects the U.S. health care market to reach $18 billion this year as Obamacare related growth kicks in. Some of prominent opportunities for outsourcing companies are going to be around electronic health records, claims processing, insurance sales and data conversion.
Genpact acquired Felix software and JAWOOD, earlier this year, which provides claims processing, benefit configuration & management and testing services focused on the healthcare payer market. It also has a custom platform designed for Blue Cross Blue Shield affiliated companies and for ICD -10 compliance.
In healthcare, Genpact already has offerings in claims management, membership management, provider management, clinical services, and finance & accounting. The healthcare practice focused on the payer market, for the company, is expected to continue to benefit from...
ICD10 compliance
Development of health insurance exchanges
The development of alternative risk and payment models including Accountable Care
Compliance with the Obamacare.
Politics around it may ebb and flow but productivity gains would still be cited and process-outsourcing firms like Genpact are bound to benefit and factors like the recent confusion around the offering may accentuate the rationale behind the same.
Operating performance benefiting
Some of the near-term revenue weakness is not taking a toll on the operating performance of the company; indeed on the contrary it's helping the company's margins improve.
| | | | | | |
| --- | --- | --- | --- | --- | --- |
| | Q3 2013 | Q2 2013 | Q1 2013 | 2012 | 2011 |
| Operating margins | 16% | 15% | 15% | 14% | 14% |
Raw data source: SEC filings
Margins, more recently, improved due to...
Productivity improvements
Lower upfront spends related to delays in large deals.
Second quarter margins improved due to better utilization rates and phasing of investments. Operating performance is also benefiting from the average deal size getting larger, which has been constantly rising for the company.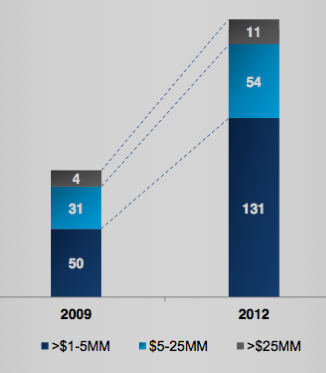 Strong operating margins and average deal size, both are expected to stay strong next year as well as reiterated in the recent conference call
"So on the G&A side of the house, as well as on the gross margin side of the house, we will continue to drive that as we've always done in our history. In fact, as we think about '14 and beyond, leverage will continue as we grow."
Besides the operating margins, cash flow has also been strong even during the most recent revenue weakness.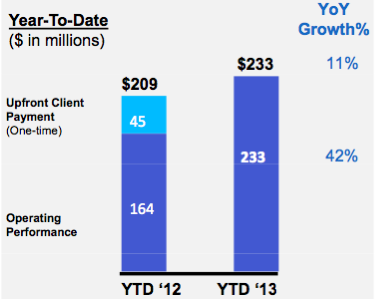 Interest rates to help mortgage origination processing business
Part of the revenue weakness was due to weakness in company's mortgage business, which has predominantly been origination processing to support the refinancing. Since the second quarter, the company has seen revenue weakness due to the decline in U.S. refinancing volumes, which was mainly attributed to the sharp rise in the interest rates.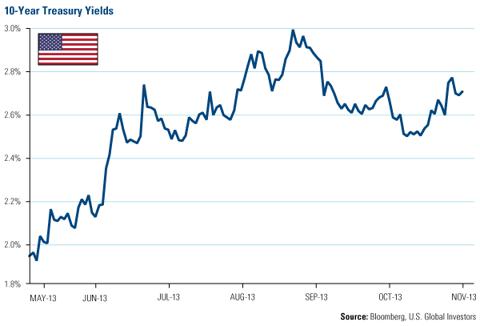 Source: US funds
Besides the stabilization of interest rates, the company is expected to benefit from the planned rollout of new technology platform for the new mortgage originations market in 2014.
"Large deal" moved to the first quarter 2014
The downside of increase in average deal size and longer cycle times was a temporary delay in a "significant size" deal that led to a quarterly revenue miss for the company. The "large deal" and the company's definition of a large deal have doubled in its pipeline. Reading comments from the management in the most recent conference call makes one positive about the deal getting finalize by first quarter 2014
"Client who should have closed a very interesting complex transaction with us in our sweet spot, some time, for us to start execution in November has pushed it out to January. It's a sole-source discussion. It's an industry-leading discussion."
Emerging markets currency weakness to help
With revenues based in US dollars and much of personnel based in emerging markets including India, the company should benefit from strong dollar.
Near-term, emerging markets currency depreciation benefits might be capped by the hedges but over time, weak Rupee should help more via ease of the wage inflation threat in recent times than otherwise.
GE business close to bottom
Genpact, as a business, was formed as a division of GE, which GE formed into a separate company in 2004 and sold indirect interests to private equity investors General Atlantic and Oak Hill. The company went for IPO in 2007.
Revenue weakness in GE business, another major issue holding back the stock, should stop hurting as much with expected GE capital IPO in 2014 and other businesses from GE taking over the weakness associated with the reduction in net investment in the finance business.
Valuation, relative and absolute, is close to historical lows
Even amid decent revenue growth over the years, the stock is trading at close to historical lows looking in relation to the revenues as shown by the Price to sales ratio over last five years.
Source: Ycharts

Valuation gets more interesting once taken in relation to margin structure, which are still strong. Besides the operating margins, discussed earlier, gross margins have also held steady over the years.

Source: Ycharts
Even looking in relation to other IT services companies in the space, valuation gap is visible.
| | | | | | | | |
| --- | --- | --- | --- | --- | --- | --- | --- |
| | Stock | P/E 2013 | P/E 2014 | EV/ EBITDA (NYSE:TTM) | P/Book | Rev growth 13 | Rev growth 14 |
| G | $18 | 16 | 16 | 11 | 3.5 | 12% | 11% |
| CTSH | $94 | 23 | 20 | 14 | 5.0 | 20% | 17% |
| WIT | $12 | 24 | 22 | 16 | 4.8 | 2% | 11% |
| INFY | $55 | 19 | 17 | 13 | 4.5 | 11% | 9% |
| | $24 | 14 | 14 | 8 | 2.2 | 7% | 4% |
| ACN | $78 | 17 | 16 | 10 | 9.9 | 4% | 6% |
Raw data source: SEC filings and Y Finance
Conclusion
Short-term revenue weakness related pressure taking a toll on stock, which is poised to benefit from multi-year opportunities. With valuation levels at multi-year lows, stock can trade close to 2.5-3x sales with the sales growth estimates moving to 15-20%.
Disclosure: I have no positions in any stocks mentioned, and no plans to initiate any positions within the next 72 hours. I wrote this article myself, and it expresses my own opinions. I am not receiving compensation for it (other than from Seeking Alpha). I have no business relationship with any company whose stock is mentioned in this article.