The big news for Exxon Mobil (NYSE:XOM) was the recently disclosed purchase of the stock by legendary investor Warren Buffett. Berkshire Hathaway has added to its existing holdings in energy and utilities businesses with a $3.45B purchase of over 40 million shares in Exxon Mobil. So does the "Buffett Seal of Approval" mean it's time for investors to follow suit?
One reason to consider investing in Exxon Mobil is its dividend. Exxon Mobil is a dividend aristocrat, meaning it has raised its dividend every year for over 25 years (31 consecutive years to be exact). In 2013, the company continued its long history of impressive dividend growth, announcing a 10% increase in its quarterly cash dividend in Q2. And this was following a huge 21% dividend increase the previous year, which made Exxon Mobil the largest dividend payer in the world.
Dividend History
Included below are the dividends and growth rates for the past decade, along with Exxon Mobil's payout ratio:
| | | | |
| --- | --- | --- | --- |
| Year | Dividend | Dividend Growth | Payout Ratio |
| 2003 | $0.98 | -- | 31.1 |
| 2004 | $1.06 | 8% | 27.3 |
| 2005 | $1.14 | 8% | 20.0 |
| 2006 | $1.28 | 12% | 19.3 |
| 2007 | $1.37 | 7% | 18.8 |
| 2008 | $1.55 | 13% | 17.7 |
| 2009 | $1.66 | 7% | 40.8 |
| 2010 | $1.74 | 5% | 27.1 |
| 2011 | $1.85 | 6% | 21.4 |
| 2012 | $2.18 | 18% | 21.2 |
| E2013 | $2.46 | 13% | --- |
Exxon Mobil has been a consistent dividend paying stock, with a current dividend yield of 2.6%. The company has grown its dividend at ~9% annual compounded growth over the past 10 years, and ~10% over the past 5 years.
Furthermore, Exxon Mobil has delivered this growth in its dividend while maintaining a relatively low payout ratio. Other than the blip in 2009, Exxon Mobil's payout ratio has been in the low 20's for several years, and appears to have settled back down in that range again.
Return On Equity & Potential Growth
In addition to looking at historical growth and payout ratios for the dividend, analyzing Exxon Mobil's return on equity performance may also provide some clues as to what future dividend growth may look like.
On average, Exxon Mobil has provided an average ROE of 27% over the past 5 years (2008-2012).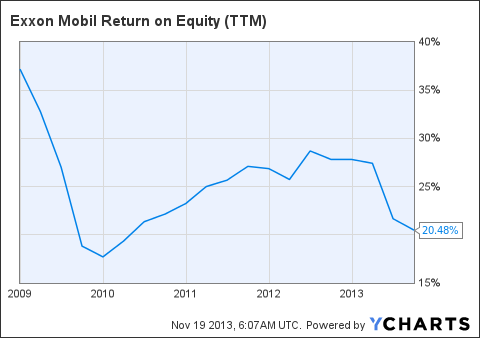 XOM Return on Equity (TTM) data by YCharts
Using a "back of the envelope" approach, we can use the payout ratio (retention rate ~79%) and average ROE (27%) to estimate future earnings growth. Holding these numbers constant would give you an estimate of 21% earnings growth going into the future.
Clearly this growth rate is too high of an estimate, but this is a function of the retention rate. This reinforces that Exxon Mobil's payout ratio has been very low, indicating that there will be room for dividend growth even with consistent, but slower, earnings growth. The combination of share repurchases and expanding payout ratio could enable dividend growth to exceed earnings growth for limited periods of time.
Dividend Discount Model
Using the dividend discount model, I determined the value of the company based on its future dividend payments. In performing this valuation, I made several assumptions:
First, I used 8% as my discount rate, based on the long-term average return of the stock market.
Next, I used Exxon Mobil's declared Q4 2013 dividend ($0.63) to estimate the full FY13 dividend ($2.46), and used this as the base to apply future growth rates to.
I applied a 10% growth rate for 2014-2018, a 9% growth rate for 2019-2021, and 8% growth rate for 2022 & 2023.
Finally, I assumed a 3.5% perpetuity rate after 2023.
Based on these assumptions, I calculated that Exxon Mobil's intrinsic value is ~$91 per share. At the current price of $95 per share, the stock seems to be fairly valued, however, it offers very little margin for error. So investors should pay close attention to their growth assumption and make adjustments based on their own outlook.
Overall, Exxon Mobil does not seem overpriced for total return oriented investors that are interested in dividend growth. Therefore, long-term investors may want to give Exxon Mobil a closer look to see if it should be included in their portfolio.
Disclosure: I have no positions in any stocks mentioned, and no plans to initiate any positions within the next 72 hours. I wrote this article myself, and it expresses my own opinions. I am not receiving compensation for it (other than from Seeking Alpha). I have no business relationship with any company whose stock is mentioned in this article.
Additional disclosure: The opinions in this document are for informational and educational purposes only and should not be construed as a recommendation to buy or sell the stocks mentioned or to solicit transactions or clients. Past performance of the companies discussed may not continue and the companies may not achieve the dividend growth as predicted. The information in this document is believed to be accurate, but under no circumstances should a person act upon the information contained within. We do not recommend that anyone act upon any investment information without first consulting an investment advisor as to the suitability of such investments for his specific situation.