I believe BDC prices are based on more than just net asset value ("NAV") per share and earnings multiples, especially for the higher quality companies that return more than just dividends. This article will explain how I value BDCs using total return that accounts for income and capital appreciation. Income includes distributions or dividends and capital appreciation represents the change in the value of the investment. I use NAV per share growth to measure the ability to create value for shareholders because stock prices are subject to macro issues. I will also compare my total return pricing to the standard multiples methodology for the 25 BDCs that I cover.
Current Total Returns
In a recent article "BDC Returns For Q3 2013" I provided updated returns for the BDCs that reported. The table below shows the total return for each BDC using current dividend yield plus special dividends for 2013 plus NAV per share growth over the last twelve months. The projected dividend coverage column simply uses the average of First Call estimates over the next two quarters divided by the current regular dividend. BlackRock Kelso Capital (NASDAQ:BKCC) is the only company that is expected to not cover dividends with net investment income ("NII") by more than 10% and investors should expect a dividend cut in the coming quarters if its financials do not improve. The other thing I did not take into account was projected dividend growth which would increase the returns for companies such as Hercules Technology Growth Capital (NASDAQ:HTGC), Main Street Capital (NYSE:MAIN), PennantPark Floating Rate Capital (NASDAQ:PFLT) and Prospect Capital (NASDAQ:PSEC) that had higher than average dividend growth over the last twelve months. Solar Capital (NASDAQ:SLRC) and Horizon Technology Finance (NASDAQ:HRZN) both experienced dividend cuts but will hopefully not have to cut again. KCAP Financial (NASDAQ:KCAP) also recently cut dividends but had raised it earlier in the year so the change was nominal.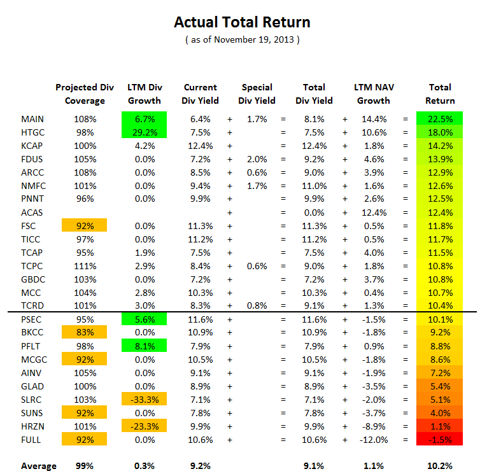 Projected & Expected Total Returns
When looking at projected total return I use a conservative approach taking the current amount of regular and expected special dividends and adding only 50% of LTM NAV per share growth with the exception of American Capital (NASDAQ:ACAS) that I assume performs similar to last year despite slowing NAV per share growth rates. There are many reasons for discounting the historical NAV growth rates and 50% is an arbitrary amount but as long as the same discount is applied from period to period it still serves as a valid method of measurement. I assumed that the BDCs with declining NAV per will stabilize in the future and used a growth rate of 0%.
The table below shows the projected total returns with the average and the 'standard deviation' that statistically measures the variation of returns compared to the average, with 68% of BDCs within one standard deviation from the average or between 8.8% and 12.4%. I believe this is an acceptable rate of return and maybe a little conservative because of the NAV per share growth discounts and may favor BDCs such as PSEC that pays a high dividend with little to no expected NAV per share growth. I believe that investors expect higher rates of return for higher amounts of risk and using this range of returns along with my relative risk rank (see risk profile articles for more) of each I assign an implied total return.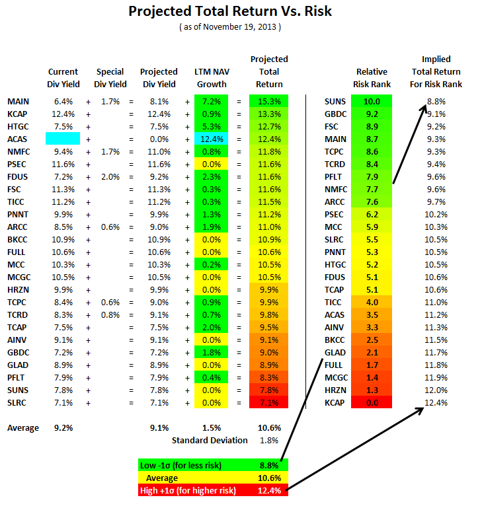 Implied Total Return Pricing
Using the implied total return from the previous section I calculate the proper price for each BDC. This is a simple calculation as shown in the example below: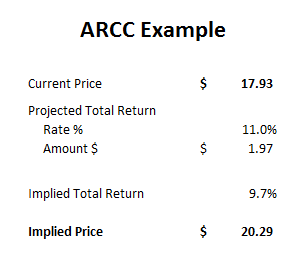 In this example I am assuming that an Ares Capital (NASDAQ:ARCC) investor receives $1.52 from regular dividends plus $0.10 in special dividends plus $0.35 in NAV per share appreciation annually. This is a conservative estimate and there are potential upsides to the returns for ARCC including its NAV per share increased by $0.61 over the last twelve months and is currently trading at a 10% premium to NAV.
The table below applies this methodology to the other BDCs and compares the current prices as well as identify the portfolios I have suggested for each: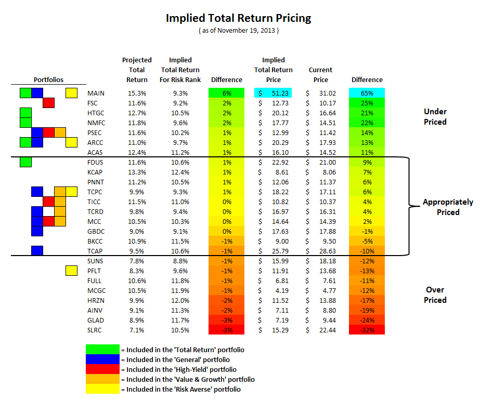 Obviously MAIN is an outlier even after discounting its large amount of NAV growth. SLRC is an outlier as well and is going through portfolio changes that skew the results. Gladstone Capital (NASDAQ:GLAD) reported results while writing this article but has not released its 10-K so the information is as of June 30, 2013. However, they have reported a large increase in NAV per share to $9.81 which would bring it almost back to where it was at the end of 2011.
Total Return Pricing Compared to Multiples
The table shows the difference between the two pricing methodologies which favors many of the BDCs that I consider to be higher quality. MAIN is an outlier using this methodology but I have included it and ACAS is also an outlier because I did not discount its NAV per share growth rates.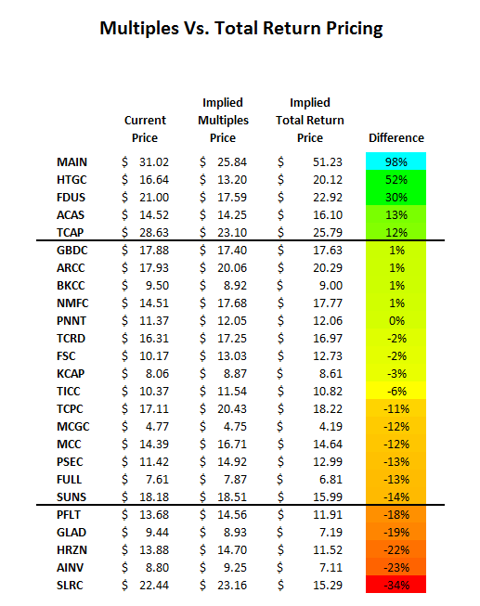 For now, I believe using an average of the two valuation methodologies is the best because they both have flaws but take into account different metrics that are all important to investors. Some BDCs such as PSEC, ARCC, Medley Capital (NYSE:MCC), TCP Capital (NASDAQ:TCPC), New Mountain Finance (NYSE:NMFC), Fifth Street Finance (NYSE:FSC) and TICC Capital (NASDAQ:TICC) are underpriced using both compared to others such as Apollo Investment (NASDAQ:AINV) that is underpriced using multiples but overpriced using returns.
In my weekly newsletter I provide updated pricing using both multiples and total return similar to the table below.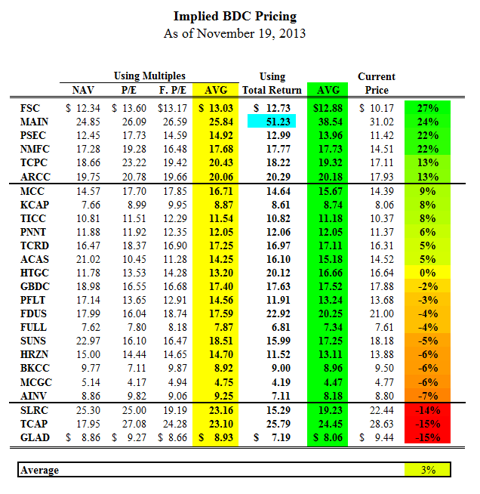 Investors should only use this information as a starting point for due diligence. See the following for more information:
Disclosure: I am long ARCC, MAIN, PSEC, NMFC, TCPC, TCRD. I wrote this article myself, and it expresses my own opinions. I am not receiving compensation for it (other than from Seeking Alpha). I have no business relationship with any company whose stock is mentioned in this article.