One of the most interesting dividend debates over the past few months has been in regards to chip giant Intel (NASDAQ:INTC). Many, like myself, thought that a raise was coming after the company had paid out its $0.225 quarterly dividend four times in a row. Back in June, I discussed the dividend raise potential of Intel as a preview to what I thought was going to happen. However, Intel did not raise the dividend for the next payment, or the one after that. Intel has now paid the above mentioned rate for six straight quarters. There is the hope that Intel is looking to get back on a calendar cycle with its dividend, meaning the next declared dividend could be where a raise comes. Today, I'm here to update Intel's dividend prospects, and revise my prediction for Intel's next dividend raise.
Recent dividend history:
The chart below shows Intel's dividend over the past decade. For those looking for dividend growth, Intel has certainly been a name that has delivered, with a few exceptions.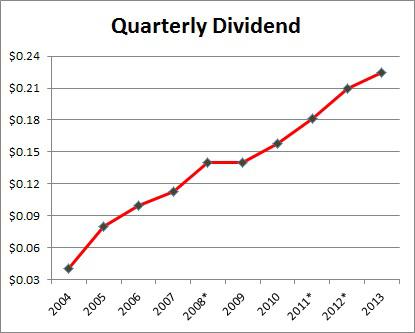 *According to Intel's dividend history, Intel's first payment of 2008 was 12.75 cents per share, but the company raised that dividend to 14 cents per share for the remaining three payments of that year. Intel's first two payments of 2011 were 18.12 cents per share. Since then, Intel has raised its dividend with the third payment of the year. The final two payments of 2011 and first two of 2012 were 21 cents per quarter. For the third payment of 2012, Intel raised the dividend to 22.5 cents per quarter, the current rate.
Looking at the balance sheet:
The following table shows some key balance sheet data for Intel, comparing this year's Q3 to last year's Q3 and this year's Q2. Dollar values are in millions.

*Liabilities to assets ratio.
The cash and investments balance is certainly important to investors, as a company obviously needs cash to pay dividends (and buy back stock). But just as important is the amount of domestic cash, or cash held inside the US. These are the only funds that can be used for dividends and buybacks. Cash located outside the US cannot be used. A company can bring the cash home, which forces it to pay repatriation taxes, or it can borrow against the foreign balance, and that involves interest expenses. Intel provided the following statement in its most recent 10-Q filing on its cash position.
As of September 28, 2013, $10.8 billion of our cash and cash equivalents, short-term investments, and marketable debt instruments included in trading assets was held by our non-U.S. subsidiaries. Of the $10.8 billion held by our non-U.S. subsidiaries, approximately $1.8 billion was available for use in the U.S. without incurring additional U.S. income taxes in excess of the amounts already accrued in our financial statements as of September 28, 2013.
There are two key numbers to think about here. First, $10.8 billion of the $19.1 billion plus cash balance shown above was outside the US. That means that roughly $8.3 billion is held within the US. However, Intel also notes that an additional $1.8 billion could be used in the US without additional taxes. That's helpful, so it brings the theoretical US balance up to a little more than $10 billion. Intel is not in any financial trouble, and the balance sheet is in good shape.
However, there is a concern here, and I noted this when I discussed Intel's third quarter earnings report. Intel is in the midst of a couple of bad years, with net income and earnings per share falling off a cliff. The company's revenues have been stagnant to slightly lower, but expenses have increased. Between 2011 and 2013, Intel could see a net income decline of $3.5 billion. That will hurt operating cash flow, although some will be picked up by certain add-backs. In fact, Intel reported a nearly $1.9 billion increase in operating cash flow for the first nine months of 2013, despite a net income drop of more than $1.5 billion. The problem here is that some of those items will eventually reverse, so if Intel's net income does not improve, cash flow will really be hit. In fact, inventory changes totaled $1.4 billion through that nine month period, as they swung from a cash flow negative to a cash flow positive. Once Intel increases its inventories again, the cash flow impact will swing back to a negative.
So what does this all mean? Well, the depressed results have caused Intel to not raise the dividend so far, and for the buyback to be slowed down tremendously. Intel's cash flow statement shows $4.09 billion of stock repurchases in the first nine months of 2012, but just $1.90 billion in the first nine months this year. Additionally, Q3 total dividend payments actually were less in Q3 of this year, as the dividend was not raised and the buyback improved the share count. Intel is now on the clock, as key dividend and buyback decisions will need to be made in the near future.
Growth forecasts have come down:
Perhaps part of the reason for a lack of dividend raise is that results have been poor. Intel has greatly disappointed on both the revenue and earnings front for 2012 and 2013. That has led analysts to reduce their expectations greatly for 2014 as well. Just since April of this year, the average revenue estimate for 2014 has come down by roughly $2.4 billion, and the average earnings estimate is down by 13 cents. Less revenues, less net income, and presumably less cash flow may be a reason why Intel has not raised the dividend. This is especially true for a company spending more than $10 billion in capex a year to remain relevant in the mobile revolution, a party Intel is late to. The following table shows some key comparisons for fiscal 2014 years, against other top tech names such as Apple (NASDAQ:AAPL), Microsoft (NASDAQ:MSFT), Cisco Systems (NASDAQ:CSCO), and Google (NASDAQ:GOOG).

*Numbers for EPS growth and P/E are non-GAAP.
For the longest time, Intel's numbers were the worst for revenue and earnings growth. Intel has jumped a spot thanks to the guidance disaster that Cisco provided last week. Does that really make Intel look a lot better? Not really, it's more of a case of Intel looking less bad and Cisco looking much worse. Yes, there is a difference there. Additionally, Microsoft and Cisco have both announced large buyback increases in the past few months. My Intel is on the clock article above discussed why Intel should be next.
So still, after converting Cisco earnings to GAAP, Intel has the second highest P/E of the four dividend paying names. It would seem logical for Microsoft to trade at a premium to Intel, given the extra growth. However, Apple is still the crazy one. Apple has the best growth of the four, yet trades at the lowest or second lowest valuation, depending on what your GAAP conversion is for Cisco.
Comparing large cap tech yields:
As was detailed in the chart above, Intel has the highest dividend yield of these four large cap tech names (that pay dividends). But just in case the numbers in the table don't speak to you, here's how things look in chart form, as of Tuesday's close.
Intel has the highest yield obviously. In percentage terms, Intel's yield is 14.78% higher than Cisco's, 19.53% higher than Microsoft's, and 55.17% higher than Apple's. I don't think this fact is likely to change anytime soon, although over the next couple of years I do expect Apple's dividend yield to increase significantly. Will it be enough to challenge Intel? That remains to be seen. A lot of things can change quickly in the technology sector. It was only a few years ago that the iPad was first released, and in Apple's latest fiscal year, the iPad generated almost $32 billion in revenues just from unit sales (excluding accessories). That's about 60% of Intel's total revenue base right now.
New dividend prediction:
In my original dividend raise prediction article, I summed up my prediction with the following statement:
To recap, I think Intel's next quarterly dividend would be in the $0.24 to $0.25 area. It's possible that they go slightly less at $0.235 per quarter, but I think that would be a disappointment to investors.
Well, I guess I'm going to disappoint investors a little here. Based on Intel's continued disappointments at the last two earnings reports, I'm reducing my prediction for Intel's dividend raise, when (and really if) it actually comes. I'm going to keep the same one cent range, but I am going to lower the range by half a cent to $0.235 to $0.245 per quarter. That doesn't seem like much, and two cents a year really isn't. However, it does take a chunk out of the raise, and impacts the yield a bit. I've summarized my changes in the table below.

*Based on Tuesday's closing price.
Additionally, I think there is a slightly higher chance that Intel could announce a raise of just half a cent to $0.23 per quarter. I'm not putting that in my official range, because I don't see it as very likely, but it is possible. Why would Intel do this? Well, the company would only do it if it felt that it had to raise the dividend, but didn't want to make a financial commitment in the hundreds of millions of dollars. Remember, with around 5 billion shares outstanding, every additional cent per quarter (4 cents per year) is an additional $200 million the company must fork over.
So why am I reducing my range? Well, there are two reasons. The first reason obviously is poor results. Intel's turnaround has not materialized as hoped, which is leading to 2013 as being (currently projected) the second straight year of declining revenues. Yes, the decline is small, but Intel was supposed to have a few billion in revenue growth. Lower revenues and earnings make me believe a smaller dividend increase is more likely. The second reason is capital returns. I showed above how Intel has slowed down the buyback dramatically. If we are now led to believe that 2014 will be the rebound year, Intel should be buying back stock ahead of this rebound. I'd rather the company spend more on buybacks than dividends. Not only can Intel get the share count down, which will help earnings per share, but I think a stronger buyback would be a better sign of a business turnaround than a dividend increase. Intel can still increase the dividend, but I think a smaller increase with a better buyback is the more prudent way to go.
An update on stock price and technicals:
With the Dow and S&P 500 racing to new highs, Intel's stock has continued its post-earnings rally. Intel is approaching $25 again, and this was where the stock ran into some trouble earlier this year. I had been mentioning Intel approaching the "death cross" over the past few months, but that technical event has been avoided (that's a good thing) for now. This time, I'm going to show how Intel is approaching the upper Bollinger band, a level that has provided some resistance for Intel shares in the past. A six month chart is below.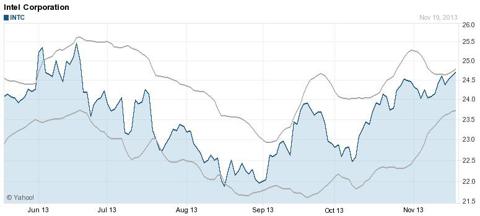 (Source: Yahoo! Finance)
Intel shares are pushing up against the higher end of the Bollinger band range, and I do think a pullback will come. Now that pullback may only be 50 cents or so, so I'm not going to try to time it right now. I wouldn't necessarily buy Intel just yet, but it's not like I'm calling the name a short either. There are a lot of factors to consider, which is why you can read all of my prior Intel coverage here.
Final thoughts:
Five months later, I've reduced my dividend raise prediction for Intel, and that assumes a raise actually comes. Intel's results have not been great the past two years, leaving shareholders disappointed. While Intel already has the highest dividend yield in terms of large cap technology, investors have been looking for a dividend raise. The buyback has also slowed down tremendously. I'm not as optimistic on the raise as I used to be, but that doesn't necessarily mean I am down on the stock. Intel could be a decent play if the 2014 turnaround materializes, but that was supposed to happen in 2013. Intel investors need to have realistic expectations, and that starts with a lower dividend raise in my opinion.
Disclosure: I have no positions in any stocks mentioned, and no plans to initiate any positions within the next 72 hours. I wrote this article myself, and it expresses my own opinions. I am not receiving compensation for it (other than from Seeking Alpha). I have no business relationship with any company whose stock is mentioned in this article.
Additional disclosure: Investors are always reminded that before making any investment, you should do your own proper due diligence on any name directly or indirectly mentioned in this article. Investors should also consider seeking advice from a broker or financial adviser before making any investment decisions. Any material in this article should be considered general information, and not relied on as a formal investment recommendation.