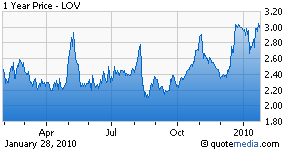 Spark Networks (LOV) continues to be ignored by the general market in terms of price appreciation and institutional ownership. LOV posted ~ +19% increase over the past year and lost -20% over the prior 3 year period. Spark operates dating websites and has a vast portfolio of web sites that includes JDate.com, AmericanSingles.com, BlackSingles.com and about a total of 23 unique dating sites. The sites include multiple user functionality like real time chat, instant messaging services, user profiles, onsite email centers, and offline single events. The company's most valuable asset at this time, with a huge economic moat, is Jdate.com. It's the leading Jewish dating website and has been mentioned on popular TV shows such as House, South Park and the Daily Show. The word of mouth impact keeps promotion costs low for this business.
The LOV story is simple so I won't bore you with a lengthy business description. Instead, I will try to focus on the main reasons why I think the stock is worth a closer look. Let's start with the management team. Great Hills advisor took a 45% minority stake and was able to get a board seat and push to find an experienced and shareholder-oriented deep management team incentivized with large amounts of stock options. The large amount of management options outstanding are far out of the money and should help motivate management to drive the stock price higher along with the influence of the board seat from Great Hills advisors. I've never seen such a highly educated and experienced executive team and board members for such a small company.
Below is a brief summary of select key executives:
Adam Berger is the CEO since February 2007. From June 1999 to September 2006, he was CEO of WeddingChannel.com, Inc. where he led and grew the company for seven years through its sale to The Knot, Inc. Immediately prior, Mr. Berger was President of The Franklin Mint, a direct marketing company. He began his career with Procter and Gamble (PG) and then joined The Boston Consulting Group. He received a Havard M.B.A. with distinction and a B.S. in Chemical Engineering from the University of California at Berkeley.
Gregory R. Liberman (COO) was appointed President on June 2006 and Chief Operating Officer August 2005. Mr. Liberman earned a J.D., with Honors, from The Law School at the University of Chicago and an A.B., with University Distinction and Honors in Economics, from Stanford University.
Brett A. Zane (CFO) was appointed as Chief Financial Officer December 2007. Mr. Zane holds an MBA from UCLA and a B.S. in Economics from The Wharton School, University of Pennsylvania.
Gregory J. Franchina (CIO) was appointed as the Chief Information Officer on June 2007. Mr. Franchina has over 22 years of technical and operational experience. Franchina holds a B.S. in Computer Science from The College of William and Mary.
Joshua A. Kreinbeg has been the general counsel since April 2006 and Corporate Secretary since September 2006. Mr. Kreinberg earned a J.D. with honors from Duke University's School of Law as well as an M.B.A. from Duke University's Fuqua School of Business where he was a Fuqua Scholar. Mr. Kreinberg also holds an A.B. with University Distinction and Honors in Quantitative Economics and Political Science from Stanford University.
The board is just as strong with Great Hill Partners getting representation with Michael A. Kumin. Kumin is a partner of Great Hill Partners, LLC where he has served as an investment professional since June 2002. Previously, he served at separate times as an investment professional for Apollo Advisors, L.P. and Goldman, Sachs L.P. in their private equity funds. He holds a B.A. in public policy and international affairs from Princeton University.
Management has bought back a stunning amount of shares over the past 2 years. In fact $47,354,000 was expended for share repurchases over the two year period from 12/06 to 12/08. The share count was reduced from 31,271,000 for the period ending 09/06 to 20,582,000 for the period ending 09/09. LOV may have paid a bit more than was necessary but when looking at the true intrinsic value, I believe it was a smart use of excess capital. The buybacks were supported by their strong free cash flow. I calculated the average price paid over this time period at $4.20.
Now let's look at some FCF detail. LOV generated $5,057,000 in FCF from 12/31/08 to 09/30/09 , $15,160,000 from 12/31/07 to 9/30/08 and $13,701,000 from 09/30/06 to 06/30/07. To put this into perspective using the current enterprise value of $69,792,000, this would provide a FCF yield of 7.25% ,21.72% , or 19.63% for the yearly period ending 09/09, 09/08,09/06 respectively. The drop from 21.72% (09/08) or 19.63% (09/06) to 7.25% (09/09) could indicate the stock may be trading at a discount to normalized earnings.
Return on invested capital has also been stellar with pre tax ROIC at 39.93% (2008), 14.04% (2007) and 17.76% (2006).
It's important to note that the FCF would be much higher with a new or larger company as the SGA could be much lower given the current large salaries that were required to recruit and retain the executive talent and turn the company around or simply dress up for a future sale.
I would not be surprised if Jdate.com alone receives a price greater than the current market cap for the entire company. Match.com owned by IAC (IACI), Yahoo (YHOO), MySpace or e-Harmony are all potential suitors. There are many potential scenarios that will move the stock much higher including a dividend as I'm sure the 45% active shareholder Great Hills advisors is seeking to monetize their work and risk.
Andrew Ross Sorkin wrote in the NY Times on January 4, 2008, "The parent company of the popular Jewish online dating site JDate has put itself up for sale, people close to the auction said Thursday, and is already in talks with several prominent media companies. For rivals like the unit Match.com unit of IAC, analysts say Spark would bolster business, allowing it to offer more niche categories to its 20 million members. Spark could also provide a personal service for MySpace and a natural extension for eHarmony, which has focused strictly on its high-end subscription service and falls right behind Spark, with total traffic of 2.18 million."
At year end 2009, the successful micro cap value institution Osmium Partners run by John Lewis filed a 13g indicating his 5% position with LOV.
So, in conclusion, there are many forces that make this 61 million market cap idea worth a closer look including proven management talent, strong capital allocation, activist shareholders, outstanding FCF, high ROIC, balance sheet strength, a clean capital structure, dramatically reduced outstanding share count or simple mean reversion along with the huge Jdate.com economic moat.
Disclosure: long position in LOV