On Tuesday, one of the largest tumbles on the market came from a little known biotechnology company named Organovo (ONVO). As of the close on November 19, the company's stock had fallen 24.7% to $9.60. This occurred on trading volume more than 690% higher than the daily average volume. In a single session, the decline erased more than $240 million off of the company's $985 million market capitalization.
Organovo is an early development stage company utilizing 3D bioprinters to design human tissues for medical research. The company has seen increased media attention due to its ongoing research to develop artificial human organ transplants. Organovo's first product will be a 3D liver tissue assay to be used for clinical testing. The product is expected to launch in late 2014. However, there is no timetable for the development of a commercial human organ.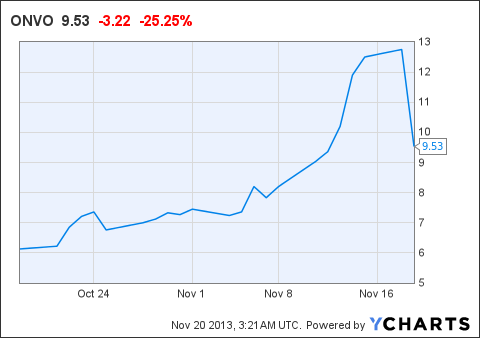 Too Much, Too Fast
As seen in the chart above, Organovo's share price had been accelerating higher. On November 7, the company's shares were priced at $7.83. By November 18, this has quickly risen to $12.75. In a little over a week, the company rose more than 62.8% on a steady climb with no significant news to justify it.
This abruptly came to an halt on Tuesday. Serving as a catalyst for the downward spiral was an article found here written by Seeking Alpha contributor, Richard Pearson. With a disclosed short position, the author detailed a lengthy argument that Organovo's share price had unjustly climbed beyond its fair valuation due to media hype. The key argument to the writer's case was the limited potential sales that Organovo's liver tissue assay was likely to see upon its expected launch in 2014.
Among other reasons, Pearson cites the following claims for the overvaluation of Organovo's stock:
The existence of non-public competition and an uninformed investor base.
The negative implication of large insider sales.
Very limited revenue and the stagnation of revenue growth.
Lengthy development time with limited channels for additional revenue.
The technological challenge of scaling tissue development into organ development.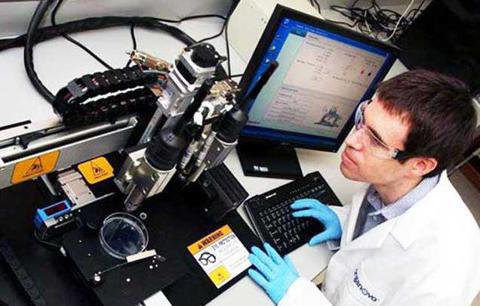 Adding My Two Cents
While I largely agree with Pearson's analysis, there are a few considerations that investors should also ponder as they digest the contributor's bearish conclusions. Here are some of my thoughts pertaining to the raised claims that Pearson notes in his article:
Large Insider Sales. While it is true that company officers sold shares on the open market, the implied thought that this was based on a overvalued share price is far from conclusive. A closer look at the Form 4 found here shows that these transactions were conducted under a Rule 10b5-1 trading plan. These are automatic sales that are made in advance. Proportionally, the amount of shares sold were also far from significant. For CEO Keith Murphy, his 100,000 share sale in October and November each accounted for a mere 1.6% of his holdings in Organovo.
No Public Peers. While Organovo may not be the only company looking to design human tissues through 3D bioprinting, the lack of pure-play public market peers also gives Organovo a very unique monopoly in the present. The steadily rising share price over the last year appears to be a reflection of growing investor interest in an industry with few options more so than a consequence of increased media hype. This can ultimately be favorable for long-term investors as the company positively brands itself while retaining the ability to significantly raise capital faster than its private market peers.
Limited Intellectual Property. Pearson states that Organovo only holds $900,000 worth of non-cash assets, a reflection of the company's poor intellectual property portfolio. While it is possible that the implicit long-term value of its intellectual property has not yet been priced for its future value, a more in-depth look at the number of patents is a bit disappointing. A look at the US Patent & Trademark Office shows no US patents directly assigned to Organovo. However, the company does have 3 patent applications pending. Organovo also has the technology it is currently licensing from the University of Missouri.
A Look At Organovo's Financials
Organovo now trades with a market capitalization of $742 million as of November 19. The company operates at a net loss. For the three months ending in September, Organovo saw a net loss of $10.4 million based on a mere $23,000 in revenue. Research & Development plays a large part in any development-stage company's growing list of expenses. Organovo's quarterly loss from operations amounted to $5.6 million, of which only $1.6 million was due to R&D expenses. Selling, general, and administrative expenses grew to $4.03 million from $2.98 million in the prior year. These expenses are likely to grow further as the company increases its number of employees and accelerates its development.
As of the end of September, Organovo carried working capital of $50.8 million. This was largely due to a public offering in August which raised $46.6 million. As Organovo continues to grow it will likely incur growing losses. Based on the current cash balance and cash used for operating activities, the company's current trajectory suggests that it will need to raise cash within two years at its current pace.
Additional Thoughts
In my recent article found here, I pointed out that investors should be careful about Organovo as the company would likely see increased volatility in the near future. Despite weak fundamentals and long development times, the company's share price had been climbing with increasing acceleration. The harsh reaction to Pearson's article amidst a stalling price climb suggests that investors continue to heavily trade this company based on momentum.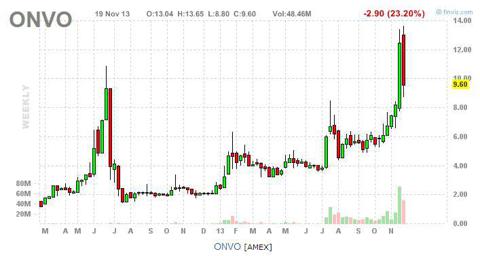 A look at the chart above suggests that bullish investors may have gotten ahead of themselves in recent weeks. Nevertheless, there is a clear underlying level of investor support that has been building for more than a year. This upward pressure likely stands as a testament to the growing public interest in a yet-to-established and unquantifiable industry found in artificial human organ transplants. The lack of public market investment alternatives should continue to funnel investor interest into Organovo despite the lack of meaningful revenue in the near-term.
Investors should continue to exercise caution on Organovo, treating it only as a speculative long-term buy. The company will likely need to raise additional capital as its expenses continue to climb. Additionally, the lack of a timetable when it comes to a feasible artificial organ product is likely to guarantee volatile price swings as investors trade between short-term trading momentum and long-term hope. As an early stage development company, there is no way for Organovo to guarantee its ability to ultimately thrive. Nevertheless, the company's stock should continue to reflect the growing interest in a possibly large market with unknown potential.
Disclosure: I have no positions in any stocks mentioned, and no plans to initiate any positions within the next 72 hours. I wrote this article myself, and it expresses my own opinions. I am not receiving compensation for it (other than from Seeking Alpha). I have no business relationship with any company whose stock is mentioned in this article.
Additional disclosure: I hold both long and short options in ONVO