Has the social media bubble peaked yet? In terms of the stock market, it just might have, as Twitter (NYSE:TWTR) has now gone public. It was a blowout first day of trading for the stock, but that leaves the company trading at such a sky high valuation. Today, I'll examine the valuation, detail why many analysts are getting really nervous, and what investors should do with this newest market participant.
A history of the Facebook (NASDAQ:FB) drop and what it means for Twitter right now, including monetization/profitability:
I'm not going to spend a ton of time discussing all of the issues that plagued Facebook shares early on. However, Facebook shares IPOed at $38, and after hitting a $45 high on day one, were below $30 in a matter of days. There was just too much hype, but it wasn't all about the stock. As I detailed in an October 2012 article, Facebook's results were not coming in as expected. In just over three months, analysts had reduced their 2013 revenue expectations by nearly $200 million and non-GAAP earnings per share average by 5 cents. It wasn't until results started to improve that the stock started to turn. At that October 2012 article, estimates for 2013 stood at $6.29 billion and $0.62. Current estimates stand at $7.63 billion and $0.83, respectively. That's quite an improvement in expectations, due to great results, and justifiably, the stock has risen.
Why do I bring up the Facebook story? Well, there's a lot that investors can learn. One of the main reasons why analysts were so worried and shares fell is a concern over Facebook's monetization and profitability. In the last 13 months or so, Facebook's revenue estimates for this year have come up by more than $1.3 billion. On the flip side, Twitter is only expected to do $1.15 billion next year, and that assumes nearly 80% revenue growth. Twitter is also still expected to lose money on a non-GAAP basis, making you wonder not only when the company will be profitable on a non-GAAP basis, but a GAAP one as well. Facebook has produced a GAAP profit of nearly $1 billion in the first nine months of 2013. Twitter is still well away from hitting $1 billion in revenues during any nine month period.
Valuation - paying two arms, two legs, and then some:
I'm not the first, and I certainly won't be the last, to mention that Twitter trades at a sky high valuation. In the table below, I'll show some key growth and valuation comparisons for 2014, as currently expected by analysts. Twitter and Facebook are there, along with other perceived social media names such as LinkedIn (NYSE:LNKD) and Zillow (NASDAQ:Z). I also put in established industry giants Google (NASDAQ:GOOG) and Apple (NASDAQ:AAPL), to make a point about how the valuations are stretched. Twitter does not have any positive earnings yet, so there is no number for earnings growth or a P/E value.

*All earnings numbers above are non-GAAP except for Apple, and thus these are non-GAAP P/E values.
**Apple numbers are based on fiscal year ending in September 2014. All others use a calendar year.
Twitter does have the most growth of any name on this list. But does Twitter deserve to trade for nearly 20 times next year's expected sales, a figure that assumes nearly 80% growth? To put it another way, let's assume Twitter can maintain that 80% growth rate going forward. It would be sometime in the 2017-2018 area where Twitter would have the same price to sales value as Apple. That assumes that the market cap doesn't change from Tuesday's close and that Twitter grows revenues at 80% every single year! Even if Twitter grows revenues at 80%, 60%, 40%, and 20% for the respective years 2014-2017, Twitter would still trade at 7.36 times 2017 revenues. That's a value still above Google's in 2014, even if you take out the traffic acquisition costs and give Google a non-GAAP figure.
Now you might see that Twitter has already come well off its 52-week high of $50.09 to Tuesday's close of $41.75. Well, LinkedIn has already come 14% off its 52-week high. Facebook is almost 15.5% off its 52-week intra-day high of almost $55, but remember that Facebook traded another $2 or $3 higher than that after its recent earnings blowout. So while Twitter's valuation has come down as the stock is 16.65% off its high, you also need to realize that Facebook and LinkedIn have both come off their highs as well. Just to show how high Twitter's valuation is, the following chart shows what Twitter would be trading at if you gave Twitter the P/S values of the names from above. For example, if Twitter traded at Google's P/S, Twitter would be valued at $10.43.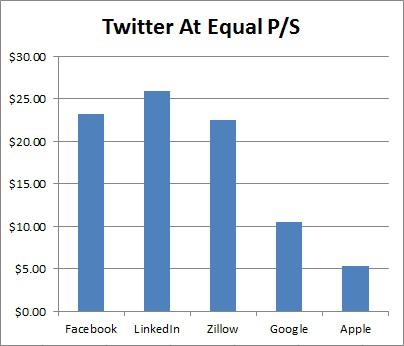 So if you want to exclude Apple and Google, that's fine, and I'll do it. The average of the other three names is a little under $24. Now to account for the higher amount of growth, what kind of premium should we give Twitter? A little more than 50% gives you a value of approximately $36. The mean and median price targets for wall street analysts are $38.14 and $37.50, respectively, with a range of $20 to $54. That implies a 52% drop at the lowest price target and about a 30% rise at the top.
The analyst skepticism:
It's funny how quickly opinions can change. All you need to do is look at the analyst ratings summary for Twitter. In the 10 days leading up to the Twitter IPO, all of the analysts were pounding the table with positive recommendations in regards to Twitter. In that pre-IPO period, 3 analysts put Buy ratings on the stock, 2 put Overweight ratings, and 1 put an Outperform.
But when Twitter opened above $45, after pricing at $26, the analyst community did a quick 180. In fact, it was only about an hour after Twitter started trading that we got the first Sell rating from Pivotal Research. Since the IPO, we've gotten a ton of Neutral and Sell ratings, with a key theme, valuation. When the IPO opened up at or above many of these analysts' price targets, they really had no choice but to issue these ratings. You can't rate a $45 stock a Buy if you have a $38 price target on it. On the flip side, most analysts weren't going to raise the price target just because the stock soared. These analysts have their models, and until we start getting quarterly results or more financial information, they will stick with their price targets. That has meant a lot of Neutral and Sell ratings. I showed above how the mean and median price targets imply about 10% of downside from here. A price to sales comparison that I showed above could imply even more downside.
Final thoughts:
Twitter has gone public, but the investing public should not be rushing to buy this name, not yet anyway. In fact, a short position might be warranted here. Twitter would need to grow revenues at an 80% clip in both 2014 and 2015 just to get its price to sales valuation down to the current value of Facebook, and many think Facebook's valuation is ridiculous. Even assigning a current price to sales premium of roughly 50% to a few industry peers gives Twitter a value of about $36, a bit below the $41.75 shares closed at on Tuesday. Twitter seems like a very popular short right now, although not to the extent Facebook was after its debut. While I don't think Twitter shares are going to fall from $45 to the $17 and change like Facebook did, I would not be surprised if Twitter fell into the low to mid $30s over the next couple of months. Being that this name is even smaller than Facebook was, this name is even more risky, so even shorts should be careful with it. Twitter has a lot to prove right now, and buying a stock at an ultra-high premium with no profitability in sight when markets seem ripe for a pullback doesn't make sense.
Disclosure: I have no positions in any stocks mentioned, and no plans to initiate any positions within the next 72 hours. I wrote this article myself, and it expresses my own opinions. I am not receiving compensation for it (other than from Seeking Alpha). I have no business relationship with any company whose stock is mentioned in this article.
Additional disclosure: Investors are always reminded that before making any investment, you should do your own proper due diligence on any name directly or indirectly mentioned in this article. Investors should also consider seeking advice from a broker or financial adviser before making any investment decisions. Any material in this article should be considered general information, and not relied on as a formal investment recommendation.