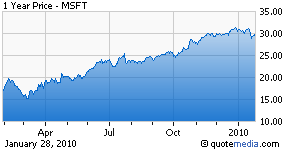 Microsoft (NASDAQ:MSFT) is expected to report Q2 earnings after the market close on Thursday, January 28, with a conference call scheduled for 5:30 pm ET.
Guidance
The consensus estimate is 59c for EPS and $17.84B for revenue, according to First Call. The only commentary for guidance provided on the last earnings call by the CFO was that overall corporate IT spending at that time remained intact. He also said he expects Q2 windows unit growth to be in-line with the PC market. He saw full-year windows unit growth in-line, to ahead of the PC market. For Q2, sales will be boosted by the Windows 7 operating system, which was launched last October, and the one-time deferral of some Windows revenue from last quarter related to Microsoft's free upgrade program.
Analyst Views
FBR Capital expects Microsoft to beat their above-consensus revenue and EPS estimates of $18.35B and 64c, respectively, largely on the back of better-than-expected PC sales. The firm expects upside to their Client revenue estimate of $5.90B, reflecting an increase of 45% year over year. FBR believes there is a good possibility for revenue upside based on recent PC data from IDC and Gartner showing Q4 worldwide PC shipments increased by 15% yoy and 22% yoy, both of which exceeded the firm's expectation for a 12% year-over-year increase. Both IDC and Gartner credited the strong growth to low-cost portable PCs, mainly netbooks, and an easy year-ago comparable quarter. FBR expects Microsoft Business Division, or MBD, and Server and Tools to meet its revenue estimates of $4.83B and $3.91B, respectively.
The firm thinks the Entertainment and Devices Division, or EDD, should at least meet its $3.09B revenue estimate. In his Consumer Electronics Show keynote, CEO Steve Ballmer said that at the end of 2009, the overall base of Xbox 360 consoles and Xbox Live subscribers stood at 39M and 20M, respectively. An Xbox 360 console base of 39M implies console sales of approximately 5.4M in the December quarter, which is ahead of FBR's expectation of 5M. FBR thinks Online Services Business, or OSB, revenues should at least meet their $625M estimate based on the search share gains by Bing.
Looking forward: FBR does not expect their estimates to change materially -- currently modeling Q3 revenues/EPS of $14.21B/41c. For FY10, FBR is modeling revenues/EPS of $60.32B/$1.86. Consensus for Q3 is: 44c/$14.56B. Consensus for FY10: $1.85/$60.21B.