2013 has been very kind to equity investors. Over the previous twelve months, the S&P is up better than 30%. However, valuation of the overall market is not as attractive as it was to begin the year as earnings growth has not kept up with the rise in stock prices. Earnings currently are growing at a mid-single digit pace year over year. This means the rally has been fueled primarily by multiple expansion and not by expanding earnings.
This is the main reason I have been increasingly cautious over the last few months and have raised my cash position as a pullback feels overdue here. One strategy that also has some merit in my opinion is to buy shares in companies whose stocks have lagged the overall market but whose 2014 appears to hold brighter prospects. Here are three tech laggards that I would still buy before the end of the year.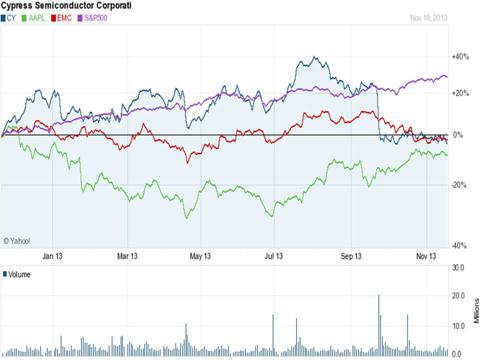 Cypress Semiconductor (NASDAQ:CY) - This chip maker has seen better days and is down 50% since its highs in 2012. Cypress has always been a very cyclical stock throughout its history as a public company. It appears to be in a trough here and could go higher once tax loss selling is over near the end of the year.
The stock also pays an almost five percent dividend yield (4.7%) to reward patient investors while they await a turnaround. After falling this year, earnings growth should return next year as analysts expect a better than 30% increase in EPS in FY2014. Revenue growth should also be positive in 2014 after declining ~6% in FY2013.
EMC Corporation (EMC) - This large storage play has had a forgettable 2013 as the stock is basically at the exact same level it began the year. The company had a Q3 miss that management stated was partially impacted by the shutdown of the Federal government, which hopefully will not be repeated in early 2014.
The company owns 80% of fast growing software provider VMware (NYSE:VMW) and also has ~$3.5B of net cash on the books which combined accounts for the majority of the company's market capitalization. Both earnings and revenue growth is expected to accelerate in FY2014 over 2013 levels. The shares are not expensive at just over 11x forward earnings. S&P also has its highest rating "Strong Buy" on the stock.
It is hard to talk about 2013 tech laggards without mentioning Apple (NASDAQ:AAPL). Although the shares have gained more than $130 a share since their lows in late June; the stock has basically gone nowhere over the last twelve months.
However, there are a lot of positives still not fully reflected in the share price of this tech giant. The company is returning nearly $10B a quarter to shareholders through dividends and share repurchases, with Carl Icahn continuing to press for more.
The iPhone 5s continues to sell very well and the recent distribution deal with NTT DoCoMo (NYSE:DCM) has goosed sales in Japan, Apple's most important foreign market by revenue. In addition, the shares are still cheap. After subtracting the company's huge cash hoard, the stock goes for less 8x forward earnings.
Disclosure: I am long AAPL, CY. I wrote this article myself, and it expresses my own opinions. I am not receiving compensation for it (other than from Seeking Alpha). I have no business relationship with any company whose stock is mentioned in this article.