Bill Ackman abandoning his 18 percent stake in J.C. Penney (NYSE: JCP), Perry Corporation dumping more than half its stake, management shakeups, a failed merchandising strategy which left the retailer comping poorly against its brethren, a class action lawsuit, seven-straight nasty earnings misses, and an equity raise, have all generated so much negative sentiment regarding JCP that the odds of a strong contrarian play now favor the buyer, in my opinion.
Seventy-nine million shares short against a float 162.2 million calculates to a 48.7 percent thumbs-down vote on JCP. That's quite high, indeed. The risks of a continuation of the devastating short squeeze in JCP remains quite high going into Wednesday's earnings report.
Exhibit A

For the third quarter, analysts expect JCP to lose $1.72 per share on $2.8 billion of revenue.
As bad as earnings have been for two years, a few big hedge fund managers now feel JCP doesn't look so bad under $10, with the prospects of a turnaround in the retailer's fortunes in 2014 a good bet.
Three Hedge Funds Bet on Turnaround
On Nov. 14, Reuters reported three significant hedge funds have stepped in during the third quarter with some sizable stakes.
According to Reuters:
Hedge funds Highfields Capital, Jana Partners and Farallon Capital Management Group took positions in the ailing department store operator, and Glenview Capital, already a big owner, added to its holdings.

Jonathon Jacobson's Highfields Capital bought 3.2 million shares, and Barry Rosenstein's Jana Partners and Farallon, founded by Tom Steyer, each bought 500,000 shares in the Plano, Texas-based company during the quarter, regulatory filings made with the Securities and Exchange Commission on Thursday show. Larry Robbins' Glenview bought 3.9 million shares to own 12.4 million at the end of the quarter.
Exhibit B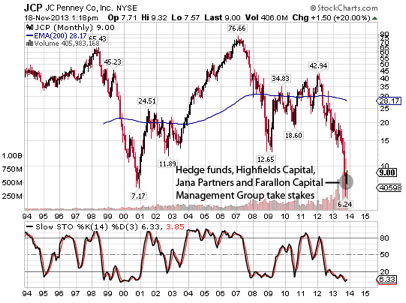 While the difficulty for JCP to return to 2011 revenue levels of $17 billion-plus are not insurmountable, the comeback will most likely be slow due to customer confusion of older shoppers during Ron Johnson's tenure and his disastrous 'cool' mini-store merchandising strategy.
The retailer must, again, find the right merchandise mix of the past and increase margins back to the 2011 level, with margins naturally rising as a result of moving merchandise without breaking profitable pricing points to clear inventory through discounting. Like the 'new' Coke flop, JCP will have to revert back to a model more appealing to its once-loyal and older customers.
J.C. Penney's strength comes from its 112-year tradition of serving working and middle class folks, so the idea of hiring a former Apple retail executive and turning Penney's into a 'hip' boutique mall in response to a financial crisis only served as a costly delay and a protracted crisis at JCP.
From the chart below, it can be seen that JCP must increase gross margin by approximately 30 percent to achieve profitability (39 percent in FY2011 verses 31 percent in FY2013, exhibit C) along with at least a 35 percent bump up in sales, before it cannibalizes itself from capital raises and further asset sales.
Exhibit C - Gross Profit Margin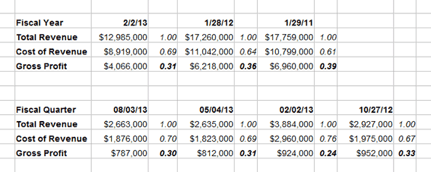 But, at this stage, talk of bankruptcy is premature due to JCP's real estate holdings, which, according to the balance sheet are valued at $5.8 billion (probably worth up to 25 percent more, as Baker Street Capital Management suggested in the case of Sears-a kissing cousin of JCP).
It's my contention that Ullman has plenty of time to turn the retailer around (barring another financial meltdown), even if he has to dismantle all but the most profitable store locations to do it. He's promised investors $1 billion cash on the balance sheet by year-end, which, if accomplished, will put an end to the notion of a JCP bankruptcy.
And October may have been a good start for JCP. The 1,000-store-plus chain said year-over-year same-store-sales were up 0.9 percent, and online sales soared 37.6 percent from Oct. 2012.
Following JCP's October retail sales announcement, CEO Myron Ullman said margins in the third quarter increased in each of the three months due to the return of JCP's in-house brands, such as St. John's Bay and Stafford as well as consistently successful partner labels Levi Strauss, Nike and Izod.
However, analysts expect sales to drop four percent in the third quarter from last year's quarter, as the retailer had to "transition back to a promotional pricing strategy" to clear inventory leftover from the Johnson days.
JCP Transitioning Back on a Profitable Track
With Ullman back at the helm, new investors such as Highfields Jonathan Jacobson (the hedge fund manager who returned $2 billion of investors' money due to limited investment opportunities) are giving the beleaguered retailer the benefit of the doubt-for now-of a turnaround. I am, as well.
Going forward, JCP will be wooing back its former customers with the same JCP they once knew. In the opening to JCP's second quarter conference call, Ullman stated:
It's no secret that the Company's prior merchandising and promotional strategies weren't working. We had to make changes. But these changes take time and they have financial implications whether in the form of additional markdowns, investments in additional inventory, or investing in additional staff store hours; we had to get back by listening and putting the customer first. (Emphasis added)
With JCP restocking its stores with proven winners and returning to its classic model of offering coupons and promotional offers to increase traffic in its stores as well as its website (offsetting declining mall traffic), Bernard Sosnick, analyst with Goldford Securities, told the Wall Street Journal same-store sales could reach 15 percent in the fourth quarter, citing evidence of strong sales volume during the Veterans Day weekend and management's plans for an all-out push for sales on Black Friday.
"We're pulling out all the stops to be competitive this holiday season," spokesperson Ann Marie Bishop said in an e-mail to The Washington Post.
"We expect the holiday season to be extremely competitive, and we are ready to win," Ullman told Associated Press.
If Ullman can execute and the US economy and banking system remain stable, JCP under $10 will be looked back upon as a dirt cheap stock that many investors weren't bold enough to act on a classic contrarian bet.
Disclosure: I have no positions in any stocks mentioned, but may initiate a long position in JCP over the next 72 hours. I wrote this article myself, and it expresses my own opinions. I am not receiving compensation for it (other than from Seeking Alpha). I have no business relationship with any company whose stock is mentioned in this article.