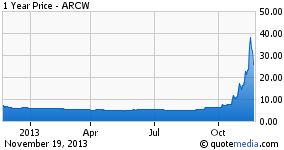 I wrote about Arc Group Worldwide (NASDAQ:ARCW) here on Seeking Alpha on October 30, when the stock was $14.55. The stock then hit a high of $43.73 on November 14 as readers understood that this was an undervalued manufacturing company that was a leader in a cutting edge technology MIM and also used 3D printing. While I sold most of my shares for a nice gain after holding for two weeks, I am writing this article to defend the company as the expected short seller attacks have started. Short sellers try and create fear by trying to convince you that this run up was due to the fact that people did not understand what business ARCW was in (as elementary as that sounds).
The shorts are trying to say that the stock went up because people think that they manufacture and sell 3D printing machines. It was clear from my article and any elementary research of what this company does that is not or never was the case. However, there is another public stock that has had the same accusations by failed short sellers. That is Proto Labs Inc. (NYSE:PRLB). PRLB is the perfect comparable for ARCW and currently has a P/E ratio of 55.
Proto Labs, Inc., together with its subsidiaries, manufactures computer numerical control (CNC) machined and injection molded custom parts for prototyping and short-run production. Its primary manufacturing services comprise Firstcut, a CNC machining service; and Protomold, a plastic injection molding service. The company serves product developers.
ARC Group Worldwide is a diversified, global manufacturing company, as well as the unequivocal world leader in Metal Injection Molding. Arc was founded in 1987 and has a long history as a technology innovator in the manufacturing business. ARC's core manufacturing businesses are in precision components, flanges, fittings and wireless technology.
ARCW like PRLB, uses cutting edge technologies for manufacturing efficiencies. One of these technologies is 3d printing as stated by ARCW CEO Jason Young:
"I am pleased to report outstanding quarterly results that reflect continued growth in revenue, cash flow, and earnings per share. As the leader in Metal Injection Molding and other niche manufacturing businesses, we continue to focus on building our market position in these areas, both organically and through acquisitions." He further added, "We are also focused on bringing technology and innovation to manufacturing. We have made good progress utilizing 3D printing and view it to be a key area of future growth for Arc in production and prototypes."
The Precision Components segment also utilizes 3D printing to provide a more complete solution to its customers. It ' s applications in the business have increased in the past two years and the company has committed technical development resources to utilize the technology to dramatically reduce time to market from months to weeks. Arc views 3D printing to be a burgeoning area of growth for the company, both in production and prototypes. The company is making 3D printing a top priority going forward, given the strategic fit to the Precision Components product and customer base.
ARCW recently reported strong first quarter results and made strong comments about the future.
Adjusted EBITDA Increased 80.8% to a Record $3.4 Million
Adjusted EPS Increased 47.8% to a Record $0.34
Bank Debt Paid Down by 42.2%, or $10.6 Million
Additionally they reported strong organic growth of 22% in the key division (although acquisitions are stated to be a part of their strategy going forward as well).
Sales for the Precision segment increased significantly, by $5.2 million or 45.7%, over the comparable prior year period. The AFT Acquisition in fiscal 2013 contributed $2.7 million in additional sales in the first quarter of fiscal year 2014. Excluding the Acquisition's impact, sales growth compared to the comparable prior year period still increased $2.5 million, or 22.0%. The firearms market segment at AFT continued to grow, as the company was able to meet increased demand for, and secure several new programs, from their customers in this market segment. In addition, AFT-HU contributed to the sales growth through increased demand related to the automotive turbocharger customers. FloMet saw a slight increase in sales over the prior year quarter as a result of additional production volume in the consumer market segment. Tekna Seal did not experience growth over the prior year period as a large, intermittently recurring order did not occur in the current quarter. However, Tekna Seal did recently receive an annual blanket order from a new customer in the aerospace industry which is encouraging progress.
ARCW also main strong comments about future outlook in the 10-Q. The MIM businesses received 15 new tools this quarter representing approximately $2.0 million in potential incremental revenue at anticipated production volumes. Additional capacity in AFT-US is also being added to accommodate the continued growth in the firearms market segment for product lines already tooled on which volumes are forecasted to increase as soon as that additional capacity is in place. Further, new firearms business, which was tooled within the last three quarters, is expected to launch in the next two quarters. FloMet received new orders from several medical device customers in the period that will impact revenues later in this fiscal year, including a new customer in China. Separately, we expect continued demand in Europe for automotive turbochargers, which we hope will translate into increased revenues at AFT-HU. Tekna Seal saw positive indications across its markets with orders for new prototype applications having been received. Prototypes typically represent future production orders commencing between one and three years from original submission. In addition, Tekna Seal is experiencing increases in new medical customer orders, prototype and production orders from another aerospace controls customer, and for new development technologies associated with power storage devices. These increases in revenue may however be offset by typical customer attrition, but our goal is to add as much incremental revenue as possible. Finally, the company believes its continued investment in technology and innovation, specifically those related to automation, robotics, 3D printing and molding, will continue to improve efficiencies and hopefully provide new sources of revenue.
I will look to add a new position on these misguided and expected short attacks. The comparable for ARCW is PRLB which has a P/E of 55. ARCW did $0.34 EPS in the first quarter and made strong forward comments. If they just repeated the first quarter all year they would have EPS of $1.36 A 20 P/E ratio would be $27.20. Applying the P/E ratio of comparable PRLB would give ARCW a stock price of $74.80. I believe the middle of that range is accurate, or a $40-$60 stock price.
As short sellers enter this 1 million float stock it should said up nicely for a short squeeze as people see that the true comparable for ARCW is PRLB and view this as a buying opportunity of an undervalued stock.
Disclosure: I am long ARCW. I wrote this article myself, and it expresses my own opinions. I am not receiving compensation for it. I have no business relationship with any company whose stock is mentioned in this article.