The Food and Agriculture Organization (FAO) of the United Nations publishes monthly both a Food Price Index and a Food Price Commodities Indices in which they isolate the main food groups. Included in the Food Price Commodities Indices is Sugar. According to the latest FAO publication - sugar is up 7.4% this month, continuing a trend of monthly increases that started in July.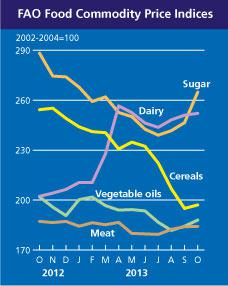 Graphic source: FAO World Food Situation.
And to quote the FAO, their assessment is as follows:
"The increase in October was mainly attributable to harvest delays due to unfavourable weather condition in the center-south region of Brazil, the world's largest sugar producer and exporter. Also a fire that destroyed a major sugar warehouse at the Santos port in Brazil exacerbated the price surge."
The International Sugar Organisation (ISO) just published their latest amended forecasts on global sugar production and consumption. Currently, they indicate global sugar production will be 181.5 million tonnes for the 2013/14 season. Consumption is forecast to be 176.75 million tonnes leaving a surplus of 4.73 million tonnes.
Last years 2012/13 surplus was 10.2 million tonnes, so this is an indication that the surplus is moving in the right direction. Further evidence is supplied in this year"s numbers, with production being down 1.2% from last year and consumption increasing 2.2%. ISO is currently forecasting that the market will be in balance for the 2014/15 season.
Another factor contributing to the balancing is the continued closure of sugar mills in Brazil. According to UNICA - the Brazilian Sugarcane Association - up to 50 sugar mills have closed since 2007 and another 60 of the 330 now active mills have been identified for closure.
As mentioned in the FAO report there are also some non-systemic events currently taking place affecting the sugar market.
The fire at the Santos port damaged six warehouses owned by Copersucar SA and destroyed 300,000 metric tons of raw sweetner. While the shiploading and loading equipment survived the fire, the initial estimate on a best case scenario, is that the 10 million tonnes a year facility will not be in action until the later half of Q2 in 2014.
Adjacent port facility owner Cosan Ltd. (NYSE:CZZ) has offered to help take up some of the lost capacity but has given no indication at this point in time on how much they will be able to do.
Another recent event affecting sugar production is the recent typhoon that impacted the Philippines. Recent reports indicate that this storm ravaged their main cane growing areas that produce approximately 150,000 tonnes a year. The Philippines account for about 1.3% of global output but most of this is consumed domestically. How long it will take the Philippines to reestablish their infrastructure is unknown at this time but it does create additional global demand in the interim.
All of this takes us to Rogers Sugar Inc. (OTC:RSGUF), one of two sugar refiners in Canada. The Company is the result of the corporate conversion of Rogers Sugar Income Fund in 2011. The Company holds all the common shares of Lantic Inc. Together they operate a cane sugar refinery in Montreal, Quebec, a cane sugar refinery in Vancouver, British Columbia and a sugar beet processing facility in Taber, Alberta.
The only other operator in Canada is Redpath Sugar - a subsidiary of the ASR Group.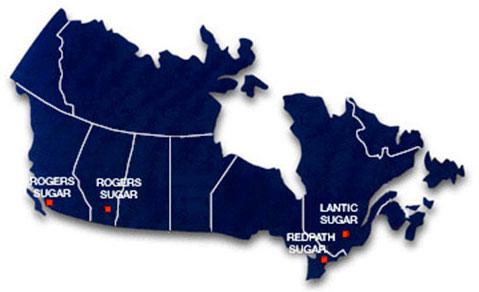 Source: Canadian Sugar Institute.
The Company has a September 30th year end and recently reported their 4th quarter results. The stock reached its high for the year in mid-March and has been declining ever since and is likely currently being effected by tax loss selling.
The stock had a partial run-up in the first quarter mainly because it offered a Special Dividend on February 8th of $0.36 a share. The Company also pays a quarterly dividend of $0.09 CDN. At current prices of $5.02US or $5.24CDN it is yielding approximately 7.2%.
Revenue for the Company is composed of industrial consumption, consumer consumption and occasional sales on the world market.
While Rogers doesn't breakout its sales volumes, the Canadian Sugar Institute indicates that 85% of Canadian sales are to Industrial consumers.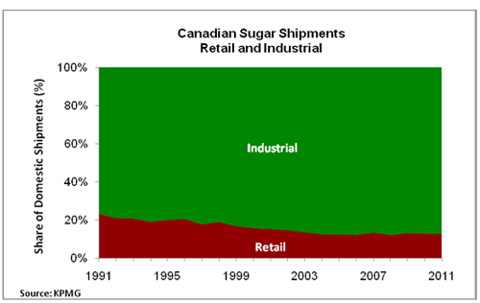 Click to enlarge
From a consumer perspective, per capita consumption of sugar in Canada has been declining since the 1940's and according to filings by the Company, have remained in the 31-33kg range for the last 5 years. This means that consumer consumption is likely limited to the growth of the Canadian population, which according to Wikipedia is 1.28% per annum.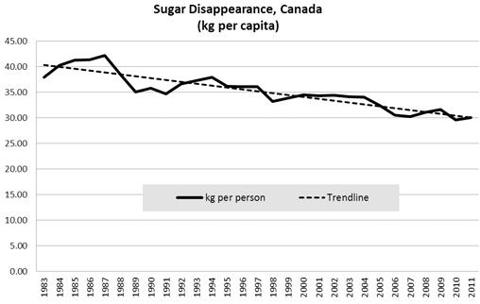 Click to enlarge
Source: Canadian Sugar Institute.
The other source of income is world sales. This is sporadic at best because of foreign trade barriers. However, when they do occur they can be lucrative for the Company.
For example, in 2012 the Company was able to sell approximately 27,000 tonnes to the USA when the US Department of Agriculture sought one time bids for 136,000 tonnes from the global world market.
Tonnage sold by Rogers over the last three years was 2013 - 649,274, 2012 - 641,573, and 2011 - 649,078 which infers that volumes are relatively consistent. Volumes increased in 2013 by 7,700 tonnes which the Company attributes to new industrial demand.
With the high yield that Rogers is currently offering, the natural concern is coverage of the dividend. With consistent tonnage, the remaining variables are sugar pricing and operating costs.
One of the primary costs for processing sugar is natural gas. Recent declines in natural gas prices has allowed the Company to keep refining costs down.
Capital Expenditures are relatively modest with these types of operations and have averaged $8.8 mm over the last two years. Interest and taxes have averaged $24.5 mm during this period as well.
Cashflow after adjustments was in 2013 - $64,433 and for 2012 - $59,090. With approximately 94.1 mm shares currently outstanding, the Company needs to generate $33.9 mm. When the dividend amounts are added to the amount required for interest, taxes and capital expenditures the cash requirement comes to approximately $67.2 mm. This means assuming a similar year the Company would have a shortfall of $2.8mm in cash flow generated. (Source: Rogers SEDAR Filings)
However, this is the point of the article, sugar pricing looks to be recovering and with some key non-systematic risks hitting the sugar industry, Rogers looks to be well positioned to take advantage of both the increase in sugar pricing and perhaps some more one-time global sales on the world market. Given this scenario, the year end sell off of the stock would seem to be an opportune time to take a position in this company.
Disclosure: I am long OTC:RSGUF. I wrote this article myself, and it expresses my own opinions. I am not receiving compensation for it (other than from Seeking Alpha). I have no business relationship with any company whose stock is mentioned in this article.