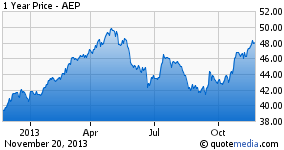 Shares of American Electric Power (NYSE:AEP) saw a little boost on Monday after analysts at Morgan Stanley were more upbeat about the prospects for the company.
I think analysts are a bit late in the game to turn bullish on the company, as I would be more cautious myself. Given the historical high share price, premium valuation, and vulnerability to higher interest rates, I stay on the sidelines.
Morgan Stanley Becomes Bullish
Analyst Stephen Byrd upgraded American Electric from "Equal-Weight" to "Overweight". This upgrade was accompanied by a price target of $52 per share, up eight dollar from the previous target. The new target suggests some 9% upside from current levels.
Byrd believes the company delivered on the promise to provide investors clarity in the coming years. The transition to a more regulated utility is moving along fine.
Byrd sees earnings growth being driven by the transmission investments and core utility growth, which creates limited risk in the scenario that the company fails to meet consensus estimates. This makes it furthermore more likely that the company will beat on the guidance, rather than miss.
Valuation
Little over a month ago, American Electric Power released its third quarter results. The company operates with $147 million in cash and equivalents, while total debt stands around $18.8 billion.
Revenues for the first nine months of the year came in at $11.6 billion, up slightly from last year. GAAP earnings fell by 8.4% to $1.13 billion, as operating earnings advanced by 1.8% to $1.28 billion.
Full year revenues are seen around $15.3 billion as GAAP earnings are guided around $1.55 billion.
Trading around $48 per share, the market values American Electric Power at $23.5 billion. This values equity in the firm at 1.5 times annual revenues and 15 times annual earnings.
At the last earnings report, American Electric Power hiked its quarterly dividend by a penny to $0.50 per share, for an annual dividend yield of 4.1%.
Some Historical Perspective
Long term holders in American Electric have seen their ups and downs, but have seen fair returns over the past decade. Shares rose from $30 in 2004 to a peak around $50 in 2007. Shares fell to lows of $25 during the 2009 crisis to recover to current levels around $48 per share again. On top of that shareholders have received fat dividend checks, yielding over 4% at the moment.
Between 2009 and 2012, American Electric Power has increased its annual revenues by a cumulative 11% to $15 billion. Reported net earnings came in around $1.25 billion.
Investment Thesis
American Electric is a powerhouse which serves over 5 million customers in 11 U.S. states. The company which holds the largest electricity transmission network of the country has paid out dividends for more than 400 consecutive quarters, making it a true long term investment.
With many investors looking for dividend yield nowadays, it is not surprising to see shares of American Electric performing really well in recent years. Of the expected earnings of about $1.5 billion this year, the company is on track to pay out some $1 billion in dividends. Structurally lower growth might reduce capital expenditure needs, leaving more cash to compensate investors for a lack of top line growth.
On top of this are the continued trends of lower return on equity rates allowed by regulators and continued growth of alternative electricity production, notably wind and solar energy. On top of these possible structural headwinds is the huge risk of higher interest rates which might impact the bottom line directly through the large debt position, while making treasuries more attractive versus American's dividend. The recent hick-up in rates over the summer just shows the dramatic impact on the shares of the company.
At historically high levels, I wouldn't chase the shares to pick up some yield, but rather stay on the sidelines awaiting better entry opportunities.
Disclosure: I have no positions in any stocks mentioned, and no plans to initiate any positions within the next 72 hours. I wrote this article myself, and it expresses my own opinions. I am not receiving compensation for it (other than from Seeking Alpha). I have no business relationship with any company whose stock is mentioned in this article.