Enbridge Energy Partners (NYSE:EEP) is a large midstream MLP that has been lagging in 2013 while the Alerian MLP Index (AMZ) has been setting new record highs. EEP is up 6% YTD versus a 17% advance for AMZ. EEP is best known for operating the US portion of the principal petroleum pipeline bringing Canadian oil to the US (13% of daily imports). The Liquids division, Enbridge Mainline System, has 3 segments: the Lakehead System, the North Dakota System and the Ozark pipeline. Enbridge Inc. (NYSE:ENB), the general partner, and EEP recently completed the largest liquids system expansion in the company's history and there are more projects underway. Below is the map of EEP pipelines:
Enbridge Energy pipelines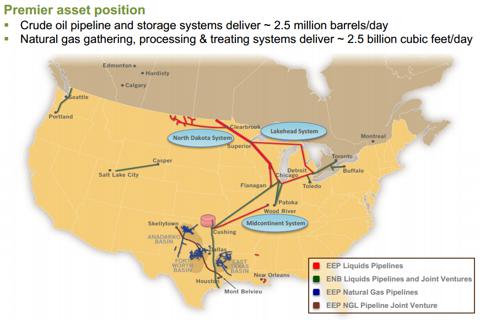 Click to enlarge
Enbridge, Inc. is a prominent Canadian energy company. It began in 1949 with a pipeline that carried crude from the oil fields in Alberta to refineries in Regina, Saskatchewan, and then expanded across Canada and into the US Midwest. ENB has been crucial in spurring the growth of western Canadian oil production. Today ENB invests in a broad spectrum of energy including renewable energy technologies (such as wind farms), solar operations, a geothermal project and waste heat recapture technology. And ENB has been investing heavily in EEP over the years.
In addition to the liquids business, EEP has a natural gas division that accounts for 20% of earnings. About 15% of Texas natural gas production is transported through 3 systems: the Anadarko, East Texas and North Texas Systems with over 11,000 miles of pipelines, 26 processing plants and 10 treating plants. Natural gas deliveries are approximately 2.5 billion cubic foot per day (bcf/d).
EEP has been increasing capacity on its mainline system and in recent years has been investing heavily in infrastructure from the Bakken fields. It has become the dominant pipeline transportation for petroleum from western North Dakota and Montana. Capital expenditures are in a Light Oil Market Access Program to expand access to markets for growing volumes. The program is jointly funded by EEP and ENB. Project construction is proceeding on schedule and EEP expects distribution coverage to improve as these projects enter service, driving distributable cash flow growth.
Growth in Bakken oil fields has made North Dakota the #2 state for oil production and it is projected to double production to almost 2 million barrels per day (MMbpd) by 2020.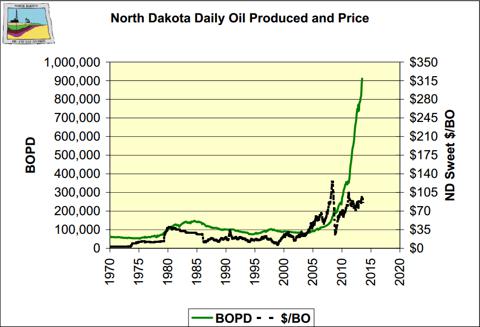 Click to enlarge
2013 has been a difficult year for EEP. In Q3, operating income in the Liquids segment declined 2% to $150.2 million from $153.5 million last year. Expenses were higher due to the pipeline expansion. But that was partially offset by higher transportation rates, in addition to contributions from new projects coming on-stream. Q3 volume increased 3.3% year over year to 2,247 thousand barrels per day (Mbpd). Natural Gas segment operating income plunged 71.3% this year from $17.3 million last year. The decline was primarily due to lower NGL prices in addition to lower NGL and natural gas volume. Natural Gas throughput dropped to 2,391,000 million British thermal units per day (MMBtu/d) from the year-earlier level of 2,627,000 MMBtu/d.
Hurting results, in July about two-thirds of the oil produced in North Dakota reached the destination markets in rail tanks. Most of those shipments went to refineries on the East and West coasts, including plants in northeast Canada. But rail shipments of crude oil have gathered federal regulators' scrutiny after audits revealed that some cargos were not properly labeled.
This is a transitional time for EEP. Distribution coverage was less than targeted in 2012 and has been weak this year because of startup and financing costs on capital projects. Distributable cash flow (used to pay distributions) growth will improve as growth projects come on-stream. By 2014, coverage is expected to improve for growth in distributions. Meanwhile maintaining an investment grade credit rating (BBB) is a priority for management. To finance the expansion program, substantial sums have been raised this year.
Midcoast Energy Partners (NYSE:MEP) was formed to operate EEP's natural gas and NGL midstream business that includes natural gas gathering, processing and transportation assets located in Texas and Oklahoma, as well as marketing assets in the southeast US. The IPO raised $333 million (from 18.5 million units sold at $18 each) in early November. The money will pay back EEP, which holds a majority interest in the limited partnership and is also the general partner.
Much of the cash flow comes from selling assets with help from ENB. This is not a first time. At the bottom of the recession in late 2008, when the AMZ hit a low, ENB purchased more than 16 million EEP units for about $500 million. That investment proved to be very profitable.
In Q2, ENB purchased $1.2 billion in preferred EEP units. EEP and ENB exercised joint funding which will bring in more than $700 million by 2016 and there was an accounts receivable sale to ENB. Two secondary offerings of EEQ shares, in March and September, raised $500 million. Additionally, EEP lines of credit have been increased by more than $500 million.
Supplies of crude oil from Canada and North Dakota keep growing. Western Canada oil production is forecasted to increase 50% to 4.5 MMbpd by 2020. America is forecasted to become the world's top oil producer of crude oil by 2015 and should be close to energy self-sufficiency in the next 2 decades, according to the International Energy Agency (IEA). Higher shale output is helping the US achieve energy independence, cushioning it against disruptions from Africa and the Mid East. US oil production is expected to grow to 11.6 MMbpd in 2020, from 9.2 million in 2012. Much of the increase comes from North Dakota. Last year, North Dakota produced more than 243 million barrels of oil, 8 times the production in 2004. Next month North Dakota oil production is projected to top 1 MMbpd (11% of US production).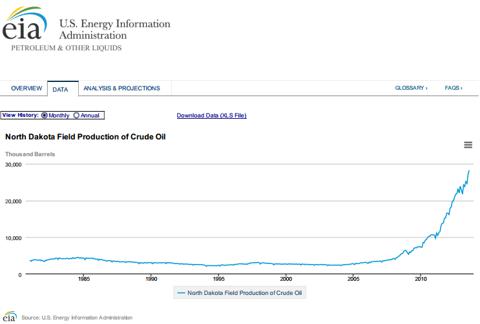 Click to enlarge
Growth periods are always difficult on investors because costs come before earnings are recognized. But EEP has an unusually long track record for MLPs and a financially strong general manager is backing it up.
EEP has been paying distributions for more than 20 years. Even though the distribution was not increased in all years, there has never been a reduction. The last increase was in Q3-2012 with no increase this year because of the cash squeeze. But the 2013 distribution is a record $2.17 because all 4 quarters were paid at the higher rate set in 2012.
The weak financial performance in 2013 is part of the transitional period. A presentation by EEP, made in September 2013, discusses financial results and the investment program. Investments made are coming on-line this year and next. Patient investors will be rewarded. Besides the EEP units with their tax advantaged distributions, there are EEQ shares that receive stock dividends based on the distributions paid to unit holders. Stock dividends are important for investors who understand the value of reinvesting dividends.
EEP at $29.58 and EEQ at $27.86 have yields near 7½%. Even with the flat distribution this year, management is continuing to guide annual increases of 2-5%. The yields are very attractive, whether in kind from stock dividends or paid with money by the units. Investments in pipelines that bring more petroleum from Canada and North Dakota are being made to replace imported oil from unreliable foreign sources. And that will bring rising income for security holders.
Disclosure: I am long EEQ. I wrote this article myself, and it expresses my own opinions. I am not receiving compensation for it (other than from Seeking Alpha). I have no business relationship with any company whose stock is mentioned in this article.