I wrote an article about two weeks ago in which I suggested that the economy was slowing down more quickly than is being reflected in the headlines of most economic reports and that holiday sales were likely to be dismal. You can review that article here: Holiday Sales May Be In Trouble. My thesis is that both the political and economic environment are taking its toll on real disposable income and consumers have less discretionary spending income relative to the past few years. This will not only trigger a price war among retailers this holiday season, but my view is that per capita spending will decline and will likely disappoint vs. market/Wall Street analyst expectations. It so happens that Best Buy (NYSE:BBY) released its 3rd quarter results and this gives us some insight into how the holiday season will likely unfold and the BBY management comments (discussed below) further confirm my thesis.
About a week after I published the article linked above, Gallup released a poll which suggested that consumers will spend on average 10.4% less on the holidays this year vs. last year. In the last 10 years, there has not been a year to year decline in holiday spending since the 2008 recession. While everyone's individual situation is somewhat unique, my "macro" analysis of the Gallup result is that expiration of the 2% reduction in the Social Security tax and the expectation of higher healthcare expenses associated with Obamacare have hurt both actual and expected real disposable income. The best data available to help illustrate this is from this St. Louis Fed "Real Median Household Income" graph with data through the end of 2012: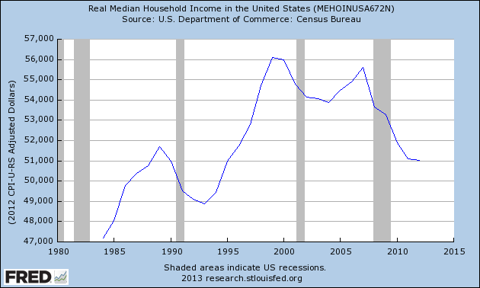 While the trend has been a pretty sharp decline since 2007 (an 8.3% decline since 2007) when you layer on top of that the inclusion of a 2% higher Social Security tax plus the expectation of higher costs for healthcare insurance, we can extrapolate the conclusion that real disposable income is even lower than it was in 2012. The Gallup poll supports this view. It is this lower real disposable income that will negatively impact holiday sales this quarter.
In addition to my suspicion that households have lower disposable income, as it turns out - based on recently released data - consumer debt has risen to a five-year high. In fact, in the 3rd quarter this year it jumped by the highest amount since the first quarter of 2008, according to the NY Fed. With the average consumer lugging around a higher debt balance right now than this time last year, I believe this factor is not built into the "consensus" analyst view for holiday spending and it will prove to be an even bigger drag on sales than the expectation for sales than the market may already have priced into stocks.
Finally, in what I believe gives us a "looking glass" into how retail sales will probably unfold over the holiday season and the fourth quarter, Best Buy released its third quarter results (8-K link) and warned about what is shaping up to be a very difficult holiday sales season. Best Buy's stock opened down over 10% on this warning. But even more telling is this statement from management (from the link):
As we enter the fourth quarter, we are also highly aware of the public statements that are being made by our competitors as it relates to their promotional plans for Black Friday and the fourth quarter. We know that we will be facing an increasingly promotional environment.
My argument is that the big retailers know that they are facing a smaller amount of dollars to be allocated by the consumer this season. Furthermore, given a decline in real disposable income - both actual and expected as I suggested above - cutthroat price wars will severely impact retailer sales and profit margins.
Based on this, and based on my expectation that overall retail sales will be worse than expected, I believe that retail stocks in general are currently overpriced. Furthermore, the action today in BBY will be replicated by many stocks as the fourth quarter unfolds and we start to get some warnings from companies via Wall Street analysts about the status of their quarter. On this basis, I continue to recommend selling long positions in the big-box retail stocks. In addition, with today's action in BBY's stock as an indicator, aggressive traders can take short positions in the stocks of other large mass merchandise retailers. I would suggest searching Seeking Alpha for the best ideas. Also, as I recommended earlier this month, I continue to like a short position in the Market Vectors Retail ETF (NYSEARCA:RTH). More speculative traders can play this on a leveraged basis by buying the January puts.
Finally, based on the comments from BBY management, and based on the fact that BBY has dropped below its 50 dma, I like shorting BBY stock, although I would recommend waiting to see if we get a market-correlated bounce tomorrow before initiating a short position. My target for that trade is the 200 dma, which is currently just below $30 (BBY is trading at $39.70). As always, if you decide to short a stock or ETF, start with a partial position in order to give your self room to add to the position as a way of "averaging down" if the general stock market happens to take your short position higher.
Disclosure: I have no positions in any stocks mentioned, and no plans to initiate any positions within the next 72 hours. I wrote this article myself, and it expresses my own opinions. I am not receiving compensation for it (other than from Seeking Alpha). I have no business relationship with any company whose stock is mentioned in this article.