Poland's economy grew by 1.7% in 2009 compared to the previous year, the Central Statistics Office in Warsaw reported on Thursday, citing a preliminary estimate. The number was higher than analyst expectations of 1.6% growth. In 2008, the Polish gross domestic product grew by 5%.
In 2009, individual consumption expenditure in Poland rose 2.3% compared to the previous year. In recent trading, the Polish zloty gained 0.5% against the U.S. dollar and was up 0.7% against the euro. "Poland was the only economy in Europe to register positive growth last year," said Neil Shearing, senior emerging markets economist at Capital Economics, in a note to clients.
"What's more, we expect Poland to continue to outperform its peers over the next couple of years. As we have argued before, unlike many countries in the region, it does not suffer from a fundamental lack of competitiveness."
The under-believed story of Poland continues to attract us. They do have their demographic problems and who does not in Europe. However unlike 'Old Europe' they have at least an other decade (rising births between 1967 to 1980) before their demographic problems hit as deeply as 'Old' Europe in the years 2010 to 2020. Nor are they constrained by 'Old' Europe's complex social and economic systems.
We hold the market vectors Poland ETF (PLND) in our model Beacon Master Portfolio and will look increase this holding in the expected market pull back during the summer months.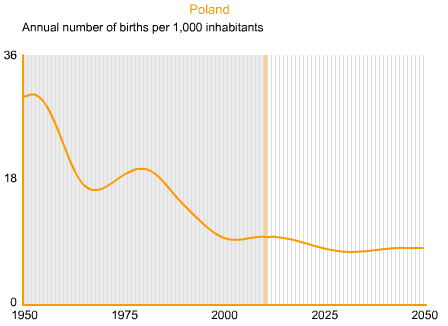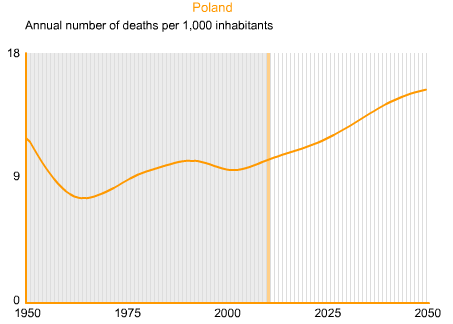 Source: United Nations

Disclosure: We hold the market vectors Poland in our model Beacon Master Portfolio