Kinross Gold (NYSE:KGC) published results for the third quarter of the year, and they are not looking too shabby. In this article we will give a quick overview of operational and financial results and will summarize what is in store for the rest of the year. We will also take a look at the balance sheet and cash flow situation of this Canadian gold miner.
Comparing Kinross Gold's performance with peers over the past year we note that Kinross Gold has underperformed Goldcorp (NYSE:GG), Barrick Gold (NYSE:ABX) and Newmont Mining (NYSE:NEM).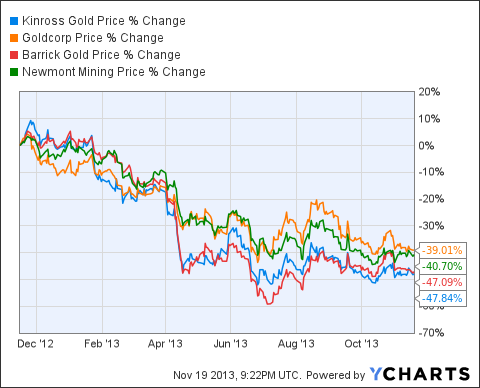 Operational Results
Production year-to-date has added up to 1.98M ounces of gold, almost 92,000 ounces ahead of last year's tally. Strong production in the first nine months has prompted Kinross Gold to increase production guidance to 2.6M - 2.65M from 2.4M - 2.6M.
All-In Sustaining Costs, or AISC, compute to $1,045/oz for the nine months in this year so far, down from $1,124 in 2012. Cost guidance is maintained but Kinross expects to achieve costs at the lower end of the guided range of AISC of $1,100 - $1,200. We would not be surprised if the lower end can be beaten until the end of the year.
Despite the undeniable improvements in cost control Kinross is still trailing other large miners in production costs. AISC for Kinross in the third quarter were recorded as $1,069/oz which is a notch above Barrick Gold ($916/oz), Goldcorp ($992/oz) or Newmont ($993/oz).
Most mines performed very well in the past quarter. Most importantly commercial production was announced at Dvoinoye in Russia. Ore from this new mine will be processed at the nearby Kupol mine.
Tasiast in Mauritania encountered some problems due to unusually strong rain storms and a brief strike. Maricunga in Chile reported very high costs (AISC of $1,368/oz for 38,126 ounces) due to performance issues with the ADR plant and the leaching characteristics of the ore. Mining ceased at La Coipa and the mine was handed back to the projects team to hopefully find additional mineable ore.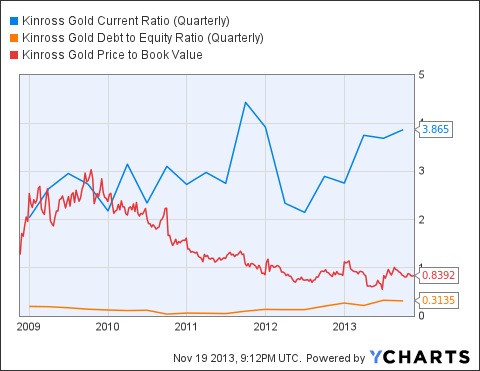 KGC Current Ratio (Quarterly) data by YCharts
Financial Results
Revenue for the quarter decreased by -21% year-on-year to $876.3M despite the strong production. This drop is due to 29,000 ounces of gold sold after the end of the quarter on the one hand and a much decreased realized gold price of $1,331/oz on the other (down from $1,641/oz in Q3/2012).
Consequently, operating cash flow per share dropped by -42% to $0.22. And the bottom line dropped by a hefty -77% to $0.04 per share. These earnings per share were at the lower end of the range compared to: Barrick Gold reported $0.17/share, Goldcorp reported $0.01/share and Newmont reported $0.82/share.
The company put a sharp knife to capital expenditures. The original capex guidance had been cut from the original estimate of $1.6B to $1.45B earlier in the year. This estimate was reduced further in the third quarter to $1.4B. For 2014 the company now estimates only $800M - $900M in capex requirements.
The balance sheet remains strong. A current ratio of 3.87 indicates a distinct ability to pay the bills in the short term. The debt-to-equity ratio remains manageable at 0.31 but has been creeping up over the pas year.
Liquidity is excellent with $932M in cash, $59M in restricted cash and $1.5B available in credit facilities. Debt amounts to $1.2B with the first larger maturity coming up in 2016.
Cash flow from continuing operations was $137M which is a distinct improvement from the June quarter where this metric was reported as $106.4M.
Takeaway
Kinross Gold showed some visible progress in cutting costs and optimizing production in the third quarter. Bringing the Dvoinoye mine online in time and on budget was an important achievement. Performance at the Tasiast and Maricunga mines will need to be monitored in the coming quarter for improvements in production costs.
The balance sheet remains quite strong and the company has ample liquidity.
In comparison with peers Kinross still has some catching up to do in terms of earnings and cost cutting.
We expect comparatively strong earnings in the fourth quarter due to a substantial amount of gold that was produced in the third quarter but sold in the fourth. The initiated cost cutting program should also continue to result in improved results.
Disclosure: I have no positions in any stocks mentioned, and no plans to initiate any positions within the next 72 hours. I wrote this article myself, and it expresses my own opinions. I am not receiving compensation for it (other than from Seeking Alpha). I have no business relationship with any company whose stock is mentioned in this article.