By Dee Gill
Good news doesn't usually make shareholders nervous, but the run of good fortune for OpenTable's (NASDAQ:OPEN) hot stock lately might be reason to worry. The shares, which were already attracting a couple of sell ratings solely for their extreme valuations, are up another 20% in the two weeks since announcing third quarter earnings.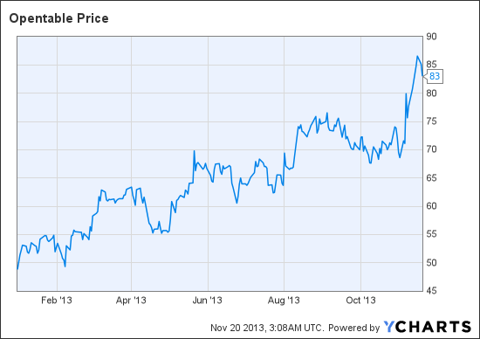 OPEN data by YCharts
The latest run-up has doubled shareholder returns in the past 12 months alone, making it one of the best plays so far this year. But it's also spiked already lofty share price valuations at a time when its path ahead is growing more difficult. OpenTable's forward price-to-earnings ratio is above 61 now, and its forward price-to-sales ratio has kicked up to more than 10.5. That revenue valuation is far more expensive than Amazon.com (NASDAQ:AMZN) shares and in the realm of other famously expensive momentum shares like Facebook (NASDAQ:FB), TripAdvisor (NASDAQ:TRIP), LinkedIn (NYSE:LNKD) and several Chinese Internet companies, like Qihoo 360 Technology (NYSE:QIHU).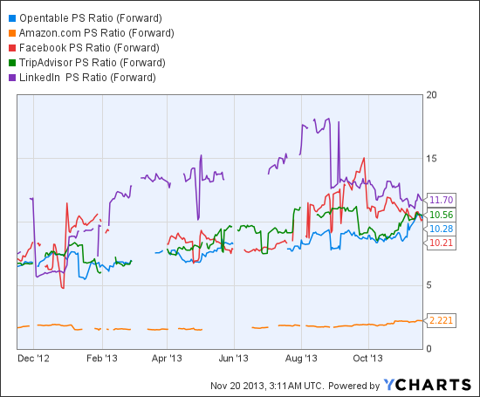 OPEN PS Ratio (Forward) data by YCharts
As any long-time investor in OpenTable knows, this is dangerous territory. Momentum investors spook easily and travel in herds. It only takes a few nervous ones to send the share price skidding, as they did for OpenTable in May 2011. That 70% fall began with an earnings report that beat market expectations - including a 59% increase in revenues - and news of some management reshuffling. (The company promoted its CEO to executive chairman and moved up the CFO to replace him.) Suddenly, the market was atwitter about OpenTable's inexplicable 165 price-to-earnings ratio, which was more than double even Amazon's valuation at the time. Investors expressed some non-specific concerns about competition and the possibility that OpenTable had already tapped out its market.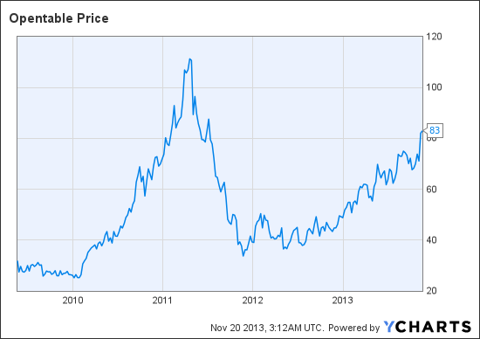 OPEN data by YCharts
The latest run-up on OpenTable shares was sparked by strong results this earnings season. The number of restaurants using its reservation software rose 17% to nearly 31,000, and the number of diners that ate at reservations they booked through OpenTable rose 30% to 38.5 million. (OpenTable collects fees in both scenarios.) It was impressive growth at a time when the restaurant industry is reporting basically flat sales.
But the same concerns that tanked OpenTable shares two years ago are simply louder today. OpenTable's near-monopoly in online restaurant reservations is both a nice moat and a cause for concern for its investors. With half of all reservation-taking restaurants already signed up, the easier markets like San Francisco and New York City may be near saturation.
The competition has been kept at bay so far with a combination of acquisitions and partnerships. Yelp (NYSE:YELP), the biggest threat because diners look to its online reviews most often to find restaurants, added OpenTable reservations to its pages in 2010. But four months ago, Yelp bought OpenTable competitor SeatMe, touting it as a tool for restaurants that don't subscribe to OpenTable.
Defensively, OpenTable has been pouring money into a cloud product for restaurateurs it plans to launch next year. In July, it also bought UrbanSpoon's Rezbook, a growing online reservation system that was undercutting it in pricing by not charging fees for bookings. This batting off the competition with new technology and takeovers gets expensive.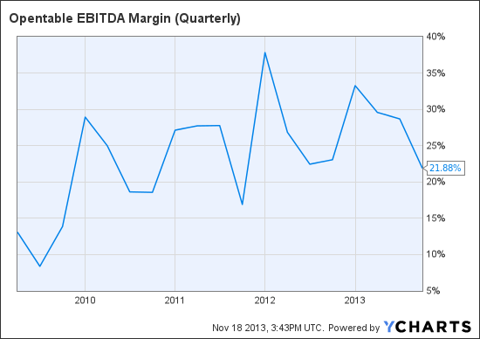 OPEN EBITDA Margin (Quarterly) data by YCharts
Analysts were sounding alarm bells about OpenTable's high share prices for months before the latest gains. Only a couple of analysts still recommend buying the shares, and at least two recommend selling it even as they keep next year's revenue gain forecasts at around 17% this year and next. At least a dozen have hold ratings on the shares. Some worry that competitors may yet build a sexier, cheaper and more user-friendly interface for restaurant reservations, noting that pretty tech has never been OpenTable's forte.
Meanwhile, the restaurant industry generally continues to lose diners even as the economy recovers. Investors, however, expect OpenTable to continue growing radically and indefinitely. Even a really wide moat won't protect OpenTable shareholders if it doesn't live up to those dreams.