Recently, Permian producers have highlighted their activities in the Cline Shale play, recognizing more of the varied options of production offered by the prolific Permian Basin. The Cline Shale, located in the eastern part of the Permian Basin, extends 140 miles long and 70 miles wide. The depth of the Cline ranges from 5,000 feet at the Eastern Shelf to 9,500 in the Midland Basin. Initially the Cline was expected to have the reserve capacity of the Eagle Ford, but the jury is still out on reserves. The Cline play was expected to hold between 30 - 35 billion boe, but the issue is what portion is economically recoverable. The eastern bits of the Cline have higher clay content, and toward the western parts, less clay. Halliburton (NYSE:HAL) and other services companies are working to find ways to deal with complications arising from clay.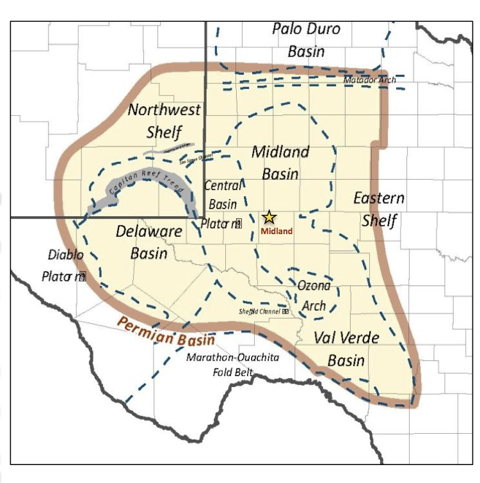 However, for Apache (NYSE:APA), with its 650,000 gross (520,000 net) acres in the Cline Shale, results from its Glasscock County wells, cited as being "the heart of the play," are promising. Apache began experimenting with its first wells in the Cline in 2011. The core of the play is expanding however, with Glasscock and Howard counties and now also Martin and Midland counties per Pioneer's (NYSE:PXD) latest revelations. (Note that Pioneer refers to its Cline activities as Wolfcamp D.) Total active rigs in these four counties is at 129, up 25% since the beginning of the quarter, notes the team at clineshalesite.com.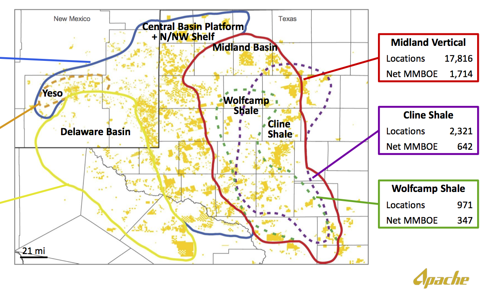 Apache was running four rigs in the Cline, completing 24 lower Cline Shale wells. An Apache Permian production manager notes that the early wells cost up to $9 million to drill and complete, and now they run in the $6.5 million range, a 28% reduction. The Barracuda 45 #2H, Apache's better Cline well, has an estimated ultimate recovery (EUR) of 604,000 boe. (See previous article for table with Laredo, Apache, Pioneer Cline-Wolfcamp D well comparisons.) The Marlin well cited below is estimated at nearly 400,000 EUR.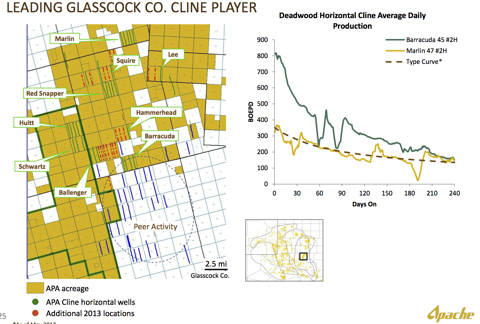 Alongside Apache, Laredo Petroleum (NYSE:LPI) is also a significant producer in the Cline play. Results from an impressive Laredo well has a 3-stream type curve for the Cline of 796,000 boe. From a recent journal article:
"Laredo's cost to drill and complete horizontal wells with 7,500-ft lateral sections in the Cline is USD 9 million, compared with Wolfcamp wells that cost between USD 7.8 million in the upper section and USD 8.5 million in the lower section with the same lateral length. Laredo's goal is to reduce the cost of a Cline well to USD 8 million by next year.
Laredo states that they are entering a "manufacturing stage" with respect to its Permian prospects. Indeed, the firms able to manufacture in the shales will survive and thrive. There are a number of players doing just that in the respective Basins and plays within the Permian - and really across all of the prolific shale oil plays within the U.S.
In addition to the expanding Cline play potential, Apache's Wolfcamp Shale activity is expanding, with current gross production of 11,077 boe/d. They are running six rigs, focusing on Irion County. For three wells, results follow [EUR in (000s)]:

Though Apache has more acreage and drilling locations identified in the Cline Shale, they are drilling more wells in the Wolfcamp Shale with 21 horizontal wells drilled in 2012 and 90 planned in 2013. The following chart indicates the contribution to Apache production from the shift to more intense Permian activity. An earlier article details more of their growth strategies in the Permian.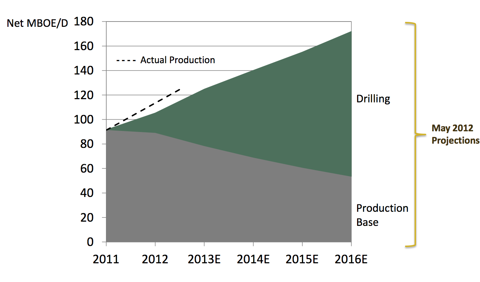 The Permian Basin is responsible for a considerable amount of Apache's liquids growth going forward. The combination of the Permian and Central regions quadruples Apache's proved reserves as it refocuses on North American assets. Recently Apache stated that these two regions, with the Permian comprising the lion's share of production (above), added nearly 13,000 b/d of oil and liquids from the second quarter. Apache will leverage its international assets to fund its "next growth cycle." Given oil production from international operations of over 182,000 b/d from the nine months ended in 2013, and a reported Brent crude price of $106.00, their capital development plans are in motion.
Apache's expected new partner in Egypt, Sinopec, will help free up commitments in Egypt as well. Egypt is a primary source of international oil production for Apache, with the North Sea its second major line of international production and earnings, and Australia the third next highest contributor to international oil production.
Other North American highlights as reported in their third quarter earnings:
• The Permian Region achieved record production of 132,000 boe per day, up 7 percent from the preceding period and up 18 percent from a year ago. In the region's Barnhart area, six rigs were active throughout the quarter drilling 20 Middle and Upper Wolfcamp Shale laterals. During October, the region achieved a milestone with half of its operated rigs drilling horizontal wells.
• Apache's Central Region increased production to 95,000 boe per day, up 4 percent from the preceding quarter and 31 percent from the third quarter of 2012. Liquids production increased to 49,000 barrels per day, up 94 percent from the same period in the prior year, and now comprises 52 percent of the region's production.
Essentially, Apache's Permian plans are progressing, with Wolfcamp Shale and Cline play activities as key contributors. The shift to a higher portion of liquids in their North American asset portfolio is occurring at a clip of 35% in comparison to last year. More results on the Cline Shale will unfold in the next quarters among all major producers in the area. Deciphering and proving the Permian Basin is a work in progress.
Source material:
Apache November Bus Tour, Nov 15
Barclays Tour, Oct 4 here.
"Growth in the Permian Basin and Apache"
"Cline Shale Additions..."
Disclosure: I have no positions in any stocks mentioned, and no plans to initiate any positions within the next 72 hours. I wrote this article myself, and it expresses my own opinions. I am not receiving compensation for it (other than from Seeking Alpha). I have no business relationship with any company whose stock is mentioned in this article.