As the annual event turned national holiday known as the Super Bowl approaches, retailers and marketers are gearing up to fight for consumers' dollars. The game is not only perennially the most-watched television event of the year and a gold mine for advertisers, but also a bonanza for food, electronics, and apparel retailers as consumers typically spend as much during Super Bowl weekend as they they do for Father's Day. However, consumers are not surprisingly planning on cutting back their discretionary spending this year, and marketers will attempt to strike the right chord with shoppers still extremely worried about their personal finances.
According to the Retail Advertising and Marketing Association's (RAMA) 2010 Super Bowl survey, conducted by BIGresearch, the average consumer will be cutting back their spending from $57.27 to $52.63 this year, while total spending on game-related merchandise, apparel and snacks is expected to decrease to $8.868 Billion from $9.563 a year ago. On a more positive note, electronics retailers can expect a brisk business, as at least 3.6 million Americans plan on purchasing a new television for the big game, up from 2.6 million in 2009.
Mike Gatti, Executive Director of RAMA, said:

With slight improvements in the economy boosting consumer's confidence, many people are looking at flat screen televisions as a way to splurge on something they've had their eye on for a while. Retailers have restocked their shelves and are already offering low prices on popular TV brands for those who have their heart set on watching the game in better quality this year.

The vast majority of spending (71.4%) will be on food and beverages, so it's no surprise Super Bowl Sunday is the most important snack-purchasing day of the entire year, followed by the day before the big game. And of course, football and beer go hand in hand – Super Bowl is ranked eighth on the list of highest beer-selling occasions for the year, with over 52 million cases sold during the two-week period surrounding the 2008 Super Bowl (Nielsen). No wonder Anheuser Busch (OTCPK:AHBIF) buys the most ad time every year and plans 5 full minutes of spots this year.
IBISWorld estimates 100 million viewers will tune into this year's Super Bowl, which would be an all-time high and represent a slightly more than 1% increase from 2009.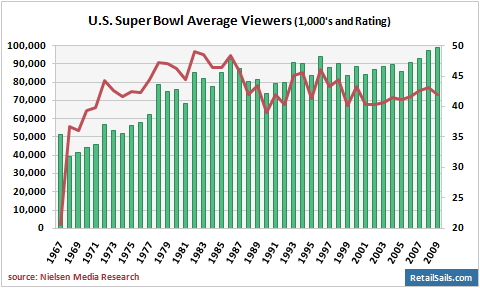 However, the exponential growth in the cost of advertising is taking a year off, as CBS lowered the average cost from $3.0 million to $2.7 for a 30-second spot.
Toon van Beeck, senior analyst with IBISWorld, said:

Advertisers this year will likely be getting the most value for their dollar in recent Super Bowl history. Given total viewership will top 100 million and the fact that they're paying 10 percent less than last year, makes this investment a worthwhile strategy.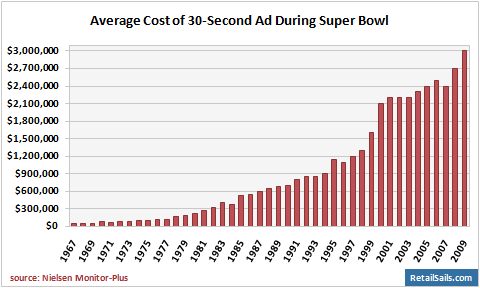 Earlier this month, TNS Media Intelligence reported that from 1990 through 2009, the Super Bowl game generated $2.17 billion of network sales from a total of 210 different advertisers and more than 1,400 commercial messages.
Mark Nesbitt, President, TNS Media Intelligence, said:

The Super Bowl remains a singular event for engaging the broadest number of consumers at one time. Because it is viewed live and experienced by a majority of the country at the same time, a commercial presence on the broadcast has great significance and impact for a brand, making each not so much a brand message as a brand event. It is why a presence on the broadcast lends itself so effectively to an integrated marketing effort.
Jon Swallen, SVP Research for TNS Media Intelligence, said:

As an advertising event, the Super Bowl has evolved beyond a vehicle for presenting expensive, stand-alone commercial spots that seek to entertain viewers and generate awareness. Increasingly, in-game spots are being supplemented by elaborate integrated communications programs that attempt to drive traffic online or in-store, generate positive social media discussion, incorporate public relations effort and ultimately achieve a strong ROI.
Football fans tune in for the game, but based on results from a survey released by Nielsen, 51% of viewers said they most enjoy the commercials that air throughout the game when compared to the Super Bowl game itself.
Randall Beard, executive vice president of Nielsen IAG, said:

This survey reinforces the value of the Super Bowl as a marketing bonanza, featuring one of the most receptive TV audiences in the world. With so many viewers waiting for the pitch, the pressure is on advertisers to create and place ads that will have a lasting impact.
The survey from RAMA and BIGresearch reinforces this view as consumers tune in just as much for the game as for the entertainment and camaraderie.
Phil Rist, Executive Vice President, Strategic Initiatives, BIGresearch, said:

Watching the Super Bowl together is a tradition many people look forward to every year. The Super Bowl is an excellent opportunity for advertisers to reach eager and attentive consumers, some who specifically gather just to watch the commercials.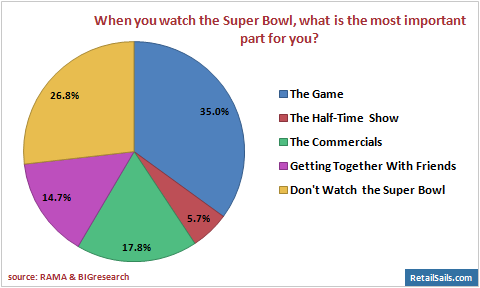 The bottom line is this year's Super Bowl will be one of the most, if not the most-watched television events in U.S. history, and will represent the best opportunity for advertisers and marketers to reach a receptive target audience. How many other times this year will the Monday morning water-cooler talk center around tv commercials?
Disclosure: No Positions