Estimates have been surging for StanCorp Financial (SFG) after the insurance company delivered its 5th straight positive earnings surprise.
It is a Zacks Rank #1 (Strong Buy) stock.
Although the stock price has been surging too, valuation still looks reasonable with shares trading below the industry median on a Price/Earnings and Price/Tangible Book Value basis.
StanCorp Financial provides individual and group disability insurance as well as other financial products and services through its subsidiaries marketed as The Standard - Standard Insurance Company, The Standard Life Insurance Company of New York, Standard Retirement Services, StanCorp Mortgage Investors, StanCorp Investment Advisers, StanCorp Real Estate and StanCorp Equities.
Third Quarter Results
StanCorp Financial delivered excellent third quarter results on October 22. Adjusted earnings per share came in at $1.45, crushing the Zacks Consensus Estimate of $1.04. It was a 38% increase over the same quarter last year.
Income before taxes in the "IInsurance Services" segment jumped 25% year-over-year due in large part to a favorable benefit ratio, which came in at its lowest level since 2009. The benefit ratio is measured as benefits to policyholders and interest credited as a percentage of premiums.
StanCorp also reported record earnings in its "Asset Management" segment as assets under administration rose 10% thanks in large part to a rising stock market.
Meanwhile, total premiums declined slightly to $524.4 million.
Rising Estimates
Following the strong Q3 results, analysts revised their estimates significantly higher for StanCorp, sending the stock to a Zacks Rank #1 (Strong Buy).
The 2013 Zacks Consensus Estimate is now $5.02, up from $4.43 just 60 days ago. The 2014 estimate is currently $4.96, up from $4.60 over the same period.
StanCorp has delivered a solid 5 consecutive earnings beats. Over that stretch, you can see a dramatic increase in consensus estimates for both 2013 and 2014: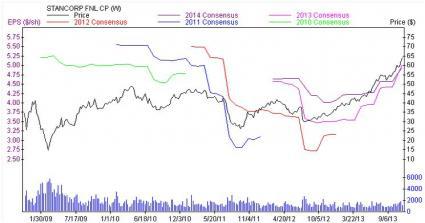 Reasonable Valuation
While shares of StanCorp Financial are up more than 70% year-to-date, the valuation picture still looks reasonable. The stock trades at less than 13x 12-month forward earnings, which is below the industry median of 14x.
Its price to tangible book ratio of 1.4 is also below the industry median of 1.8.
StanCorp also pays a dividend that yields 1.7%. And it recently increased its payout by 18%.
The Bottom Line
With strong earnings momentum, reasonable valuation and a solid dividend yield, StanCorp Financial offers investors attractive total return potential.
STANCORP FNL CP (NYSE:SFG): Free Stock Analysis Report