Colgate-Palmolive Company (NYSE:CL) has an impressive stable of consumer products which it manufacturers and markets worldwide. The company operates in two segments: Oral, Personal and Home Care; and Pet Nutrition.
Colgate-Palmolive has delivered consistent growth in its dividend, earning it a spot on the dividend aristocrat list. It has paid uninterrupted dividends on its common stock since 1895 and increased payments to common shareholders every year for 50 years.
However, with the stock recently hitting a 52-week high, investors may be worried that the price has gotten too high.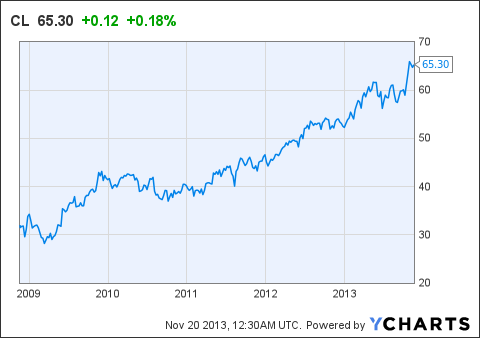 Dividend History
Included below are the dividends and growth rates for the past decade, along with Colgate-Palmolive's payout ratio:
| | | | |
| --- | --- | --- | --- |
| Year | Dividend | Dividend Growth | Payout Ratio |
| 2003 | $0.45 | -- | 35.9% |
| 2004 | $0.48 | 7% | 40.4% |
| 2005 | $0.56 | 17% | 44.7% |
| 2006 | $0.63 | 13% | 49.7% |
| 2007 | $0.70 | 11% | 43.0% |
| 2008 | $0.78 | 11% | 42.6% |
| 2009 | $0.86 | 10% | 37.6% |
| 2010 | $1.02 | 19% | 44.8% |
| 2011 | $1.14 | 12% | 43.7% |
| 2012 | $1.22 | 7% | 44.5% |
| 2013 | $1.33 | 9% | --- |
The table above shows just how consistent Colgate-Palmolive's management has been in terms of rewarding its shareholders with steadily rising dividend payments. In fact, just looking at the growth rates without the years labeled, few would guess that during the decade shown we experienced the worst financial crisis since the Great Depression.
Colgate-Palmolive delivered a compound annual growth rate for its dividend of just over 11%, over the past 5-year and 10-year periods. Earlier in 2013, Colgate-Palmolive announced a 10% increase in its quarterly cash dividend.
Furthermore, Colgate-Palmolive has been able to grow its dividend while consistently maintaining its dividend payout ratio in the 40-50% range. This seems like a reasonable payout ratio for a mature and slower growing company like Colgate-Palmolive.
Looking at Colgate-Palmolive's ROE, we see that it has hovered around 100%. This would most likely indicate a high degree of leverage in its capital structure, which is supported by the recent rise in Debt/Equity. This is certainly an issue investors should investigate further when deciding whether or not Colgate-Palmolive deserves a spot in their portfolio.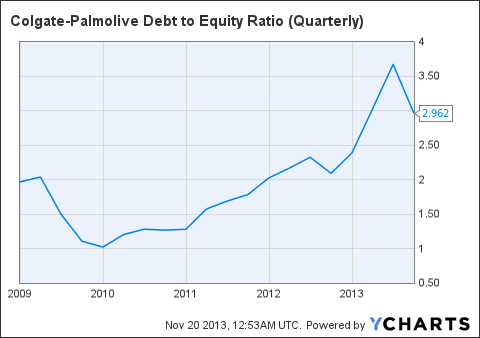 CL Debt to Equity Ratio (Quarterly) data by YCharts
Dividend Discount Model
Using the dividend discount model, I determined the value of the company based on its future dividend payments. In performing this valuation, I made several assumptions.
First, I used 8% as my discount rate, based on the long-term average return of the stock market.
Next, I used Colgate-Palmolive's FY2013 dividend ($1.33) as the base to apply future growth rates to.
I applied a 10% growth rate for the next five years (2014-2016), an 8% growth rate for 2019-2021, and a 7% growth rate for 2022 & 2023.
Finally, I assumed a 4% perpetuity rate after 2023.
Based on these assumptions, I calculated that Colgate-Palmolive's intrinsic value is ~$51 per share. At the current price of $65 per share, the stock is 27% above its intrinsic value and appears to be expensive.
There is no doubt that Colgate-Palmolive has been a great dividend paying stock, and will likely continue to reward shareholders with consistent growth in its dividend. However, income-oriented investors may want to wait for a more attractive entry point before adding to their current holdings, or starting a new position.
Disclosure: I have no positions in any stocks mentioned, and no plans to initiate any positions within the next 72 hours. I wrote this article myself, and it expresses my own opinions. I am not receiving compensation for it (other than from Seeking Alpha). I have no business relationship with any company whose stock is mentioned in this article.
Additional disclosure: The opinions in this document are for informational and educational purposes only and should not be construed as a recommendation to buy or sell the stocks mentioned or to solicit transactions or clients. Past performance of the companies discussed may not continue and the companies may not achieve the dividend growth as predicted. The information in this document is believed to be accurate, but under no circumstances should a person act upon the information contained within. We do not recommend that anyone act upon any investment information without first consulting an investment advisor as to the suitability of such investments for their specific situation.