Verizon Communications (NYSE:VZ) is a telecommunication services company established in 1983 and based in New York. The company was formerly known as Bell Atlantic Corporation and changed its name to Verizon Communications Inc. in June 2000. It provides broadband and other wireless and wireline communication services to mass market, business, government and wholesale customers. It also provides converged communications, information and entertainment services over a fiber optic network in the US. Verizon has a workforce of around 178,300. The company reports its results in two segments; Wireless and Wireline. The Wireless segment includes wireless voice, data and equipment. The Wireline segment provides voice, Internet access, broadband video and data, next generation Internet Protocol network services, network access, long distance and other services. Verizon has generated around 67% of its revenue (YTD) from the Wireless segment and the remaining 33% from Wireline services.
Spectrum Sale
Verizon has been trying to sell A-Block airwaves in the 700 megahertz frequency band since last year. The company itself is not utilizing the said band and has also, since now, failed to receive any active interest in the band from other major telecom players. Reuters has announced that there might be a deal in the works between T-Mobile (NASDAQ:TMUS) and Verizon for the sale of said frequency band. The deal can be worth as much as $3 billion and explains the $1.8 billion equity offering and $2 billion bond sale of last week.
Industry Profile
The US continues to be the largest telecom market in the world and is expected to grow faster than most other developed countries to a total of $721 billion by 2015, or 3.7% every year.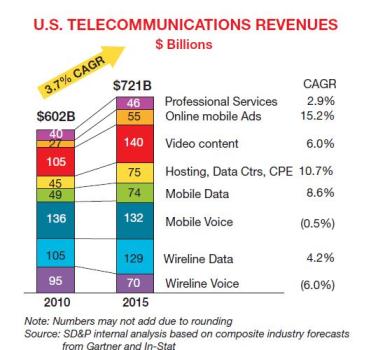 The main growth factors will be data centers and hosting services.
Market Performance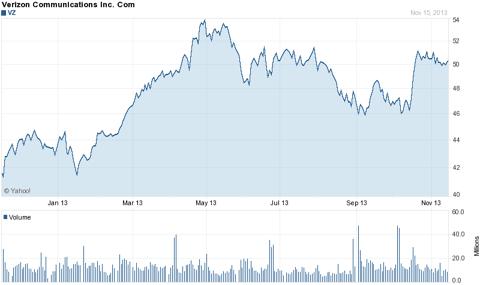 Shares of Verizon are listed on the NYSE and are valued at around $50. Verizon's stock has exhibited a general increasing trend and shown a stable growth behavior. The shares appreciated at a rate of approximately 14% (YTD). This growth is mainly because of the anticipated increase in future EPS. Furthermore, given the size of the company, it's dominating position and dividend policy; dividend investors prefer a stable companies such as Verizon.

Revenues of the company have shown growth in the past and are anticipated to grow further in the future.
Financial performance
Revenue
The revenues of Verizon have been growing at a good pace recording a CAGR of 4% (2011-2014). The 2014 value is anticipated based on past data. Future revenue growth is estimated at around 4% while the industry average is 8.01% for the next 5 years, indicating a below average growth for Verizon. The graph also indicates the decline in wireline growth year on year. This is because of consumer inclination towards wireless and mobile broadband. Wireless voice services have almost made wireline voice redundant. Wireline mainly generates revenues from broadband and entertainment services through optical fiber. Broadband sales have also been decreasing due to 4G wireless mobile internet services. It seems that Verizon's revenues will further converge towards the Wireless segment in the future.
Earnings
Net Income Attributable to Verizon
Verizon recorded a net income of $13.7 billion for the year to date September, 2013. This translates to around 10% CAGR since 2010. Net income is almost in line with the revenues. Stable earnings of Verizon are a positive sign for the value of the company's stock. Investors always think highly of a stock with stable earnings history.
Cash Flow
Cash balances of the company are around $56.7 billion as at September 30, 2013. Combined current assets have a $73.7 billion balance sheet value. The current ratio of Verizon is 2.4x,well above the industry average of 1.07x. The cash to current liability ratio is 1.87x. This means that even if the current assets, except cash, of Verizon do not materialize, the current liabilities can be covered by the amount of cash available. Hence, Verizon is in pretty good shape in terms of cash and liquidity.
Vodafone's Share of Verizon
Current news reveal that Verizon has decided to buy Vodafone's interest in Verizon for $130 billion. We will now examine the impact on the company's cash flows if the said deal goes through.
Verizon is planning on financing this transaction by paying around $59 billion in cash, issuing around $60 billion of common stock to Vodafone shareholders, $5 billion of loan notes and selling $3.5 billion minority stake back to Vodafone. The remaining $2.5 billion will be a combination of other considerations.
Cash Position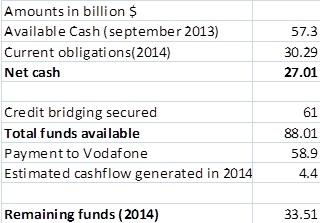 This table summarizes the fact that the company will only be left with approximately $33 billion of credit bridging facility with no cash in hand in 2014. Note that the calculation incorporates the current obligations of 2014. As the credit facilities are normally for short periods of time, Verizon must secure long term financing arrangements in 2014 to settle future obligations and the credit bridging finance in 2014. Debt financing will further increase the firm's gearing which is already above industry average. Hence, debt finance would only be raised on a higher interest; ; increasing finance costs and reducing earnings. Failing to secure long term finance will have serious implications for the liquidity of the company.
Dividend yield:
The forward annual dividend yield of the company is 4.20%. This translates to approximately $2 per share. Verizon is paying above average dividends and investors with dividend preference are expected to invest in Verizon given its leading position in the market. The anticipated growth rate of the dividends is 3.83% which is quite low with respect to the industry's 5 year growth rate of 14.10%. As revenues and income are set to grow in the future, Verizon will probably maintain its dividend yield with the analyst's expectations. However, the added $60 million common shares issued to Vodafone's shareholders will increase dividend obligations in the future.
Drivers of Performance
LTE Technology
According to Verizon, its LTE network has reached 500 US markets covering 49 states, accessible to 95% of the population. Furthermore, the upcoming devices through Verizon in late 2014 will only support LTE. The company also has plans to integrate LTE-A into its wireless network. Juniper Research predicts the LTE subscribers doubling from an estimated 105 million this year to nearly 220 million in 2014. This indicates a strong growth potential for Verizon.
Subscriber growth
Subscriber growth in the current quarter has been healthy for Verizon. It landed 1.1 million new mobile customers and over 300,000 new subscribers to its FIOS internet and video services during the three-month period. To be specific, the company added 173,000 FIOS Internet and 135,000 FIOS video subscribers during the quarter. The ability of Verizon to increase its subscriber base indicates a promising future.
Overall, the growth in tablet and smart phones will increase the demand for wireless internet in the future. With 4G technology in place, Verizon will continue to grow in the future and report even higher revenues.
Valuation

The P/E of Verizon stands at 14.46. A multiplier of 14x is used despite a PEG ratio of 1.75. We believe that the P/E of the company correctly reflects the growth prospects of Verizon. Hence, a multiplier in close proximity of the P/E is used. Our target price is $52.2, implying an increase in the future valuation of the company.
Conclusion
The overwhelming demand of wireless internet and cloud computing presents a promising opportunity for Verizon to capitalize on. Given the size and reputation of Verizon, it is quite likely that the company will remain a leader in the wireless industry. Wireline revenues will be able to sustain at current levels because of the FIOS services provided by Verizon. Cloud computing is a segment Verizon will explore in the future. Almost 67% of Verizon's revenue is generated from the Wireless segment. Its broad 4G network will also support revenue growth in the future. The company has a promising future ahead, given that it manages its current cash flows and financing needs efficiently. Hence, the stock of Verizon is a buy for long term investors, specifically those with dividend preference.
The company is currently in talks with T-Mobile for the sale of A-Block airwaves in the 700 megahertz frequency band. This sale will bring in around $3 billion from the sale of an asset that was not generating any revenues and can therefore cause a price hike on deal announcement.
Risk Factors:
Price war initiation by TMUS declining the subscriber base. The sale of spectrum will further strengthen T-Mobile's network coverage.
Inability to obtain further financing options. Note that this is a remote possibility.
Disclosure: I have no positions in any stocks mentioned, and no plans to initiate any positions within the next 72 hours. I wrote this article myself, and it expresses my own opinions. I am not receiving compensation for it (other than from Seeking Alpha). I have no business relationship with any company whose stock is mentioned in this article.