Exxon Mobil's (NYSE:XOM) share price had a near $10 run-up in price over the last month and Warren Buffett's endorsement of the company a week ago contributed to increased investor interest. On November 15, 2013 news broke that Warren Buffett purchased a $3.45 billion stake in the largest oil company by market capitalization. Shares of Exxon Mobil are up 8% over the last year but are up 11% since October 9, 2013 when the most recent bullish wave started to take effect.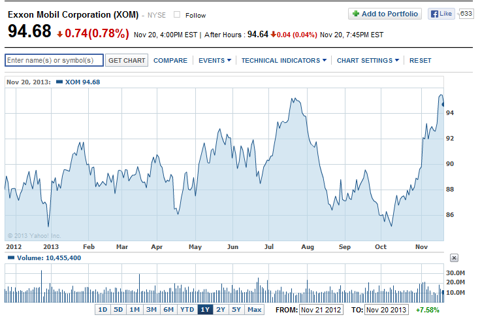 Compared to other US major oil and gas companies Exxon Mobil is still lagging in performance and Warren Buffet's purchase approval could help to reduce the return differential which started to widen in 2010. Exxon Mobil has only returned 18% over the last five years while Chevron (NYSE:CVX) gained 54% and ConocoPhillips (NYSE:COP) 80%.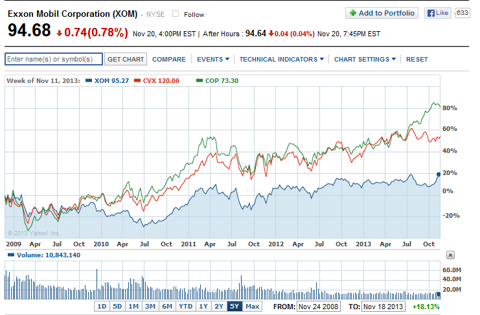 Industry background
Exxon Mobil is the largest, publicly traded oil and gas corporation in the world with first-class access to strategic resources both on- and offshore. Exxon's globally diversified footprint in crude oil-, natural gas- and NGL production is particularly attractive for investors who desire a low-risk, long-term energy investment. Naturally, oil companies are cyclical investments and their share prices should be highly correlated to the underlying commodity price. I believe that we are still in the expansion phase of the business cycle (as evidenced by sluggish GDP growth, low inflation and low interest rates) and energy companies should be a good bet as the economy progresses through the business cycle. Buffett's endorsement makes Exxon Mobil a no-brainer for investors who intend to stay with their investment for the long-term.
In addition, investors purchasing Exxon Mobil get exposure to
the largest oil- and gas producer in the world.
an integrated manufacturing and distribution system.
a diversified exploration and production footprint (Exxon Mobil has operations from Australia to Qatar to Norway and Canada and is literally present in all major exploration hotspots in the world).
extensive upstream and downstream projects with an additional focus on a chemicals segment.
deep reservoirs and reserves that contribute to satisfying long-term energy demand.
an industry facing attractive, long-term supply/demand economics with high projected commodity prices for crude oil.
recurring cash flow- and dividend streams.
energy commodities which function as inflation hedges for investors.
diversification potential.
Market valuation
In my previous articles about energy players, particularly the ones focusing on liquids, I have argued that the entire sector remains cheap compared to its earnings potential. This goes both for US- headquartered companies as well as oil- and gas producers domiciled in Europe or Asia. The global economy is still growing slowly and the output gap and absence of meaningful inflation indicates that further growth potential can be expected in the future. Higher global energy demand should primarily benefit large-scale, diversified exploration companies with integrated transportation networks such as Exxon Mobil. While the entire oil- and gas sector remains cheap, Exxon Mobil is still the most expensive from an earnings valuation point of view. Its P/E ratio stands at 11.90 while especially the European and Asian oil majors are much cheaper: Total (NYSE:TOT) trades at just 8.75x, Petrochina (NYSE:PTR) at 9.83x and BP (NYSE:BP) at 9.06x forward earnings.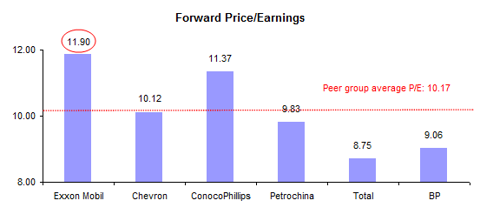 As a reflection of Exxon Mobil's high relative price, its dividend yield is one of the lowest in the sector. The recent run-up in price contributed to a lower dividend yield which now stands at 2.66%. One the other side of the spectrum investors can find decent dividend value with Petrochina, Total and BP. Though Buffett's investment is clearly a big endorsement for Exxon Mobil, investors can find better dividend alternatives in the sector.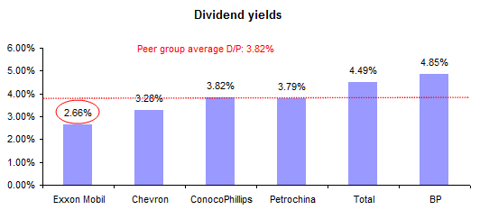 Conclusion
Investors who like to mirror Warren Buffett's investment strategy get a great investment with Exxon Mobil. Buffett's long-term strategy puts Exxon Mobil in the same category as The Coca-Cola Company (NYSE:KO), Wells Fargo (NYSE:WFC) and American Express (NYSE:AXP). All these companies are long-term holdings of Berkshire Hathaway and have consistently contributed to portfolio value via dividends and capital gains. Exxon Mobil has great exposure to the world's main production areas, both onshore and offshore, and investors are likely to profit from favorable long-term supply/demand dynamics (fewer discoveries of major oil- and gas fields, increasing energy demand particularly from emerging markets). Also, investors get exposure to energy commodities whose prices are highly correlated with inflation and, thus, provide investors to some extent from future inflation. At a price of nearly 12 times forward earnings Exxon Mobil is not too expensive, although other companies in the sector make an even better value- and dividend proposition. Investors who seek out a diversified energy player with large-scale operations might very well find comfort in the fact that they have Warren Buffett as an investment partner on their side. Long-term Buy.
Disclosure: I am long BP. I wrote this article myself, and it expresses my own opinions. I am not receiving compensation for it (other than from Seeking Alpha). I have no business relationship with any company whose stock is mentioned in this article.