There is no doubt that shares of Pandora (NYSE:P) have recently been bid to levels that price in aggressive growth, and this is perfectly logical as long as this growth is achievable. The problem is that when a market area becomes crowded with competitors, high growth becomes extremely difficult to achieve. This is exactly the problem that Apple (NASDAQ:AAPL) continues to face, once an abundant supply of iPhone alternatives became available on the Android platform Apple had a difficult time keeping its growth rate in line with expectations. Pandora faces the exact same problem today; luckily for investors the share price has not completely reflected the threat new competitors pose on Pandora's growth. In this article I will compare Pandora with some of its strongest competitors including iTunes Radio, Spotify, Rdio, and iHeartRadio. I have tested at least the free version of all of these services to insure the most accurate analysis.
Services Offered
It is important to note that all of these services offer slightly different products and this means that the price paid for these services is not directly comparable. Pandora's main focus is music discovery so users can only listen to radio stations which adapt to the user to offer the best experience. You cannot look up songs directly on Pandora. iTunes Radio is similar in the fact that you can only listen to radio stations and cannot directly look up songs. Rdio and Spotify are comparable services in the fact that they offer on-demand access to songs on computers and are supported by ads. They both offer mobile apps where you can listen to radio for free with ads or you can directly look up songs with a premium account. iHeartRadio offers a free service where users can listen to radio stations or create their own custom stations. The main difference between iHeartRadio and its competitors is that there are no commercials.
Here is a simple chart comparing all of these services. Red indicates the service is the worst for its price level and green indicates the service is the best for its price level.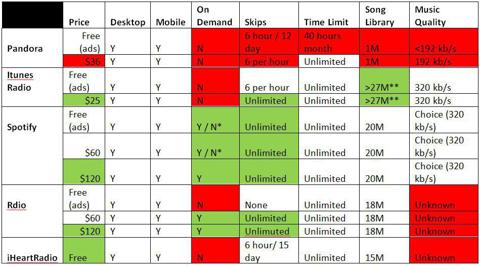 *Y for desktop but N for mobile
** iTunes Radio also has the added advantage of getting new songs before the other services
Analysis
Clearly Pandora falls short to its competitors in many categories. It has the most restrictions on skips and the time limit when compared to the other services. This is the largest shortcoming of Pandora's service when compared to the other radio streaming services, for example iHeartRadio has no ads and it is unlimited with more skips than Pandora. The fact that Pandora limits skips for its premium accounts is a huge disadvantage when compared to iTunes radio, which is also $11 cheaper. Pandora's small song library may not be as large of a liability since most listeners only care about 10% of all songs, however it will definitely push some users away. Many people point to Spotify's higher premium price as an advantage for Pandora, but as we can see the user is really paying for a completely different service. The reason Spotify costs so much more is because you can select any song you want and create your own playlists, this means you never have to buy a song again. Therefore, it is not directly comparable to Pandora. The real surprise is that Pandora does not have an edge in any category. People claim Pandora's music discovery algorithm is significantly better but frankly I didn't notice a big difference, and I doubt people would be willing to pay for a difference in algorithms.
Conclusion
Pandora seems to have an edge in music streaming simply because it was the first to the field and currently has more name recognition in the United States. Investors in Pandora hope for high growth but this is increasingly unlikely to be realized as competitors become more established. International growth also seems very unlikely since other services, like Spotify, are already well positioned internationally. The chart clearly shows that any iOS user should go for iTunes Radio as opposed to Pandora, and this should put significant pressure on Pandora's active listeners and growth going forward. Over time more and more iOS users will discover iTunes Radio and stop listening to Pandora (the only reason this does not take more of an immediate effect is an iOS upgrade is required and Apple did not launch the product well). Because of all these factors I believe Pandora is significantly overpriced currently. Although an outright short may be too risky due to earnings today, I believe a long-term put option is a good way to play this situation. A March 22 2014 put struck at $27.00 which costs $3.45 should give the market adequate time to realize its mistake. Pandora's price is likely to retreat back to $20 if not lower, which would give investors a return of over 100% on the puts.
Disclosure: I have no positions in any stocks mentioned, but may initiate a short position in P over the next 72 hours. I wrote this article myself, and it expresses my own opinions. I am not receiving compensation for it (other than from Seeking Alpha). I have no business relationship with any company whose stock is mentioned in this article.