While I am not convinced that Bank of America (NYSE:BAC) is a stock that is safer today than when I penned this article, I will have to change my opinion of the stock being "dead money" if the policies of the Federal Reserve change course.
The very same policy change by the Fed that will continue to hamper the entire mREIT sector will actually help BAC in a few key ways.
If the zero interest rate policy stays in place, and the buying of mortgage backed securities slows or ends, the spread between short and long term rates will rise. This will enable BAC to earn more money by raising interest rates on all loans, credit card rates, and other banking fees.
If Bank of America can increase its earnings and revenues, it will be able to accomplish the goal of having enough cash reserves to pay for the legal issues it will continue to face, buy shares back much more readily than it has, and have enough cash to also satisfy the banking regulators.
If this scenario actually occurs, then I will concede that the share price of BAC will rise to at least its current book value ($20.50/share), or anywhere from roughly $20.00/share to about $25.00/share based on what ratio is place on price to tangible book value.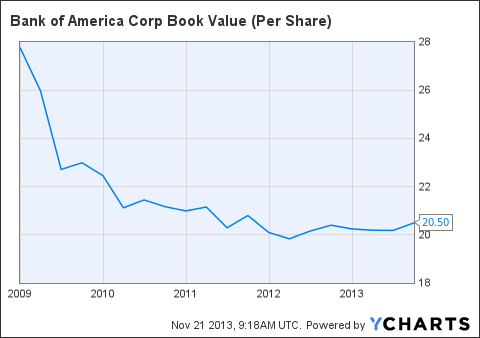 This will offer growth investors a further increase in capital gains of roughly 25% to 60%. (a price to book of between 1.00 and 2.00). Obviously I can see this as a possible scenario, since the Fed has once again flip-flopped on the tapering issue.
The Fed Is Like A Leopard Changing Its Spots
The most recent FOMC minutes released just yesterday, shines the spotlight on the issue of tapering sooner than later, once again.
During this general discussion of policy strategy and tactics, participants reviewed issues specific to the Committee's asset purchase program. They generally expected that the data would prove consistent with the Committee's outlook for ongoing improvement in labor market conditions and would thus warrant trimming the pace of purchases in coming months....Many members stressed the data-dependent nature of the current asset purchase program, and some pointed out that, if economic conditions warranted, the Committee could decide to slow the pace of purchases at one of its next few meetings.
While this flies in the face of the previously reported comments that the Fed will continue buying mortgage backed securities and longer term treasuries at the current levels well into 2014 and perhaps beyond, the zero interest rate policy, or ZIRP, could continue in place until the employment and inflation numbers reflect the Fed's previous goals.
In addition, the Committee reaffirmed its intention to keep the target federal funds rate at 0 to 1/4 percent and retained its forward guidance that it anticipates that this exceptionally low range for the federal funds rate will be appropriate at least as long as the unemployment rate remains above 6-1/2 percent, inflation between one and two years ahead is projected to be no more than a half percentage point above the Committee's 2 percent longer-run goal, and longer-term inflation expectations continue to be well anchored.
As stated, if this actually takes place sooner than later, Bank of America will not be "dead money".
The Headwinds Are Still The Same For BAC
The only change to the share price direction would come with the easy money policies of the Fed. By borrowing at virtually zero interest, BAC could lend at higher and higher rates no matter how quickly interest rates rise. That being said, the major headwinds the stock faces has not changed.
Monetary liabilities faced from civil as well as government settlements. I believe that there is more to come for BAC, and we could see similar actions taken that JPMorgan Chase (NYSE:JPM) just settled.
Lack of a meaningful dividend for investors to hold the stock well beyond the short term potential for capital appreciation.
The question will be if the amount of money that can be generated by the actions of the Fed, will be enough to pay for all of the issues that lie ahead for BAC. If the Fed flip flops once again, then all bets are off, and BAC will be right back to being in either a tight trading range, or being dead money for investors.
What Is "Dead Money?"
For the sake of educating some investors who might not be familiar with this term, let me attempt a simple explanation: If an investor buys a stock at any given share price, and the share price does nothing but move sideways, while not paying a dividend that at least is above inflation levels, then that investor will be faced with an investment that does nothing to increase the overall value of the purchase, or their portfolio.
Investopedia states it in the following manner:
Funds that are not earning interest or income are known as dead money. Some investors will hold a stock despite recent price drops, hoping that it will turn around and earn back some of the lost value. However, if the investment is dead money, the likelihood of a turnaround is low, and investors should consider selling the shares before incurring additional losses.
It is entirely possible that my opinion of Bank of America will change as long as the Federal Reserve begins to end quantitative easing.
Time will tell, but if the Fed decides to keep its current course instead of tapering, then my opinion of BAC will be the same as before; dead money at best.
Disclaimer: The opinions of the author is not a recommendation to either buy or sell any security. Please remember to do your own research prior to making any investment decisions.
Disclosure: I have no positions in any stocks mentioned, and no plans to initiate any positions within the next 72 hours. I wrote this article myself, and it expresses my own opinions. I am not receiving compensation for it (other than from Seeking Alpha). I have no business relationship with any company whose stock is mentioned in this article.