With Thanksgiving just around the corner and the blinding glare of 2014's headlights staring us down, it is already time to start thinking about prudent year-end investment strategies. My turnaround investing philosophy typically follows a long-term approach; however, each year around this time I suggest that investors also consider a shorter-term strategy based on calendar quirks and tax law.
To illustrate this point, I wanted to see how the year-end bounce stock picks recommended back in December 2012 have performed. As detailed in the graphic below, eight of these ten companies have seen gains of 20% or greater-with Hewlett-Packard (NYSE:HPQ) rising 104% and Best Buy (NYSE:BBY) enjoying a 242% increase (between the time of recommendation and recent stock price [as of 11/11/13]).
Although both J.C. Penney (NYSE:JCP) and Cliffs Natural Resources (NYSE:CLF) declined in the long-term, these two stocks did see nice short-term gains. It is important to realize that each stock did enjoy a price rise immediately following our recommendation-9% for JCP, and 23% for CLF. This short-term increase followed by an apparent free-fall is not unexpected and should not be discouraging. I'll detail the year-end phenomenon in the upcoming issue of my contrarian investing newsletter, but this can be quickly summarized: Once year-end artificial selling pressure stops, longer-term fundamentals will ultimately determine stock prices-as was the case for both JCP and CLF.
Even factoring in the long-term decline on those two stocks though, the combined companies recommended in December 2012 still enjoyed a 61% average return (between prices at the time of recommendation versus now). That figure is all the more impressive when compared to the more modest gains seen in other indices over this same time period: Dow Jones Industrial Average - 21%, S&P 500 Index - 25 and NASDAQ Composite - 30.
I look forward to uncovering more year-end bounce stocks in the coming weeks, so watch for my annual list as you enjoy those Thanksgiving leftovers!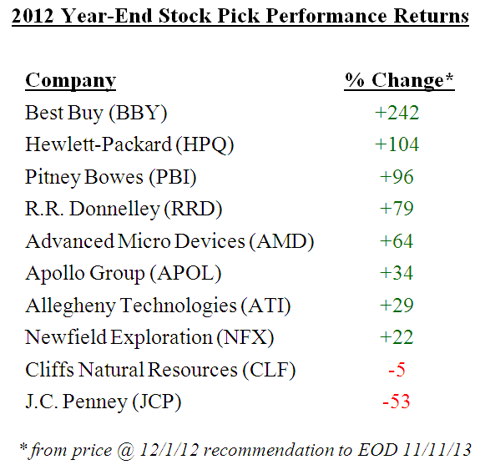 Click to enlarge
Disclosure: I have no positions in any stocks mentioned, and no plans to initiate any positions within the next 72 hours. I wrote this article myself, and it expresses my own opinions. I am not receiving compensation for it. I have no business relationship with any company whose stock is mentioned in this article.