The Clorox Company (NYSE:CLX) manufactures and markets consumer and professional products worldwide, with approximately 8,400 employees and fiscal year 2013 revenues of $5.6 billion. Clorox markets some of the most trusted and recognized brand names, including its namesake bleach and cleaning products. It is also a trusted dividend paying stock, having just declared its most decent dividend ($0.71 per share) payable on Feb. 14, 2014.
As with many large-cap, dividend paying stocks, investors have been pushing Clorox's stock higher over the past few years, and it is now at a 52-week high. In 2013 alone Clorox is up 26% YTD.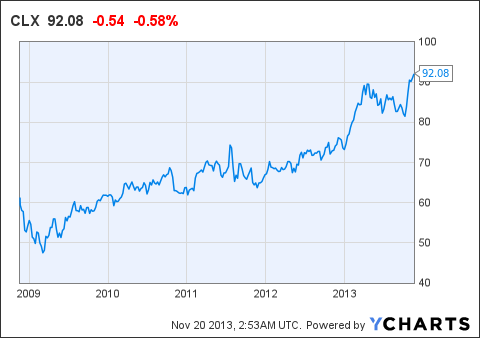 Clorox is a member of the S&P 500 dividend aristocrats, which are companies that have increased their dividend every year for the past 25 years or more. So it has a strong track record, and currently sports a 3% dividend yield.
Dividend History
Included below are the dividends and growth rates for the past decade, along with Clorox's payout ratio:
| | | | |
| --- | --- | --- | --- |
| Year | Dividend | Dividend Growth | Payout Ratio |
| 2003 | $0.88 | -- | 38% |
| 2004 | $1.08 | 23% | 42.4% |
| 2005 | $1.10 | 2% | 38.2% |
| 2006 | $1.14 | 4% | 39.5% |
| 2007 | $1.20 | 5% | 37.2% |
| 2008 | $1.60 | 33% | 49.4% |
| 2009 | $1.84 | 15% | 48.3% |
| 2010 | $2.00 | 9% | 46.9% |
| 2011 | $2.20 | 10% | 106.3% |
| 2012 | $2.40 | 9% | 58.5% |
| 2013 | $2.56 | 7% | 59.4% |
NOTE: Clorox's Fiscal Year ends June 30th, so the above numbers are for the 12 months ending on June 30th of the calendar year; Source: S&P 500 Guide & Morningstar
Although Clorox has been consistent in paying its dividend, growth has been very lumpy. Several years its dividend only grew 5% or less, yet it also has experienced a few years of very high growth. Recently, however, the company has become more consistent in delivering high single-digit to low double-digit growth.
Over the past decade, Clorox's dividend had a compound annual growth rate of 11.3%, and over the past 5-years it has grown at 10%. However, another warning sign is the rising payout ratio, which is now around 60%. I do not believe this is necessarily problematic for a mature company like Clorox, but it does leave less room for growth in the dividend through expansion of the payout ratio.
While the absolute number is not an automatic red-flag, the TREND of the payout ratio does cause me to be cautious. Clorox has experienced a clear slowdown in its 3-year average revenue growth, as well as its 3-year average EPS growth. And operating cash flow too a hit in 2011 & 2012, but seems to be recovering. Investors should definitely keep these issues in mind and look closely at Clorox's cash flow and liquidity/debt ratios to see if they uncover further insight into any potential risks.
Recent Dividend Announcement & Estimates
Clorox just announced a quarterly cash dividend of $0.71 per share, which was consistent with its previous quarterly cash dividend (FLAT). Clorox appears to announce its INCREASES in dividends for the first quarter of its fiscal year. For example, the board of directors announced an 11% (from $0.64 to $0.71 per share) in May of this year, payable in this past August.
Assuming Clorox continues the same pattern of dividend payments it has followed in the past, we can extrapolate that FY2014 annual dividend will be $2.84 per share (Q1-Q3=$0.71 & estimate FY Q4=$0.71). I would anticipate the next increase would be announced again in May of 2014.
Dividend Discount Model
Using the dividend discount model, I determined the value of Clorox based on its future dividend payments. In performing this valuation, I made several assumptions:
First, I used 8% as my discount rate, based on the long-term average return of the stock market
Next, I used Clorox's FY 2013 dividend as the base to apply future growth rates to, and applied a 10.94% growth rate for FY 2014 based on the estimates I described above
I applied a 10% growth rate for 2015 & 2016, a 9% growth rate for 2017 & 2018, a constant 8% growth rate for 2019-2021, and a 7% growth rate for 2022 & 2023
Finally, I assumed a 3.5% perpetuity rate after 2023
Based on these assumptions, I calculated that Clorox's intrinsic value is ~$90 per share. At the current price of $92/share, the stock seems to be fairly valued, however, it offers very little margin for error.
Additionally, there are some potential issues regarding the company's growth and cash flow that may constrain Clorox's ability to increase its dividend at the rates I have used. So investors should pay close attention to their growth assumption and make adjustments based on their own outlook.
Overall, Clorox does not seem overpriced for total return oriented investors that are interested in dividend growth. Therefore, long-term investors may want to give Clorox a closer look to see if it should be included in their portfolio.
Disclosure: I have no positions in any stocks mentioned, and no plans to initiate any positions within the next 72 hours. I wrote this article myself, and it expresses my own opinions. I am not receiving compensation for it (other than from Seeking Alpha). I have no business relationship with any company whose stock is mentioned in this article.
Additional disclosure: The opinions in this document are for informational and educational purposes only and should not be construed as a recommendation to buy or sell the stocks mentioned or to solicit transactions or clients. Past performance of the companies discussed may not continue and the companies may not achieve the dividend growth as predicted. The information in this document is believed to be accurate, but under no circumstances should a person act upon the information contained within. We do not recommend that anyone act upon any investment information without first consulting an investment advisor as to the suitability of such investments for their specific situation.