Merck & Co. (NYSE:MRK) had a weak Q3 2013. Sales came in 4% lower at $11.0 billion vs. $11.5 billion in Q3 2012 due to patent expiries and unfavorable currency fluctuations. GAAP EPS stood at $0.38 in Q3 2013 vs. $0.56 in Q3 2012 (a minus of 32%). Non-GAAP EPS came in at $0.92 compared to $0.95 in Q3 2012 (a decline of 3%).
Share performance
On an isolated basis, Merck has done well for shareholders over the last two years with an increase in share price of 41%.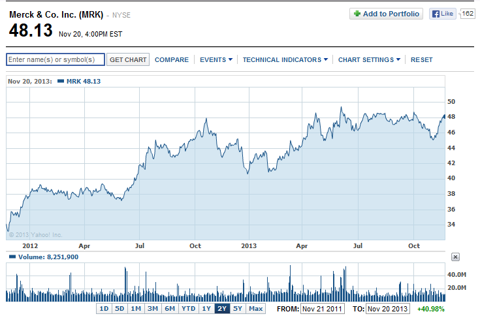 Click to enlarge
Compared to other major drug manufacturers (both US- and Europe-based), however, Merck is a mediocre performer. Merck performed better than GlaxoSmithKline (NYSE:GSK), which returned 23% and AstraZeneca (NYSE:AZN), which gained 21%. Other major drug companies outperformed Merck: Pfizer (NYSE:PFE) is up 68% (Pfizer is a great long-term BUY for dividend investors), Bristol-Myers Squibb (NYSE:BMY) 70% and Novartis (NYSE:NVS) 46%.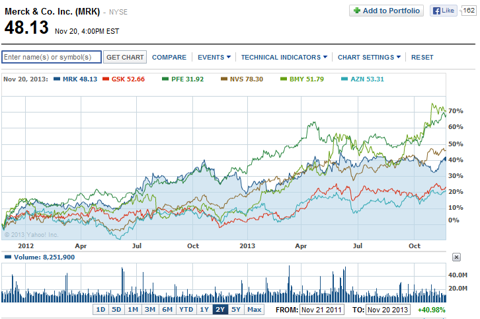 Click to enlarge
Free cash flow
My estimates about Merck's future cash flows as well as its free cash flow to equity are depicted in the table below. I assume that operating cash flow can slightly rebound in 2014 after falling off the 2011 level. Investing cash flows and net borrowing activity are basically in line with historical averages.
I estimate that Merck can earn $2.46 in free cash flow to equity per share in 2014 which equates to a 19.56 forward P/FCFE multiple. The implied initial free cash flow yield stands at 5.11%.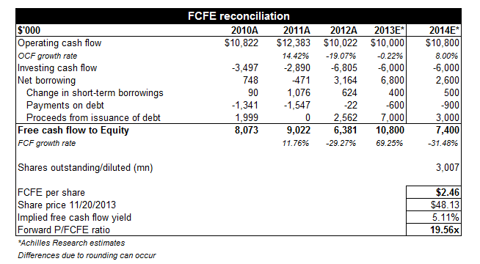 Click to enlarge
Considering $2.46 FCFE per share in 2014, a terminal growth rate of 3% and capital costs of 10%, the intrinsic value per Merck share stands at $35.29. With a current share price of $48.13 the shares have about 27% downside potential.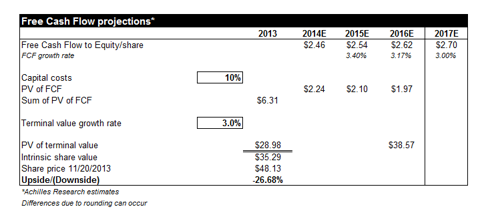 Click to enlarge
Market valuation
In terms of market valuation Merck lands just below the drug manufacturer peer group P/E ratio of 15.36. With a forward P/E ratio of 13.80 Merck seems to be fairly valued. Bristol-Myers Squibb fetches a P/E ratio of over 26 while Eli Lilly (NYSE:LLY) is the second most expensive drug manufacturer in the peer group with a P/E ratio of 18.25. Sanofi (NYSE:SNY) has the lowest P/E ratio at 10.77.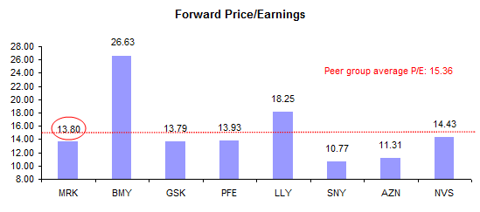 Click to enlarge
Drug manufacturers are generally good investments for income-driven investors who seek decent and growing dividend yields. Drug companies have fairly stable cash flow profiles and extensive product pipelines, which lead to recurring dividend payments. Merck's dividend yield currently stands at 3.57%, which is just above the peer group average of 3.36%. GlaxoSmithKline has the highest dividend yield in the peer group with 4.67%.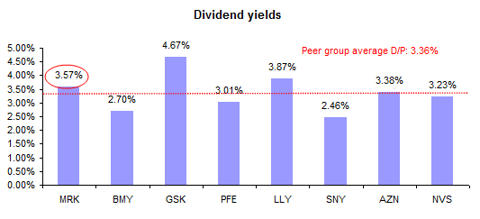 Click to enlarge
The table below summarizes the above mentioned valuation- and dividend metrics. Presently, Merck is about 10% cheaper than the average drug manufacturer in the peer group.

Click to enlarge
Conclusion
Investors who base investment decisions on free cash flow will probably be uncomfortable in purchasing Merck at nearly 20 times estimated free cash flow. The free cash flow valuation model from above shows that, given relatively conservative assumptions, shares of Merck have an intrinsic value around the $35 mark, which justifies about 27% correction potential. From an earnings perspective, Merck appears to be fairly valued at a P/E ratio of just under fourteen. However, Merck still fetches a 10% discount to the peer group average P/E ratio of 15.36.
Dividend investors, however, will still be able to find value in drug manufacturers. Drug companies usually pay relatively high dividend yields and achieve fairly strong cash flows from their product portfolios. The yields in the peer group have an average of 3.36%, which is a decent yield to enter into an investment. Long-term oriented dividend investors who desire manageable volatility and relatively stable dividends will find good value in Merck. Investors who are value-driven should look for other companies in the drug sector to invest in at more attractive P/FCFE ratios.
Disclosure: I am long PFE. I wrote this article myself, and it expresses my own opinions. I am not receiving compensation for it (other than from Seeking Alpha). I have no business relationship with any company whose stock is mentioned in this article.