In a late breaking session at the American Heart Association (AHA) Conference on 19th November 2013, Daiichi Sankyo (OTCPK:DSKYF) unveiled the much awaited data on its factor Xa inhibitor edoxaban from the Phase III study - ENGAGE-AF.
ENGAGE-AF study was evaluating edoxaban for the treatment of stroke prevention in patients with atrial fibrillation. ENGAGE-AF study enrolled 21,000 patients, and was the largest study ever done on a new generation oral anticoagulant (NGAC) till date. The full data was published in NEJM today and it clearly suggests the Non valvular atrial fibrillation patients should expect an option that can dosed once daily, is comparable to warfarin on efficacy, and significantly better than warfarin when it comes to safety (major bleeding).
In the study edoxaban successfully met the primary endpoint of showing non-inferiority to warfarin in reducing the risk of stroke or systemic embolism, and at the same time significantly lowering the risk of major bleeding. The rates of net clinical outcomes, which were a composite of cardiovascular events, death from any cause, or bleeding, were significantly lower with both edoxaban regimens than with warfarin.
Analyzing Clinical Data from a competitive Perspective
The data compares favorably to competition - Bristol Myer (NYSE:BMY) and Pfizer's (NYSE:PFE) Eliquis (Apixaban) and Bayer's (OTCPK:BAYRY) and Johnson and Johnson's (NYSE:JNJ) - Xarelto (rivaroxaban).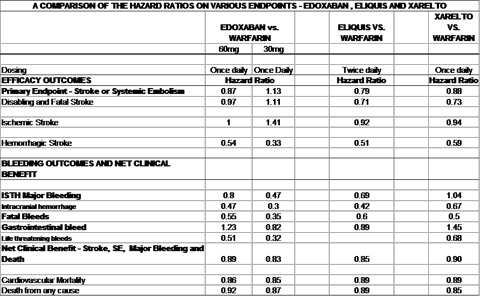 Daiichi will be filing edoxaban for approval in early 2014 and an approval should come in early 2015.
About Stroke Prevention in Atrial Fibrillation Market
There are about 7 million patients globally who are being treated for stroke prevention in atrial fibrillation. The current standard of care is warfarin. Warfarin is gradually being replaced by Eliquis and Xarelto, which offer comparable efficacy. Until we saw the data from the Phase III ENGAGE-AF study on edoxaban at AHA 2013, Eliquis was the only new generation oral anticoagulant to have demonstrated a statistically significant improvement in net clinical benefit over Warfarin. Net clinical benefit is defined as reduction in composite of stroke, systemic embolism, Major bleeding and all cause death.
Despite the entry of these new generation oral anticoagulants - Eliquis and Xarelto, Warfarin continues to dominate the market. The market share for warfarin is still as high as 82%. If these new generation oral anticoagulants are able to entirely replace warfarin, the potential market opportunity is about $25b (at current prices).
Key Advantages that Edoxaban offers over Eliquis or Xarelto
1) Edoxaban like Xarelto is to be dosed once daily, but offers a better clinical profile as it has comparable efficacy, but promises much better safety.
2) Eliquis twice daily dosing is a major drawback, as compliance is very important in patients with atrial Fibrillation. Besides Atrial fibrillation patients being aged, they are already on concomitant medications and they would always prefer a once daily option over twice daily, especially when there is not much difference in the clinical benefits
3) A wide range of edoxaban doses (15mg - 60mg) were tested in the ENGAGE-AF trial and in most likelihood, we would see USFDA approving all doses in that range. This will allow physician the advantage of tailoring the dose that would best suit the patient. This is not the case with Xarelto or Eliquis.
4) High Time in Therapeutic Range for Warfarin in the ENGAGE-AF trial lends credibility to trial Results - Patients on warfarin need to ensure that their INR levels stay between 2 and 3, which is the right therapeutic range for gaining maximum efficacy and safety of warfarin. The ENGAGE-AF trial boasts of the best time in therapeutic range when compared to the other pivotal trials ARISTOTLE on Eliquis and ROCKET-AF on Xarelto. In the ENGAGE-AF trial, the time in therapeutic range was close to 68% which is much better than 62% for Eliquis (ARISTOTLE trial) and 58% for Xarelto ( ROCKET-AF trial). A higher TTR lends more credibility to the trial results
In nutshell, edoxaban offers best of both the worlds
1) dosing convenience both from a patient (once daily) and physician perspective (multiple options that can be tailored to patients needs).
2) efficacy is comparable to the existing treatment options (Warfarin, Xarelto and Eliquis)
3) Comparable to Eliquis on Safety - Until we saw the data from ENGAGE-AF, Eliquis was the safest anticoagulant on the market, but it is no longer so.
Investment Implications for
1) Daiichi Sankyo
I expect Edoxaban to become the new standard of care in stroke prevention in atrial fibrillation and should be able to garner 15 percent market share by 2018. At 15 percent market share the expected peak sales would be $3billion which translates into an NPV of $10b at 7 percent cost of capital.
With the current market capitalization of Daiichi Sankyo hovering at $14b, edoxaban clearly has the potential to turnaround its fortune. Daiichi lately has been struggling to get a drug on the market and edoxaban seems to be that lucky break for it. Most recently Daiichi suffered a late stage pipeline setback, as a cancer drug it had partnered with Arqule failed in the late stage studies. Along with R&D failures, Daiichi is also struggling to turnaround its loss making subsidiary in India (Ranbaxy - it acquired in 2008).
Pfizer and Bristol-Myers
Eliquis was so far touted as the best new generation oral anti coagulant on the market, but with edoxaban coming in, it surely will constrict Eliquis market share. The street consensus estimated peak sale for Eliquis to be $4b, which I think will now come down to as low as $1billion.
Bayer and Johnson and Johnson
Xarelto by virtue of its once daily dosing advantage was quickly able to carve in a 8 percent share post launch, but with edoxaban launch, Xarelto will have a head to head competitor which also has a once daily dosing, is as efficacious, but more safe. Bayer projects peak sales of Xarelto at $2.7b, which it might need to reconsider
Disclosure: I have no positions in any stocks mentioned, and no plans to initiate any positions within the next 72 hours. I wrote this article myself, and it expresses my own opinions. I am not receiving compensation for it (other than from Seeking Alpha). I have no business relationship with any company whose stock is mentioned in this article.