"The person that turns over the most rocks wins the game. And that's always been my philosophy." - Peter Lynch
Many U.S. investors diversify part of their portfolio into equity real estate investment trusts (REITs), which are companies that own and lease real estate and are exempt from paying corporate income tax. REITs avoid this taxation by passing at least 90% of taxable income to shareholders through dividends.
While REITs carry special privileges in the U.S., many other countries have also allow a similar structure to exist. By diversifying into global real estate investment trusts, the investor is offered several benefits such as higher yields, alternate economic exposure and a hedge against a weak dollar.
There are several ways to allow the U.S. investor to diversify into REITs abroad, which include purchasing mutual funds, ETFs and closed end funds. While there are no foreign REITs with a sponsored American Depository Receipt [ADR] to enable U.S. trading on a major exchange, investors are able to receive a portion of foreign exposure through U.S. REITs that also own properties abroad.
Key Terms For Global REIT Fund Investors
There are a few key terms investors must understand to save time when looking into fund purchases. They are as follows:
Global - This means the fund has international exposure, however it could also have U.S. exposure. If the fund it titled "Global ex-U.S.," then it should be 100% foreign exposure.
International - This usually means the fund will not offer any U.S. exposure.
Developed - These funds will not invest any or a substantial amount of funds into emerging markets. Developed economy examples include countries such as the U.K., Hong Kong, Norway, France and Switzerland.
Emerging Markets - These funds invest all or a substantial amount of holdings into markets that are less developed. Examples include Brazil, Thailand and China (ex-Hong Kong).
Index - Index funds follow an index of stocks, which limits management fees as trading is limited and stock-picking does not occur. Also, not all index funds are labeled "index," so investors must read the fund profile to determine if it is actively managed.
Purchasing Global REIT Mutual Funds
For buy and hold investors that prefer a long-term investment with no trading costs, global or international REIT mutual funds are an option. There are several companies that offer excellent products, which include Alpine, Vanguard, Fidelity, Cohen & Steers, ING and Goldman Sachs.
Also, the mutual funds may have an account minimum. For example, to purchase the Fidelity International Real Estate Fund (MUTF:FIREX) the minimum is $2,500. To go with Goldman Sachs, Alpine or Morgan Stanley, the minimums range from $1 MM to $5 MM.
Another downside with mutual funds these days are the buy fees that vary depending on which broker one has. For example, Charles Schwab will charge an investor a $76 flat fee to purchase FIREX. With closed end funds, ETFs and stocks, an investor is able to purchase as little as one share with a discounted, flat-rate commission under $10.
For those looking into global REIT mutual funds, a quick call to a broker or online research will dictate which funds trade without a transaction fee. Remember to look at the expense ratios as well, as a sub-$10 ETF or closed-end fund trade with a lower expense ratio may cost less in the long-term.
ETFs With International REIT Exposure
In the global REIT ETF market, investors have at least 10 funds to choose from. In order of volume, they are as follows:
While the lower volume funds may offer particular benefits, most advisors recommend purchasing securities with adequate liquidity. In this regard, there are four funds that have an average volume of over 100,000 shares or $1 MM in dollar volume.
1. SPDR Dow Jones International Real Estate ETF (NYSEARCA:RWX), $42.79
This ETF tracks the Dow Jones Global ex-U.S. Select Real Estate Securities Index that is based on the global (ex-U.S.) real estate market and is the largest international real estate ETF with $4.3 billion in assets. This ETF holds 135 securities throughout 18 different countries with the highest weightings in Japan, Australia, the UK, Hong Kong and Canada as noted in the chart below.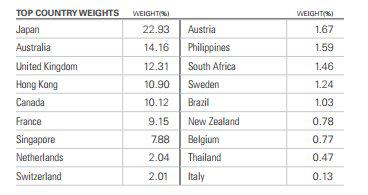 2. Vanguard Global ex-U.S. Real Estate ETF (NASDAQ:VNQI), $57.33
This international real estate ETF by Vanguard seeks to track the S&P Global ex-U.S. Property Index. This fund has $1.3 billion in assets under management and holds 532 securities throughout 35 countries. The fund has a 17.9% weighting in emerging markets. The top 10 country weightings are noted in the chart below.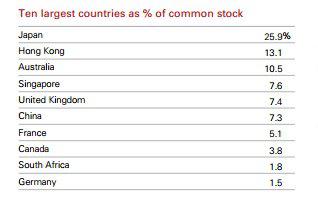 3. SPDR Dow Jones Global Real Estate ETF (NYSEARCA:RWO), $42.60
For those seeking an all-in-one ETF that offers exposure to the U.S. as well as international funds, RWO is the SPDR solution with a 53.55% U.S. weighting and a 47.45% ex-U.S. allocation. This fund follows the Dow Jones Global Select Real Estate Securities Index and holds 221 stocks among 19 countries. The country weightings are noted in the chart below.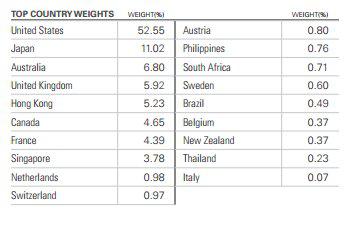 4. iShares Intl. Developed Real Estate ETF (NASDAQ:IFGL), $33.72
The IFGL fund also tracks an index however it differs from its peers in that it if focused on ex-U.S. developed countries, with a focus on Canada, Europe and Asia. The fund has attracted $747 million in assets and holds 192 securities via 18 markets.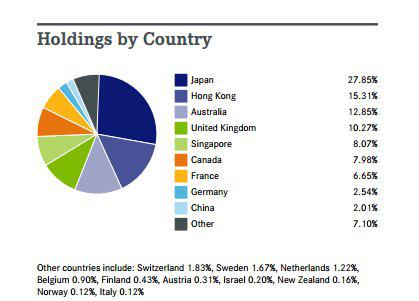 As with most ETFs, the dividends on each of the above funds are distributed quarterly and vary depending on the fund income levels.
Closed End Funds With International REIT Exposure
When investing in closed-end funds, it is important to note there could always be a wide premium or discount associated with the purchase and sale price of the fund. As such, these types of funds can trade heavily below their net asset value during REIT bear markets, which adds risk even if they are bought at a discount. Also, closed end funds may use leverage that may enhance returns in up markets as well as magnify losses in down markets.
The following two funds offer international REIT exposure with average share volume over 100,000 and average dollar volume over $1 million per day. Also, both funds are trading at a discount of over 10% versus NAV.
1. ING Clarion Global Real Estate Income Fund (NYSE:IGR), $8.04
IGR is a $1.1 billion closed end real estate fund managed by CBRE Clarion Securities, which is the equity management division of CBRE Global Investors. The Global Investors group is an affiliate of CBRE Group, Inc. (NYSE:CBG), a $7.5 billion global real estate services company.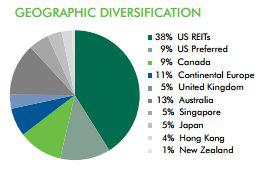 This fund is leveraged at 5% and has a 47% exposure to the U.S. REIT market (38% REITs, 9% preferreds) and a 53% international focus. IGR is also an income-focused fund, which distributes a managed monthly dividend and yields 6.7% at the current market value. IGR has 67 holdings and the net expense ratio is .99%.
The ING fund is trading at a 13.27% discount, which is wide for the fund historically. Over the last year, the average discount is 6.84% and the lowest discount was 13.88%. This can be attributed to the negative market sentiment to REITs in general as the spread has widened since the summer sell-off as noted in the chart below.
2. Alpine Global Premier Properties Funds (NYSE:AWP), $7.09
AWP is a $684 billion closed end fund that is managed by Alpine Woods Capital Investors, a specialized global real estate and income investment company with $4.8 billion under management as of 12/31/12.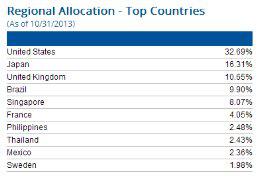 This fund currently uses 5.49% leverage and is invested 32.69% in the U.S. and 67.31% internationally. AWP is also an income-focused fund with monthly distributions and it yields 8.46% on the current market price. The Alpine properties fund holds 103 securities and has a net expense ratio of 1.29%.
As well as IGR, AWP has also experienced a widening discount rate due to negative market sentiment in the REIT sector. The current discount is 10.71% and the 52-week discount low is just a fraction higher at 11.10%. As noted in the chart below, the discount is similar to IGR as the fund discount contracts when REITs are trending higher and widens when the momentum shifts to the downside.
Measuring IGR versus AWP
When comparing these two global property closed end funds, they share several characteristics. Both funds have a majority of holdings ex-U.S., with IGR at 53% and AWP just over 67% internationally invested. Also, the expense ratios are close with IGR coming in ahead at 0.99% versus AWP at 1.29%.
Regarding yield, there is a tell as AWP yields higher at 8.46% while IGR has a yield of 6.7%. Since both companies have a similar discount rate (13.27% IGR and 11.1% AWP), one would naturally deduce that AWP would have only a slightly lower yield due to the lower level of the higher-yielding, international REITs.
When looking at the AWP holdings, however, the fund holds non-equity real estate focused companies as well that are responsible for investing or originating the financing aspects of the real estate market. Such companies, many of which are classified as mortgage REITs (mREITs), have higher yields but also contain a much higher interest-rate risk than equity REITs.
Conclusion
Investors who are looking for long-term international real estate exposure may eschew mutual funds as the limited selections, potentially high initial investment costs and high minimum purchase amounts are unnecessary setbacks that can be avoided with ETF and closed-end purchases.
While select U.S. REITs do have international assets, most are concentrated domestically and select REITs offer less diversification versus global equity funds.
Finding international real estate ETFs and closed-end funds can be discerning, however the ETFs RWX, VNQI, RWO and IFGL, as well as closed end funds IGR and AWP, all have ample liquidity and acceptable diversification and expense ratios.
The ETF selections trade close to NAV, which reduces risk. The closed end fund, however, trade at a large discount which enhances their yield. Also, the closed end funds have monthly distributions that are consistent, which is a positive attribute in income portfolios.
Although only IFGL is listed as a developed international fund, each fund listed has minimal emerging market exposure except for VNQI, which has a 17.9% EM weighting.
Depending on the investors risk level and diversification prospects, each fund is could be advantageous to add to the REIT allocation of the investment portfolio.
The highest risk to capital is with closed end funds. When there is a downturn in the REIT market, closed end funds that normally trade at a discount are likely to trade at a wider discount than average. In this regard, a fund may lose value over the course of a year regardless of NAV improvement. For this reason, both IGR and AWP have lost market value over the last 52-week period even though their NAV's improved.
While ETFs carry less risk as the premium/discount is relatively minor, closed end funds offer juicy, monthly dividends and more upside when the REIT market turns positive. Here is a short list of additional benefits of each fund.
RWX - 6.1% yield, 100% international exposure, low expense ratio, higher return than similar iShares option IFGL, largest asset base.
VNQI - lowest expense ratio, 100% international exposure, 17.9% emerging market exposure, most diversity in holdings, highest 1-year return, 4.4% yield.
RWO - only one-stop shop ETF with blended global exposure (U.S. and international), low expense ratio, 4.4% yield.
IFGL - lower cost than RWX with 100% international exposure and an identical 6.1% yield.
IGR - monthly dividends, 6.7% yield, 13.27% discount, expense ratio under 1%, blended U.S./international exposure.
AWP - monthly dividends, highest yield at 8.5%, 67% international exposure, 11.1% discount.
Disclosure: I have no positions in any stocks mentioned, and no plans to initiate any positions within the next 72 hours. I wrote this article myself, and it expresses my own opinions. I am not receiving compensation for it (other than from Seeking Alpha). I have no business relationship with any company whose stock is mentioned in this article.