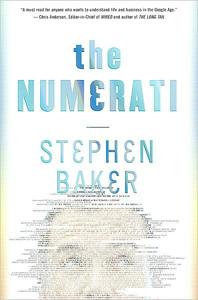 The Numerati
by Stephen Baker (Houghton, Mifflin, Harcourt, 2008) is a fun and interesting book. The author interviews the new breed of mathematician who is collecting data on almost everything that we do, stores the information that is collected in massive data bases, and then statistically uses the data to "microtarget" individuals so as to customize products, services, and relationships between a business and its potential customers. Someone has commented that in the future our thoughts may remain private, but "computers will disclose our tastes, opinions, habits and quirks to curious parties, not all of whom have our best interests at heart."
Baker is one of the latest authors to question how computers are changing our lives now with the hope of identifying how they will change our lives in the future. The answer is that the world will become more and more information driven. The amount of information that is collected is increasing exponentially and information is spreading to all corners of the world. The use of information is becoming ubiquitous and there is nothing we can do about it.
The basic fact is that these "Numerati" and others are now quantifying everything we do in all areas of life. Baker argues that "we are in danger of becoming data serfs—slaves to the information we produce."
Interesting, because a few years ago we were concerned with something called "information overload" a problem where we had more information than we knew what to do with and, as a consequence of this overload, we froze. We didn't know what to do with all the information we had.
This is one of the fun things about this world. We have a problem…like having too much information. People set to work on the problem and work up a solution. And, what do you know…we become "data serfs." Go figure.
But, this is the future. For now we get books like "How to Measure Anything: finding the Value of 'Intangibles' in Business," by Douglas Hubbard (Wiley, 2007) and "Competing on Analytics: The New Science of Winning," by Thomas Davenport and Jeanne Harris (Harvard Business School Press, 2007). Between these two books we learn how to "quantify" something that is "nebulous or intangible" and then we learn how to create competitive advantages through the use of "analytics."
Another popular book that fills the void here is "Supercrunchers: Why Thinking-By-Numbers is the New Way to Be Smart," by Ian Ayres (Bantam Books, 2007).
But, going beyond this we see the growth of whole new markets: markets for information. Here we have "Information Markets: A New Way of Making Decisions," edited by Robert Hahn and Paul Tetlock (AEI-Brookings, 2006), which looks at how things like prediction markets for events like elections, Oscar winners, the CPI and other things that impact peoples' lives can be used. Then there is "Information Markets: What Businesses can Learn from Financial Innovation," by William Wilhelm and Joseph Downing (Harvard Business School Press, 2001). The point of this book: "technology has made information simultaneously and easily accessible to all" and, as a consequence, "codified many practices that once relied solely on human relationships and judgment, transforming the control of industry know-how and intellectual property, the structure of the financial markets, and ultimately, the makeup of the entire marketplace for information."
Finance is all about information and financial instruments are just codifiers of information. This is why financial markets and financial information serve as the model for quantifying everything and developing "winning strategies" based upon analytics. There is another book that takes this even farther: "Information and Learning in Markets," by Xavier Vives (Princeton University Press, 2008). In this book Vives states that "the ways financial analysts, traders and other specialists use information and learn from each other are of fundamental importance to understanding how markets work and prices are set."
In essence, the future of the economy, even the society as a whole, is connected with the collection, storing, using, and trading of information. Finance is just a leader in this movement.
And, why did this movement start in finance? Well, because that is where a lot of public data first became available. In the 1960s we had a coming together of the new computer technology and the vast amount of stock market data. The result was the booming growth of financial model-building and the finance field. Coming from this was the Capital Asset Pricing model and the Efficient Markets Hypothesis and all that followed. The field grew because there were practical applications of the research and massive amounts of data available for researchers. Hence, the beginning of "supercrunching!"
Here you can say, "Whoops, hold on. The development and use of these models did not turn out to be the best thing for the American (and world) economy and financial system! In fact the quants and the numerati almost destroyed them!"
At this time, I don't want to debate this issue. Let me just say that the techniques of data mining and "supercrunching" are still very much in their infancy. Mistakes have been made and more mistakes will be made in the future. How costly these mistakes will be is anyone's guess. This is just a part of "growing up."
The crucial thing is that this trend will continue, even accelerate. There are competitive advantages that arise from data mining and "supercrunching." If you do not develop the competitive advantages someone else will. The "Quants" and the "Numerati" are not going to go away. In fact, they will be playing a larger and larger role in the world in the future.
This is why we need to learn about what is going on in this area, not just criticize it. This is why we need to hear of the strengths of the efforts that are being made and the weaknesses that go along with those efforts.
The fact is, we are dealing with important issues related to information and information markets as we view this sentence. There are issues like "fast trading" and "ultra-fast trading" that are raising substantial concerns within the finance industry and government. And, then there is the regulation or re-regulation of the financial system, a system that deals almost solely with information. (See my recent post for more on this issue.)
If you haven't started reading in this area, "The Numerati" is a good place to begin.