Qualcomm (NASDAQ:QCOM) held its analyst's day and among things delivered an outstanding presentation rich in data and speaking to the outlook for smart connected devices for the next several years. The presentation is a must read for investors in the space.
One key chart estimated the replacement rate for smartphones divided between developed and emerging markets. Users in developed markets replace their handsets every 2.5 years on average, or about 40% annually. This figure drops to about 25% in emerging markets, or once every four years.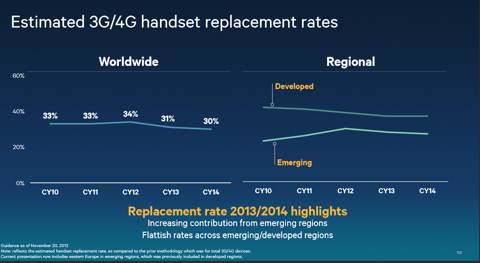 Click to enlarge
As smartphone markets mature and demand comprises mostly replacement purchasers, these data are vital to understanding the market for suppliers like Apple (NASDAQ:AAPL), Microsoft (NASDAQ:MSFT) and Google (NASDAQ:GOOG) through not only its Motorola division but also through all Android based devices manufacturers.
Developed markets are all but saturated already with more cellular subscriptions than users since numerous users have more than one subscription. Emerging markets are showing rapidly increasing penetration of smartphones expected to double from 25% this year to over 50% in 2017, giving them a lot of room to grow.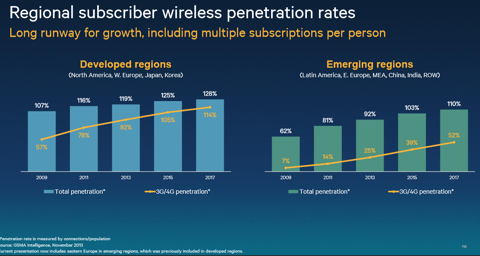 Click to enlarge
Not surprisingly, the bulk of growth in smart connected devices is going to place in emerging markets. Unit shipments in developed markets are estimated at 423 million this year but growing at only 6% to reach 450 million units by 2017. Emerging markets for 3G/4G devices by contrast are expected to grow from 244 million units this year to 810 million in 2017, a growth rate of 20%.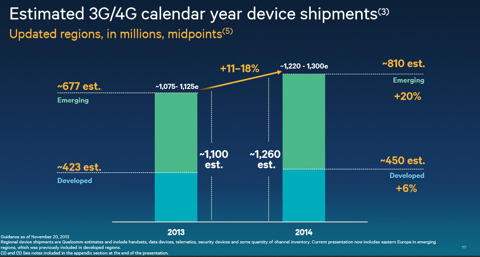 Click to enlarge
The shifting mix of growth makes it imperative that suppliers who wish to grow target emerging markets. Microsoft's newly acquired handset division has been doing just that. It launched its latest 2 phablets and Windows RT tablet in Malaysia rather than in New York. Apple for its part launched its iPhone 5S and iPhone 5C both in China as well as in North America on the same day, a first for the company. Both launches reflect an implicit recognition of the importance of emerging markets.
But Qualcomm's presentation of its plans for China failed to even mention Microsoft or Apple, but instead highlighted names like ZTE, Huawei, Yulong, Xiaomi and Lenovo.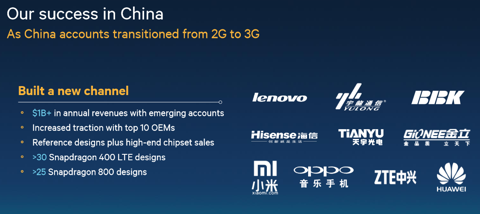 Click to enlarge
Qualcomm no doubt sees that growth in China in particular is going to come from the home grown competitors who already have market shares in the region well ahead of Microsoft or Apple.
Qualcomm has positioned itself to compete worldwide by aligning itself with all major brands in the non iOS world without any focus on any particular supplier or operating system. By so doing, it has in many ways leveled that playing field as far as processors go leaving the suppliers to differentiate their smartphones on other bases.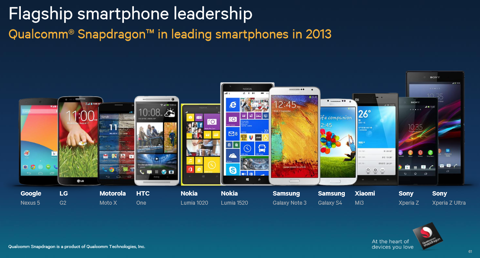 Click to enlarge
Similarly, its Snapdragon processors power many of the key tablet designs.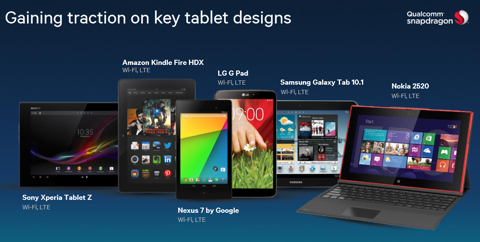 Click to enlarge
Qualcomm learned early that our smartphone has become our most important device.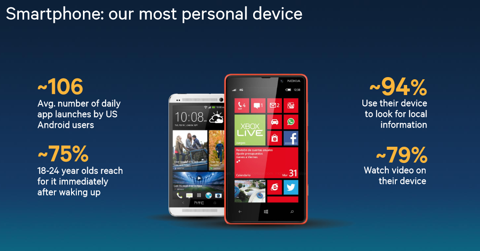 Click to enlarge
By establishing itself as the leading supplier of smartphone processors and connectivity components, Qualcomm assured itself of very rapid growth in this market and while it does not supply the processor for iPhones it does supply components making up almost 20% of the iPhone bill of materials.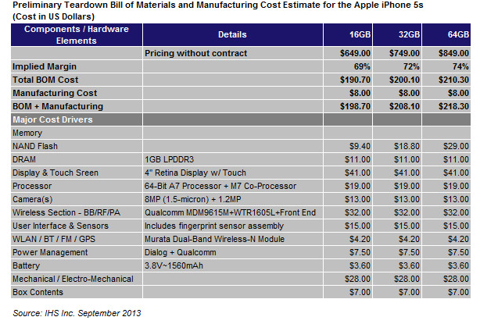 Click to enlarge
As a result, Qualcomm should enjoy rapid growth in parallel with the smartphone market regardless of which OS or suppliers prevails.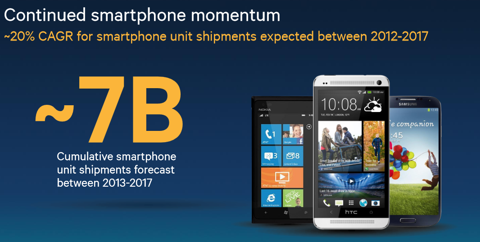 Click to enlarge
Qualcomm has built on its experience in the smartphone arena to ensure its offering for tablets has learned and benefited from user experience in smartphones with common features and user demands.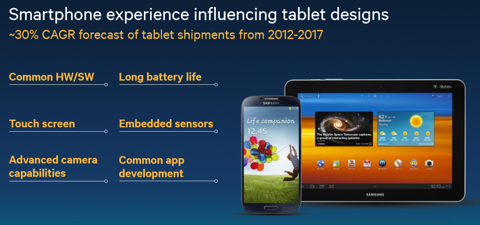 Click to enlarge
Thus growth in tablets should also benefit Qualcomm.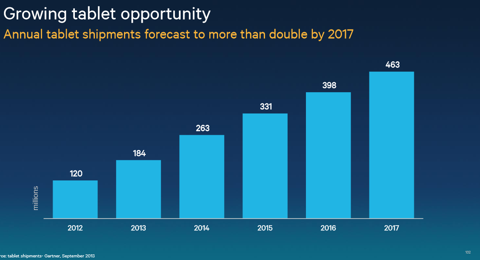 Click to enlarge
And, as with iPhones, Qualcomm's absence from the iPad processor does not mean it is not well represented in the device. Qualcomm should benefit regardless of what tablets consumers choose.
The trends seen by Qualcomm are well reflected in its plans and programs. It is well positioned to take advantage of the growing demand in emerging markets while benefiting from strong performance in developed economies. It is agnostic as to platform or OS, having components that work well in the iOS, Android and Windows phone environment.
But there are risks. Qualcomm has a high market share and Intel is targeting not only smart device processors but also LTE and LTE Advanced. And, Intel is almost certain to make inroads into markets where Qualcomm has enjoyed little in the way of strong competition.
In the smart device arena as a whole Qualcomm joins Google (call it Android) in having a strategic direction aligned with the shifting sands of the market from a position of significant strength. Intel and Microsoft now have strategies that also align with market trends but have yet to demonstrate major success outside of their traditional PC and server territories, although the early signs are encouraging. Apple is the outlier, with a portfolio of truly amazing devices but an apparent strategy to ignore the market trends and carve for itself a premium positioning in developed markets only, eschewing serious competition in developing market for all but highest income echelon of their societies. That strategy has paid off handsomely so far, but in my view runs serious risks as the growth shifts away from developed economies to emerging ones leaving Apple behind.
Investors have some serious choices to make and it may turn out that none of them are bad ones. I like Intel and Microsoft for the possibility they will enjoy material successes in mobile, a potential area of growth where they have been underrepresented. I think Qualcomm investors will continue to do well unless and until Intel demonstrates a competitive suite of silicon. For Apple, it has a few quarters of very high income still ahead of it but (at least in my opinion) it is at risk of slower growth with its target markets reaching saturation points quite quickly.
I have no position in Qualcomm. I am long Microsoft and Intel through options and short Apple through options.
Disclosure: I am long INTC, MSFT. I wrote this article myself, and it expresses my own opinions. I am not receiving compensation for it (other than from Seeking Alpha). I have no business relationship with any company whose stock is mentioned in this article.
Additional disclosure: I am long Intel and Microsoft and short Apple through options.