This is the third in a series of articles discussing which equity based high yielding Closed-End funds (CEFs) offer investors good value and which equity CEFs investors should avoid based on my analysis. In this part III, I will look at a fund which offers investors a unique investment strategy among CEFs which could provide alpha performance opportunities based on where the markets and interest rates go from here.
What If The Stock Markets And Interest Rates Continue To Go Up?
In my last article, which you can read here Part II, I asked the question, "What If We Are Near A Market Top?" and focused on CEFs which could take advantage of a more difficult market going forward. In this article, I'm going to flip that around and offer a fund to investors based on a more bullish market scenario going forward but also with a play on interest rates.
I don't try to predict market direction and I'm not going to pass judgment as to whether the markets are overvalued or not since markets, like CEFs, can defy logic for longer periods of time than you think. One thing is for certain however; if the US and international economies are improving and employment picks up such that the Federal Reserve can at least begin tapering their stimulus, interest rates will continue to go up. Looking at a graph provided by the US Government's Bureau Of Labor Statistics, you can see how the unemployment rate has been trending down over the last four years since peaking in late 2009 at 10%.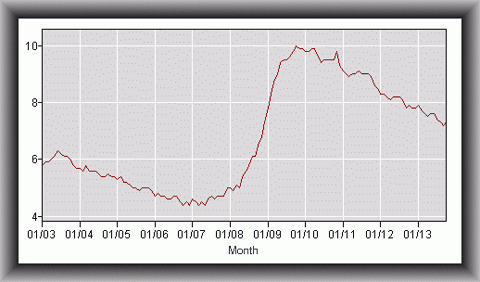 The Federal Reserve has already said 6.5% is their unemployment target rate though there has been talk that that rate might be lowered to more like 6%. Extrapolating that out, we're looking at another year or more before we get down to that level based on current trends.
However, the bond markets will price in a better economy and an improving employment picture well before then and already, the 10-year Treasury yield has touched 3% in early September before backing off to 2.5%. But with interest rates creeping back up with talk surrounding when the Fed's tapering might actually begin (December or March) and what Janet Yellen may or may not say as the new Fed Chairman, err...Chairwoman; interest rates - as determined by the bond markets - may be in a short term state of flux but longer term, the trend still looks up.
So if the markets continue on their merry way up as do interest rates, which equity based CEFs could take advantage of that? I have already pointed out that leveraged equity based CEFs are where you want to be in a strong up equity market environment and that some pure stock based leveraged CEFs, like from Gabelli (NYSE:GBL), have seen 35% to 40% total return gains so far this year, see Part I of this series. But most leveraged equity based CEFs include fixed-income investments in their portfolios and so for the vast majority of leveraged CEFs, that fixed-income component has served as a drag on performance since May when interest rates accelerated upwards.
So the question for investors is, are there any equity based CEFs that include fixed-income investments that can take advantage of a higher interest rate environment as well as a higher stock market? Sort of a win/win scenario? Well, there is one.
The Nuveen Tax-Advantaged Total Return Strategy fund (NYSE:JTA) - $13.02 market price, $14.26 NAV - is unique among leveraged CEFs which include a portion of their portfolio invested in fixed-income securities because JTA owns variable rate senior loans as part of its fixed-income component and senior loans can adjust rates up in a rising interest rate environment.
As a result, JTA has been one of the best performing equity based CEFs so far in 2013, with its Net Asset Value (NAV) up 28.1% on a total return basis (distributions added back but not on a reinvested basis) and its market price up even better at 30.5% through November 20th. JTA is the only balanced equity & fixed-income CEF that I am aware of that is structured to take advantage of both a rising equity and a rising interest rate environment.
JTA - Just The Facts
Here are some of JTA's more important statistics. JTA is a relatively small CEF at only $198 million in common assets and $283 million in total managed assets. That works out to about 30% leverage (based on total assets managed) of which 70.3% of JTA's overall portfolio is invested in global large cap stocks (US & Europe mostly), 17.2% in senior loans & debt securities and about 7% in preferred securities. The following shows JTA's portfolio breakdown and top 10 stock holdings as of 10/31/2013.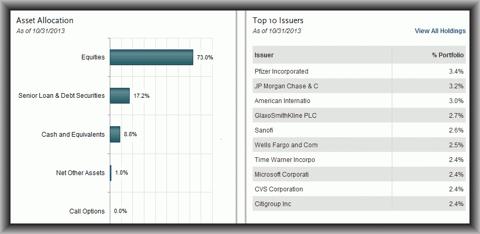 Now despite JTA's superior YTD total return performance, it hasn't always been a cake walk for the fund. JTA first came public in early 2004 at a $20 market price and a $19.06 NAV (NAV typically deducts a 4.5% or so sales credit). Back then, the equity markets were doing fine and interest rates were still fairly high. In fact, it was a sort of best of both worlds for the fund and JTA's market price rose as high as $28 (not including distributions) during this period and even moved up to a premium pricing (see Premium/Discount graph below).
But the financial crisis that began around the 3rd quarter of 2007 hit leveraged CEFs very hard and JTA was no exception. After raising its distribution eight times in the first four years after it went public, all the way up to $0.51/share per quarter, JTA was forced to backtrack and proceeded to cut its distribution all the way back down to $0.23/share per quarter by early 2009, about where it started when it went public. Note: JTA started as a $0.0735/monthly pay CEF and converted to a quarterly pay in mid 2007.
Then throw in the fact that interest rates were just beginning their downward trend as a result of the financial crisis the Fed's easy money policies and JTA was hit with a perfect storm of sorts and it's market price fell all the way down to around $5 during the worst of the bear market in March of 2009. This is shown in the following graph of JTA's market price performance (red) since inception compared to the 10-year Treasury (blue).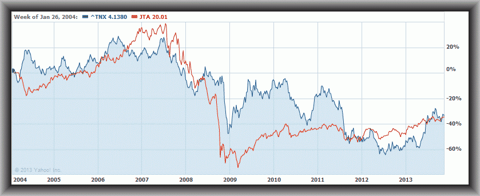 Now the above graph line of JTA (red) does NOT include distributions and if you add back all of JTA's distributions since inception, which totals $12.037, the fund's total return market price performance from 1/27/2004 is a fairly modest 25.3% compared to the S&P 500 up 55.7% over the same period. Pretty ho hum, though JTA's total return NAV performance has been better at 38.0%.
However, if you take a look at the blue line 10-Year Treasury, you realize that JTA has been stuck in a mostly declining interest rate environment for most of its existence, except for the first few years and then of course, more recently. So for a fund that includes a significant portion of its fixed-income portfolio invested in variable rate senior loan securities, this did not contribute to the fund's performance as much as say, other fixed-income securities might have. It's not that variable rate securities can't perform well in a declining interest rate environment because their value is also based on default risk and defaults are much less likely in an improving economy, similar to how corporate bonds are valued. But let's just say that variable rate senior loan securities can be much more valuable in a rising interest rate environment because their interest rate resets can more positively contribute to income as well as help offset the fund's borrowing costs.
So based on its history, perhaps it's not a surprise that JTA has maintained a fairly wide discount of around -9% (8.7% currently) over the years except during the financial crisis when just about every CEF spiked down to -20%+ discounts for short periods. Here is JTA's Premium/Discount graph since inception.
Here you can see that the only time that JTA even peeked into a premium market pricing over its NAV was during mid 2006 to early 2007 time frame, which also happened to coincide when the 10-year treasury was peaking around 5% before it started its long march down to 1.5% by mid 2012. If you could overlay the two graphs above, which cover the exact same time frames since JTA's inception, this would give you a pretty good idea of what to expect from JTA in a mostly falling interest rate environment during a bear market and then a bull market.
So where could JTA go in a rising interest rate environment along with a rising stock market? If the past year is any indication, then JTA could really start to gain traction both on its NAV and market price, particularly if the fund begins to narrow its discount. Over the past year, JTA's total return market price is up 34.5% through November 20th and its 1-year total return NAV performance is up 33.9%. Compare that to the S&P 500, up 28.4% over the past year and you can see that if this trend continues, JTA could finally take advantage of a best of both worlds scenario.
Conclusion
As a highly leveraged stock & debt security CEF, income investors should expect JTA to be a higher beta, i.e. more volatile fund than most due not only to leverage but also to its small size. In addition, senior loan securities are generally classified as Level 2 investments which means they don't have as active a trading market as Level 1 securities like stocks. Investors also need to realize that JTA relies on portfolio appreciation as well as investment income to cover its current $0.23/quarter distribution.
However, for a fund that is more heavily dependent on the direction of interest rates than most other equity/fixed-income CEFs, JTA's variable rate senior loans can be very sensitive to any moves up in rates. Already, Nuveen has raised JTA's distribution once earlier this year and we could expect more increases if interest rates continue to rise.
For income and growth investors thinking interest rates can only go up from here, JTA can be an excellent high risk/high reward fund to add to their portfolio. At a current 7.1% market yield (paid quarterly) and a current -8.7% discount, which is historically about average, JTA offers as good a growth and income story in a rising interest rate and a rising stock market environment as any equity based CEF I can think of. Nuveen should announce 4th quarter distribution declarations in early December.
Disclosure: I am long JTA. I wrote this article myself, and it expresses my own opinions. I am not receiving compensation for it (other than from Seeking Alpha). I have no business relationship with any company whose stock is mentioned in this article.