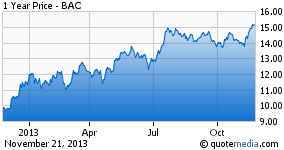 Earlier this year, I wrote about how I believed Bank of America (NYSE:BAC) was an excellent value play among the financials and the market in general. At the time, it had just passed the Fed's capital adequacy review, made an unexpected $10 billion share buyback announcement and represented solid value based on fundamentals. More importantly, it looked like it had begun putting the effects of the mortgage meltdown behind it and was ready to start growing again.
At the time, the stock was trading in the $12-13 range and I called for an $18 price target adding that $20 was in play if things went well. The stock is currently trading at a little over $15 so that $18 price has yet to come to fruition but as I revisit the company's current position and fundamentals it's looking more like a stock that's fully valued at the $15 price. Let's examine some of the reasons why.
Fundamentals are no longer compelling
When I recommended Bank of America earlier this year, the company's price to book ratio remained well below its peers and the price to earnings and price to sales ratios were similarly comparable or below average. That's no longer the case.
Bank of America's previous price to book ratio has risen from 0.63 in March to 0.74 currently. The bull market this year is at least partly to thank for that as price to book ratios have risen across the financial services sector but B of A's ratio is coming more closely in line with the likes of Citigroup (NYSE:C) and other peers.
Its price to sales ratio is pretty much in line with the Financial Select Sector SPDR ETF (NYSEARCA:XLF) and the price to earnings ratio is now higher than many of its competitors. You can argue the validity of any of these ratios but the story that's being told is that Bank of America is a company whose valuation is becoming more in line with competitors rather than being below average.
Outstanding legal issues are far from settled
Bank of America's ongoing legal battles are already well documented so there's no point in rehashing them here but it's still important to examine what risks currently exist.
The company agreed to an $8.5 billion settlement with mortgage-backed security holders over bad loans but that's not the end of the story. The settlement has yet to be approved and companies like AIG are trying to make sure that doesn't happen as they argue that the penalty isn't nearly enough. If the settlement gets approved then it should result in at least a short-term pop for the stock as a major source of uncertainty for the company gets removed.
If it doesn't get approved, however, it could result in a further prolonged legal battle that could mean additional fines. Recently, Brian Moynihan noted that the company had a roughly $14 billion reserve fund. The $8.5 billion settlement would come out of that but if it gets rejected and the settlement amount climbs even higher that could put a serious dent in that reserve position.
Bank of America needs to get that settlement approved.
Uncertainty surrounding outstanding non-accrual loans
Even if the settlement gets approved, Bank of America still has work to do to clean up the balance sheet. For all the effort to move past the legal issues surrounding bad loans, the bank still maintains billions of dollars of these on their books. These non-accruing loans continue to be the black cloud hanging over the company's head that ends up costing it millions of additional dollars.
Is the Fed stimulus program nearing an end?
The minutes from the most recent Fed meeting indicated that the government could begin tapering its stimulus program as early as late this year which would be earlier than the March 2014 consensus among economists. Stocks dropped on the news and the 10 year Treasury bond yield jumped about 10 basis points.
An early taper could be a two-fold blow to B of A. First, the Fed's support of the financial sector and the market in general could be removed and the company will be required to begin standing on its own again which it may or may not be ready to do. Second, rising rates could put pressure on the existing loan and mortgage book.
Conclusion
I still believe that Bank of America is a long-term buy but in the near-term, given the company's current risk/return profile, $15 feels about right. Keep an eye on the approval of the $8.5 billion settlement as that will be a driver of near-term performance in the stock.
Disclosure: I have no positions in any stocks mentioned, and no plans to initiate any positions within the next 72 hours. I wrote this article myself, and it expresses my own opinions. I am not receiving compensation for it (other than from Seeking Alpha). I have no business relationship with any company whose stock is mentioned in this article.