Summary
SIX Flags Entertainment Corporation (NYSE:SIX) has performed very well for investors since 2010 when the company came back from the brink of bankruptcy. However it appears the market has got ahead of itself and rewarded the stock with a multiple its long-term growth prospects do not warrant. EPS has largely been driven by cost cutting measures and share buybacks. There is limited scope for this to continue over the medium-long term and with sluggish top-line growth and an increase in debt it is difficult to see what will drive earnings on a sustainable basis. When looking at a stock trading on 38x 2013 earnings I would want to see strong revenue growth, strong earnings growth and buy-backs funded internally rather than an increase of debt, and SIX does not exhibit these characteristics.
Why Has SIX performed so well?
Over the last few years, defensive stocks have outperformed the market as investors took comfort in their resilient earnings and defensive qualities. SIX is clearly one of these stocks and also is in an industry with extremely high barriers to entry which deters potential competitors to enter. Management have also been very good in reducing costs and restructuring the business to focus purely on the Theme Park industry and so far this strategy has worked well. All these underlying factors have led to SIX share price rallying 35% over the last 12months.
Revenue
For a long term investment one would like to see earnings and revenue growth. SIX has exhibited sales growth, yet this is sluggish and without heavy investment it will be difficult to significantly grow sales.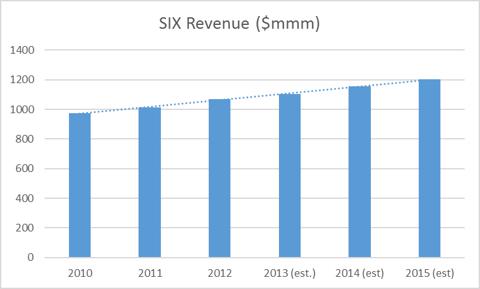 Click to enlarge
| | | | | | | |
| --- | --- | --- | --- | --- | --- | --- |
| | 2010 | 2011 | 2012 | 2013 (est.) | 2014 (est) | 2015 (est) |
| SIX Revenue ($mmm) | 976 | 1013 | 1070 | 1105 | 1157 | 1204 |
| % Revenue Growth | | 3.8% | 5.6% | 3.3% | 4.7% | 4.1% |
What is Preventing Significant Revenue Growth?
SIX's sole focus now is on the theme park sector and associated revenues linked to this. SIX needs to increase customer numbers in order to seriously impact revenues yet this growth is fairly flat.
| | | | | |
| --- | --- | --- | --- | --- |
| | 2010 | 2011 | 2012 | 2013 (est) |
| Attendance | 24.3 | 24.3 | 25.7 | 26.1 |
| Attendance Growth | | 0.0% | 5.8% | 1.6% |
Ticket admission comprised 54% of 2012 revenue; what concerns me is the low growth rate of admissions and unless SIX can address this then revenue growth and ultimately sustainable EPS growth will be limited. One option for SIX to boost attendance would be to open new theme/water parks and thus hopefully attract new customers. However new parks are very costly (circa $300m) and also time consuming (2years to develop).
The other main contributor to group revenue is theme park food and merchandising, which accounted for 41% of 2012 revenue. It is very difficult for this revenue source to grow unless visitor numbers grow; it is highly unlikely visitors will increase consumption from 3 meals to 5 meals whilst at the parks, instead this will remain constant and growth will be driven by increased customer volume.
Increase in Debt
Since 2010 long-term debt has increased from $938m to $1,399m, an increase of almost $50%. As debt increases so too will interest expense and detract from the profitability of the business. The high increase in debt is manageable but the trend cannot continue.
Leisure Competition
Leisure time is limited and although there are not many direct theme park competitors there are lots of other leisure sectors which act in competition to SIX such as museums and sports events. As disposable incomes increase some customers may substitute away from day trips to weekend vacations or travel abroad and this could be detrimental to SIX. The number of passengers on US flights has only increased marginally so this could be yet to have an impact but it is definitely something investors should keep an eye on.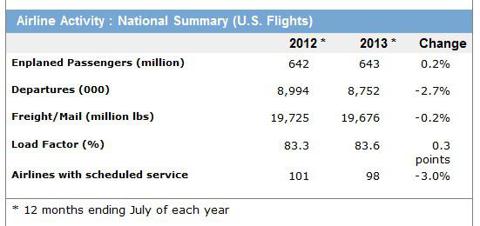 Click to enlarge
Source: http://www.transtats.bts.gov/
Accessibility of Parks
Due to high land costs most of SIX theme parks are located in the regions and only accessible via car. There is a lack of public transport servicing these parks. If we see an increase in petrol costs this could deter customers from traveling to the parks.
Valuations & Debt
Earnings Per Share has been very choppy since 2010.
| | | | | | | |
| --- | --- | --- | --- | --- | --- | --- |
| | 2010 | 2011 | 2012 | 2013 (est) | 2014 (est) | 2015 (est) |
| EPS ($) | 1.87 | -0.21 | 3.19 | 0.99 | 1.67 | 2.35 |
| | | | | | | |
Source: 4 Traders
The significant jump in earnings from 2011 to 2012 looks very impressive and no doubt encouraged investors who believed the business was traveling on an exciting growth path. However this EPS in 2012 was driven by one-time events which do not paint a true reflection of the company's long-term prospects. Adjustments were made this year for income tax and there was also a sale made during the year that realized ~$70m.
Despite poor forecast revenue growth earnings growth looks quite attractive from 2013 levels. Clearly this isn't being driven by top line sales, rather cost cutting measures and also an aggressive share buy-back policy. While a buy-back policy is beneficial for investors, it is often unfeasible in the long-term and needs to be considered by potential investors. If SIX decide to expand then it is likely they will be unable to maintain such aggressive buybacks.
The stock currently trades on 38x 2013 estimates earnings and 23x 2014 estimate earnings. Clearly this is not a cheap stock. To put this in comparison the iShares S&P SmallCap 600 ETF trades on 21x 2013 estimate earnings.
This stock is trading at a premium. Looking at the top line growth prospects of this business it does not seem to deserve a premium and is at risk of being de-rated. The CAGR of revenue over the last five years has been 4.3%. This ultimately will be the long-term driver of earnings growth.
Conclusion
SIX is a profitable business and investors in the stock have done well to date. Yet the valuation is beginning to look full with the market assuming strong earnings growth despite weak revenue growth. As increasing debt for the business begins to bite and buyback policy slows investors may question the high multiple awarded to this stock and it may be de-rated.
Disclosure: I have no positions in any stocks mentioned, and no plans to initiate any positions within the next 72 hours. I wrote this article myself, and it expresses my own opinions. I am not receiving compensation for it (other than from Seeking Alpha). I have no business relationship with any company whose stock is mentioned in this article.